Field service management (FSM) has shifted to a whole new paradigm with the latest technology advancement- which involves sensors, big data, MDM, and remote monitoring through mobile devices. By leveraging mobility and remote monitoring, field service businesses have got better control and results in different field service operations. Enterprise-grade businesses are adopting latest technology to make their business efficient and more productive by integrating FSM with Machine to Machine (M2M) for remote monitoring.
Traditionally, Field Service Management was dependent on clients for identifying any service issue and then calling in/out to report the problem. But, now with the help of sensors integration, M2M capabilities and remote monitoring have replaced the client dependency.
Nowadays, Field Service Management is about reducing operational costs and delivering customers with a superior experience.
Mobile Field Service Management
Mobility in field service management has given a new dimension for managing different business operations with high visibility, low breakdown time with efficient assistance, and route monitoring.
More and more businesses are moving to the cloud to leverage advantages of the latest technology. And today, customers also demand faster and better field service. In short, mobility has enabled the field service business to enhance the processes and operations, making it self-reliable by not depending on the clients. Businesses can now rely on their systems and efficiently deal with any problem on the field.
By 2018, the total cost of ownership for business operations will be reduced by 30% through smart machines and industrialized services. – GARTNER
Following are the advantages you can avail by leveraging M2M capabilities:
Businesses can track workforce with the help of GPS tracking, mapping, and geofencing. They can get standard reports on time and labor and material tracking. This makes businesses more efficient and self-dependent to run their operations on the field successfully and seamlessly.
It helps businesses to optimize and automate processes such as work order management, capturing data, repair guidance, and scheduling optimization.
Enterprises can drive better and enhanced customer engagement by receiving customer feedback, offering loyalty rewards/coupons, allowing customer registration for marketing communications, and receiving competitive intelligence.
The Latest Trend in Field Service Management
The connected devices are transforming both- business and consumer domain with wireless connectivity. With the rise of Internet of Things (IoT), it is expected that by 2020 billion of devices will be connected to each-other without any direct human interaction.
Also, the demand for a superior field service solution has grown to a wider extent. Field service businesses need more sophisticated workflow automation functions and richer customer engagement features. Furthermore, organizations need all this on a field tech's mobile device.
Converting all the received data into useful insights or actionable intelligence is a challenge for field service businesses. Also, delivery of the right message at the right time on the field wherever they require is another challenging task.
Traditional Desktop-bound to Modern Mobile Field Service Management


From asset management to driving business efficiencies to new product and service innovation, field service management has become efficient, fast, and preventive. By adding content and combining multiple data captured with the help of installed sensors, the modern Field Service Management has become smarter and more connected.
The Business Impacts of Modern Field Service Management
Improved field service response time
Enhanced customer engagement
Gain competitive advantage
Faster trouble ticket resolution
More accurate billing
Reduced paperwork
Increased in customer satisfaction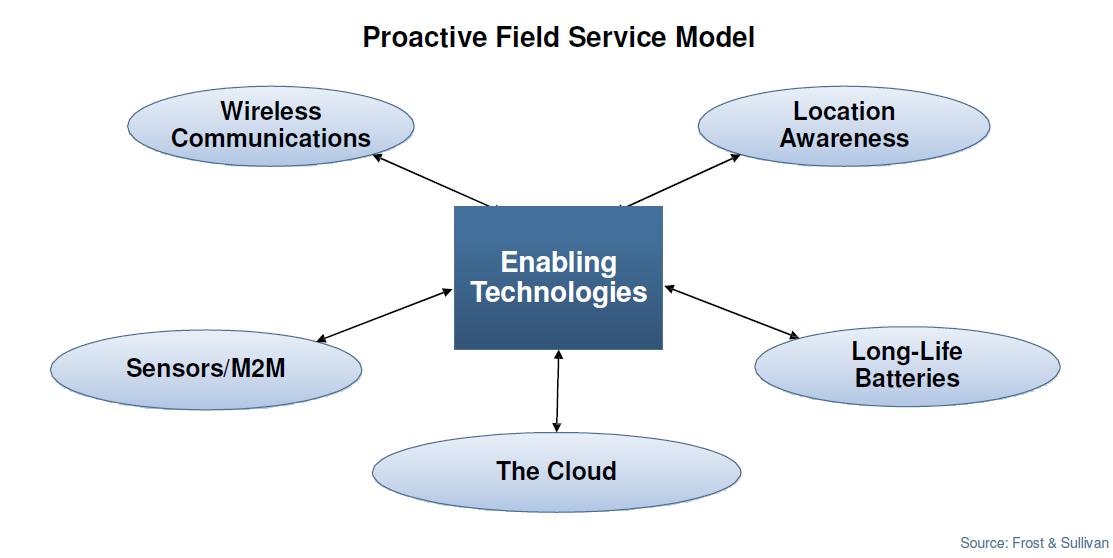 How M2M remote monitoring helps Field Service Management system to be more efficient
Sensors connected to equipment register deviation from predefined operational parameters and help businesses to automatically collect diagnostics. In this way, work order is assigned to service tech and this order arrives on service tech mobile device, which helps them in solving critical problems remotely. Service tech can diagnose issues remotely or on site wherever it is required.


Proactive Field Service Management for Productive Business
Softweb Solutions provides a complete transformation of your existing desktop-bound FSM into a real-time solution to track and locate field workers, capture and transmit data to and from a worker's mobile device. We help businesses with enterprise-grade integration to their backend systems to automate and optimize work processes on the field. Manufacturer can utilize sensor data to maintain products, do predictive maintenance, and offer subscription services for consumables. It can also help you in monitoring parking, transportation systems, and enhancing security systems.
Advantages of adopting our proactive field service management solution for your business are-
Modern field service management (FSM) software
Optimized equipment uptime and reduced service costs
Increased customer satisfaction with fewer equipment breakdown and faster trouble resolution
Increased service revenue with better insights into customer behavior
High-quality FSM+M2M capability
Locate sites on the map by integrating on the main page for easy access
Simplifying information service scheduling and rescheduling
A smarter way to run field service business smoothly
Enhanced security by enabling role based access to the system
Predictive Maintenance & the Future of Field Service
Mobile devices through apps will continue to provide critical information for field service workers and technicians. Thus, mobility will continue as a key enabler in addressing issues. The strategically developed right mobile architecture can solve many operational challenges such as increased competition, worker productivity, and latent customer need, etc. For a successful deployment, you must choose the most suitable field service solution.
Get connected to our Mobile Field Service Solution experts to get a broader picture of your business for a better, faster, proactive, productive business. Start leveraging IoT for advanced predictive scheduling.