Digital transformation has already changed the way we work, live, and play. The major transformation held by the latest and buzzing technology-Internet of Things (IoT). IoT has major impact on everything from our daily life's routine to big enterprise-grade businesses. The buzzing technology has been used from many years like wireless communication, RFID, NFT, etc. However, there were many challenges to overcome and now with the help of Internet of Things it is possible to connect everything for making our lives and businesses easy, efficient, and more profitable.


People
We are aware of the powerful and portable devices and their advantages in our personal lives and businesses. The ability of all these increasingly powerful devices to communicate with each-other connecting people like never before. These devices are continuously producing and capturing data. This captured data can be stored and used in multiple ways to make our life easier, efficient, and well managed.
You can utilize different smart devices and software systems to communicate with each-other, interact with the businesses, payment for different bills, travel, health management, and many other daily activities.
Transportation
Our transportation system is no longer relying just on the driver's accountability, automation has taken their place and it has made our local transport and fleet management system fully controlled. Building an intelligent transportation system has become possible with the Internet of Things (IoT). Logistic is an essential component for enterprises. Commercial vehicles are equipped with the latest information technology- sensors, Internet, mobile devices, and desktop dashboards. The cloud platform can track vehicles and drivers performances. It is helping in end-to-end visibility and warehouse management.
Ultimately, this results in higher reliability, improved safety, and convenience. Relevant information and real-time access of this information helps in fleet navigation and preventive maintenance. Just imagine how much control you can get over your commercial vehicles!
Homes & Offices
Your homes and offices are no longer old-fashioned, they are transforming faster than ever. Smart parking system, security and safety, home and office automation are replacing the traditional homes and offices entirely. Smart home ecosystems have transformed with advanced technologies. There are so many applications you can utilize to make your home system easy and efficient, for example smart door control system, smart lighting, smart dinning, smart entertainment system, etc. Connected devices in the home are interconnected making your home systems smarter, accountable, and efficient.
With the IoT capabilities you can create a smarter workplace where everyone can work in a collaborative style to reduce time and costs of any business process. IoT offer many advantages for creating your workplace a smarter one with a bird's-eye view for tracking employees, automated room booking facility to save time, meeting room display and calendar display to schedule or reschedule your meetings. There are many other advantages of transforming your workplace into a smart office.
Get smarter or get left behind by your competitor, but if you want to lead your business a step ahead from the rest, it's time to implement smart technology in your office.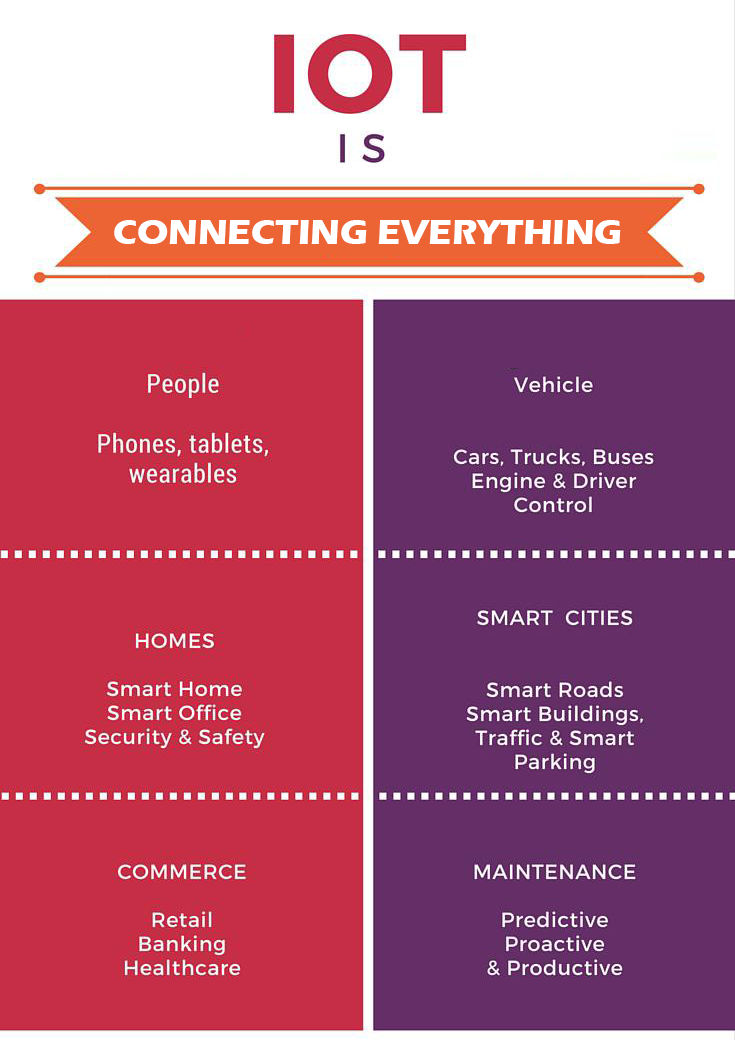 Towns & Cities
Our towns and cities are becoming smarter each day; they are leading toward making our life hassle-free and more efficient. From transportation to our daily needs have become fast, convenient, and accurate. Our cities and towns are becoming more secure and smart. Our roads, building structures, utilities, and services are growing smarter. The smart and structured city/town solves many complex problems itself and provides users an efficient smart city management system. Now we are heading towards making our cities smarter than ever by implementing Internet of Things (IoT) in various diverse processes and management systems.
Commerce
Most businesses are adopting latest technology to give their customers a better experience so that they can multifold their business. Nowadays, enterprise level businesses are realizing the need of utilizing data for making their business more predictive, preventive and productive by offering customers a superior experience. Also, they want to know about users choices to strike at the right target market at the right time.
In an organization data can be used in multiple ways. For example in retail industry this data can be used to evaluate the performance of your workers and team members, based on which, you can incentivize to boost the overall results. Also, you can utilize the captured data to know your customer's choices better.
Industries
Modern industries are pacing-up for industrial revolution 4.0, where automation is achieved with sensor devices, Internet, and mobile phones. These industries are more focused on reducing processing time and resources used, thus they need to adapt latest technology. IoT for industries is an enterprise asset intelligence which they can utilize differently based on what results they expect. Equipments, connected devices, and processes are now enabling enterprises to rectify inefficiencies in their processes.
Particularly, if we talk about the healthcare industry, the data here is uncategorized and raw. The momentum behind data integration is growing continuously and rapidly. It needs to be integrated with smart and intelligent systems to make a proper sense and utilization for reducing costs, increasing efficiency, and ultimately enhancing the quality of patient care. Following statistics will make you think how much business is there in the healthcare industry. Now, it's time to leverage data outcomes from the refined information for the betterment of health systems and overall business profit.
$117 Billion Market for Internet of Things in Healthcare by 2020 – Forbes
The Ultimate Opportunity to harness Unlimited Possibilities out of Big Data
You'd be sad if you knew how much money you're losing by not making processes efficient in your business. And you'll be shocked if you do not leverage myriad opportunities offered by IoT implementation for your enterprise. It is the right time to get advanced with the latest technology to make your business processes smooth and efficient by reducing overall costs. Let's get ready to harness unlimited possibilities out of big data.
Obviously, the cost of implementing IoT in your existing system can vary based on the exact requirements you're looking for, but we can assist you with the best possibilities. We will provide you with a complete consultation in a comprehensive manner, which will give you insights into big business benefits.
Are YOU ready to get modernized, or do you want to continue with the existing facility?