Chatbots are no longer a novelty for companies today since marketers have realized the technology's value. This is because chatbots are a powerful marketing tool. In 2018, we are witnessing the rise of chatbot marketing automation and that brings us to a new level of marketing engagement.
Marketers are moving forward by taking advantage of chatbots and marketing automation to target prospects and customers based upon their interest activities. Following the current trends, here are some of the useful blends of marketing automation software and chatbots that you can expect to see this year.
1. Lead generation
We live among loads of data and digital noise, where it is tough to target and track down potential customers. You may filter a lot of data and try to evaluate your findings, and come across leads that you are uncertain about. Enterprises, in fact, depend on traditional landing pages for lead generation, but those leads can often be weak or unqualified.
Here's a new approach! You can integrate chatbots with marketing automation software and target your audience using an interactive chatbot. Instead of directing them to your landing pages, you can engage with them through a perky conversational chatbot. This can help to identify healthy leads and gain interactive traction.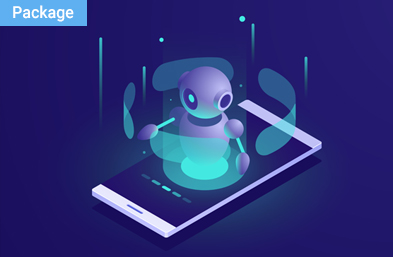 AI-BASED CHATBOT IMPLEMENTATION STRATEGY
Softweb's AI-based bot implementation strategy is specifically designed to help companies understand how to build and deploy intelligent chatbots.
2. Data collection
You are gathering a lot of new and fresh information into your customer base when your implemented chatbots on websites and social media pages are interacting with users. How will you leverage this valuable information before it becomes stale?
You can use this information from your chatbot conversations to make your chatbots smarter. By analyzing the chatbot logs, you can look through for keywords and phrases that the user actually uses, and trigger your chatbot to be more intuitive and provide human-like responses. Furthermore, you can also incorporate those keywords and phrases into your marketing campaigns and improve your SEO to better connect with users.
3. Continuous customer support
Perhaps earlier you had no way of providing instant assistance to your customers, but now with the help of chatbots you can address the needs of your customers quickly and round-the-clock. Especially during high-volume traffic, this chatbot will be able to present helpful customer service. In fact, your marketing automation software can support the data library that a chatbot needs in order to function seamlessly.
4. Customer involvement
More and more companies are integrating chatbots on their social media pages to leverage quick replies. For instance, when a user mentions a particular product name in the comment, then the chatbot will reply swiftly through an automated response. You can take this one step ahead by integrating your chatbot with your email marketing software and follow-up with an email to create an immediate connection with the user.

Insights
10 vital features without which your chatbot platform is a lame duck
Chatbots are no longer restricted to just consumer facing operations but are increasingly being deployed for increasing employee productivity inside the enterprise as well.
5. Successful sales
What happens when a user has interacted with your chatbot on your website and left without making a purchase? You can still take the details of that conversation and follow-up with the user using attractive discount email marketing, and hold the interest of your user to come back and buy! This way, your customers are surprised and pleased with your brand noticing them, and they might come back to buy your product or service.
6. Increased customer loyalty
Integrating the chatbot with your marketing automation software has many positive effects, especially a direct improvement in customer loyalty. Think about the impact of chatbot marketing automation on your customers. You will be able to provide 24/7 support, respond to their social media comments instantly, send them follow-up emails, offer them quick and reliable answers to questions on the website. This will enable you to successfully build a powerful relationship between you and your consumer.
Take away
The capabilities of a chatbot can unleash many possibilities when it is integrated with marketing automation software and marketers love chatbots for these reasons. It will be interesting to see how effectively chatbots will perform and promote content through many channels. If you wish to be consulted on how to implement chatbots with your marketing automation software, speak to our chatbot experts.