In 2016, Microsoft launched Power Apps (a part of Power Platform) as the prospective replacement for InfoPath. They also announced that they will provide extended support for InfoPath until July 2026. However, they have stopped providing mainstream support since the year 2021. Under this increased pressure, many enterprises have shifted from InfoPath to Power Apps in the last few years.
Power Apps is a powerful tool that enables modern enterprises to formulate advanced forms with composite apps and workflow sequences seamlessly. It also facilitates the creation of custom forms as per your enterprise's modern business needs. Moreover, building apps with Power Apps will not need any sort of coding as it uses a simple drag-and-drop designer.
Power Apps is power packed with an all-in-one suite of data platforms, apps, connectors and services, making it the finest alternative for InfoPath forms. If you are planning to migrate to Power Apps from InfoPath, this blog post is for you. We will walk you through the common challenges with InfoPath forms and how to overcome those challenges using Power Apps.
Common challenges with InfoPath forms
Compatibility issues: One of the biggest drawbacks of InfoPath is its inability to render on mobile devices. Apart from the platform compatibility, there are some limitations on file uploads owing to browser incompatibility.
Scalability issues: Scaling up InfoPath forms as per the current standards is extremely tricky due to its complex build. Consequently, Microsoft has made all InfoPath-based services and solutions obsolete.
Non-cloud-friendly: Moving the Microsoft InfoPath forms to the cloud is immensely challenging and time-consuming. Additionally, a user is required to redesign an entire form and make a lot of laborious manual updates to XSD files and XSN documents.
Security issues: For Microsoft InfoPath users, the security level is dependent on the location of the form template rather than where a user opens or stores the resultant XML documents. Thus, there arises a security concern.
High maintenance and error-prone: Microsoft InfoPath forms contain a lot of bugs. Each time you make any changes in the forms, you are required to make respective changes in the old version too. This eventually shoots up the maintenance costs.
Why should you migrate to Power Apps from InfoPath?
In one of its premium events – Ignite, Microsoft announced Power Apps to be InfoPath's successor and suggested migrating forms on the Power platform.
Microsoft has reported some impressive statistics for user businesses, including 188% ROI over 3 years, 74% reduction in app development costs, and 3.2 hrs/week avg. productivity improvement per employee.
Some of the most reasonable points proving Power Apps the best alternative to InfoPath forms are:
With Power Apps, it is easy to build feature-rich, custom applications as it does require less or no coding.
Power Apps enables developers to add conditional business logic to forms with many other added functionalities.
When utilized with SharePoint on-premises, Power Apps provides a modern SharePoint experience to developers.
When taking the benefits of Power Apps development into account, one of the highlights is the ability for developers to swiftly create custom applications.
Power Apps simplifies automating and moving applications or forms as it offers a rich set of workflow capabilities.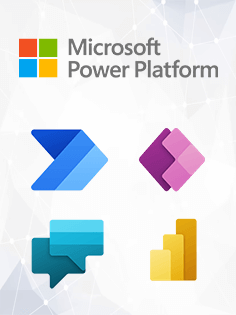 Unlocking efficiency: Microsoft Power Platform governance and best practice
Event agenda
M365 environments and their organization level standards.
Managing the business and non-business connectors and how to control them with DLP policies.
What's the importance of monitoring logs and their storage occupancy?
How to manage the "Users" and "Contributors" at organization level?
How to migrate forms from InfoPath to PowerApps
The data of InfoPath forms is either stored in lists in the form of items or sent to libraries. The InfoPath to Power Apps migration approach depends on how the data is utilized and stored.
1. Create inventories of InfoPath forms in SharePoint
The first step is to build inventories of forms you wish to migrate from InfoPath to Power Apps in SharePoint. For this, it is vital to have every detail of InfoPath forms inventory, like these forms are hosted in which library or list. Based on this information, you can use modern tools or technologies to build inventories of these forms in SharePoint.
2. Migrate data from InfoPath using migration tools
The second step is to migrate data from InfoPath to XML files in SharePoint libraries using state-of-the-art migration tools. For migrating data from InfoPath lists, you can utilize Power Scripts or any other migration tool. While to migrate data from the InfoPath form library, you can use custom scripts. Then, you can extract metadata from these libraries and upload it to SharePoint lists.
3. Replace InfoPath libraries with SharePoint list
The third step is to replace InfoPath libraries with list data through a SharePoint list. For this, you need to move all the data stored in InfoPath libraries to lists. To do this, you need robust planning and careful execution, or else you could end up missing out on complex fields or values like repeating sections/tables.
4. Redesign forms in Power Apps
In the fourth step, you will need to identify data sources and screens, as well as explore alternative controls to those used in InfoPath. Subsequently, redesign the Power Apps forms using the extracted data. For code-based forms, it is important to first verify the code and then implement it with equivalent functionality in Power Apps.
Integrating Power Apps with SharePoint allows for a more efficient workflow by leveraging SharePoint's improved data management and collaboration features.
What are the benefits of PowerApps over InfoPath
By migrating your forms or apps from InfoPath, you can reap the benefits of Power Apps development. Here are some of the advantages of migrating your forms to Power Apps:
Power Apps makes it easy to build and deploy highly functional apps easily on different platforms, including Teams, Power BI, SharePoint, D365 and the web.
Power Apps presents a whole world of possibilities to develop a solution having multiple screens, including task management, detail view, history, etc.
With InfoPath, it is tricky to connect to external services or update data as it usually works with one data source. But with Power Apps, you can work with multiple data sources and connectors.
Building forms or apps can take days or months with InfoPath, whereas with Power Apps, you can develop end-to-end business solutions within hours.
To know how Power Apps can help you transform your ideas into a functional prototype, read our blog on designing business solutions with the ultimate Power Apps development.
Embark on a migration journey now!
Everything has a shelf life. InfoPath too has a shelf-life, and with the announcement of Power Apps, the retirement of InfoPath began. Ever since then, many enterprises have shifted from their existing InfoPath forms and started migrating to Power Apps. With the termination of InfoPath services by 2026, if you are willing to carry out InfoPath to Power Apps migration, get in touch with our experts. Our professionals will assist you in embarking on your migration journey.