Recently, the world's #1 CRM platform – Salesforce and #1 analytics platform – Tableau celebrated their first anniversary together. Over the past year, these two powerful business intelligence (BI) tools have been tremendously evolving and transforming their product capabilities to help businesses build an analytical powerhouse and make self-service analytics a reality.
Even now, in these hard times of the ongoing crisis, Salesforce and Tableau together have launched a COVID-19 data platform for their customers to help them create safe 'return to the workplace' strategies and build robust resilience plans. The platform brings critical coronavirus data together with new visualizations in real-time.
As Tableau has become a part of Salesforce extensive suite of data-modeling and augmented analytics capabilities, Salesforce customers have two great options to choose from:
1. Einstein Analytics
2. Tableau
If you are already a Salesforce consumer or are planning to invest in advanced data analytics and visualization tools, but not sure which tool will best suit your business needs, then this blog post is for you.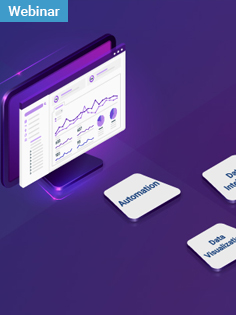 Let your data tell your business story with Tableau
Webinar agenda
Overview of Tableau and integrations
Various data visualization trends
Must have data analytics trends in 2021
Use cases and live demo
Present day examples/ case scenarios
Q & A
Why should you upgrade your CRM to Einstein Analytics?
If you want to empower your organization with artificial intelligence (AI) and analytics, then look no further than Salesforce Einstein implementation. Einstein Analytics (formerly known as Wave), an AI-powered advanced analytics tool automatically performs all the advanced machine learning (ML), data discovery and deep learning activities, and spews out predictions at the click of a button.
So, by deploying Einstein Analytics or migrating to Salesforce from your existing CRM system, you can discover hidden insights, predict future outcomes and seamlessly automate your sales, marketing, or services. The tool can even recommend you the best course of action for various business processes, like choosing the most suitable offer for your customer to increase the sales. Built right into the Salesforce platform, Einstein Analytics is also easy to deploy, configure and utilize. So upgrading your CRM with astonishing Einstein will be hassle-free.
Benefits:
Marketing: Enhance marketing campaign ROI, gain instant visibility into its effectiveness, access relevant KPIs, keep tabs on regional performances and customer conversations.
Sales: Enable your sales team to turn data into insights and insights into profit by helping them to realize emerging trends, predict the future, observe sales by region, track client satisfaction, etc.
Services: Empower your service teams with insights for every channel and customer conversation, deliver personalized service with recommendations and explanations, and more.
General considerations for choosing Einstein:
Service scope and scalability
Operational security and resilience
On-boarding/Off-boarding
Identity and authentication
Data importing and exporting
Data-in-transit protection
Why should you migrate to Tableau?
If you are looking for a modern self-service business intelligence tool, then migrating to Tableau can help you transform your enterprise BI and govern self-service analytics at scale. It will enable you to foster a data-driven culture with its ability to visualize data in real-time. You can even store, share and publish curated data sources using Tableau Online or Server environment.
Joining forces with Salesforce will enhance our ability to help people understand and visualize data anywhere. – Adam Selipsky, President and CEO of Tableau
However, after Salesforce's blockbuster acquisition of Tableau in the year 2019, this incredible analytics and visualization tool made a grand entry into the Salesforce's impressive product suite, enabling its customers to draw quick insights from increasingly large data sources.
Benefits:
Interactive data visualization using drag-and-drop
Access to sophisticated R libraries for deeper insights
Integration with Python and SQL languages
Connect to different data sources with little to no IT assistance
Offers a range of pre-built data connectors and adapters
General considerations for choosing Tableau:
Technical resources
Subscriptions models
Reports and dashboards
Analytics data manager
Key differentiators between Einstein Analytics and Tableau
Choosing the right Business Intelligence (BI) tool for your business depends on your business needs and applications. For instance, if you want to gain a 360-degree view around all your KPIs then you can use Einstein Analytics. But, if you just want to get real-time updates on the stock and inventory levels then you can use Tableau. So, you can select either of these Salesforce analytics tools or even both, whatever best fits your business requirements.
Another instance is to simultaneously utilize both of these tools in such a way that Tableau can be utilized to address your back-office user's logistics or supply chain needs while Einstein can be utilized to meet your sales rep's requirements.
However, there are some key considerations for choosing the right analytics platform which can help you to unlock greater value from the data and drive smarter decisions across different parts of your business. Let us have a look at three key considerations:
1. Architecture
Einstein is built on an open, extensible and scalable cloud-based platform, enabling users to deeply integrate the tool with existing BI solutions and other third-party solutions. However, it does not offer any option to connect to on-premise data sources. On the contrary, Tableau works well with multiple data sources – be it on the cloud or on-premises and supports a live data connection using Tableau Server and Tableau Desktop.
2. Licensing
Tableau offers role-based and core-based subscription models at various price points. Its role-based licenses will facilitate you to deploy data to different types of users within your premises, including analysts, business users, data users, etc. There are three role-based licensing structures in all:
1. Creator license
2. Explorer license
3. Viewer license
And if you want to go for predictive modeling then Einstein Analytics again has three licensing options to offer you:
1. Einstein Predictions – For automated discovery and predictive insights
2. Einstein Analytics Growth – For complete analytics of all your data
3. Einstein Analytics Plus – With built-in AI for advanced analytics
3. Need for predictions
If you are looking to implement an advanced analytics tool with predictions or AI/ML capabilities, then Einstein Analytics is what you are going to need. Einstein is well known for offering an intelligent experience to its clients with:
Automated data discovery
No-code/low-code AI
AI chatbots and
Natural language processing (NLP)
Salesforce Einstein Analytics + Tableau
| Einstein Analytics | | Tableau | | Einstein Analytics + Tableau |
| --- | --- | --- | --- | --- |
| AI-powered analytics | | Data visualization and BI analytics | | Powerful AI-driven intelligent, intuitive analytics and visualization |
| CRM-centric data analytics | | Enterprise-wide data visualizations | | Multi-purpose analytical capabilities |
| Einstein Discovery | | New data sets or existing data | | Colorful visualizations of advanced metrics |
| Cloud-based | | On-premises deployment | | Connect to remotely located and cloud data sources |
Blaze your trail
Now that you know enough about Einstein Analytics and Tableau, and the key differences between the two, you can give the answer to the question 'Do I need Einstein Analytics or Tableau or both for my business?' Moreover, each tool has its unique capabilities and strength to serve different use cases. So, choosing the right tool depends mainly on your business needs and applications.
However, it is always recommended to leverage both – Einstein and Tableau together rather than using them individually as stand alone tools. If you are still clueless about which tool/s to pick or how to determine it based on the use case, then get in touch with our team of experts and they will help you determine the right fit for your business. As we support both these platforms, our experts can help you to migrate to Einstein or Tableau or both to transform your data practices.