Last year, I wrote a piece on the imminent arrival of Drupal 8, the developer favored CMS that was aiming to win over the masses. It had almost been three years in development then, but there were signs of something remarkable brewing up, and those expectations were put to rest on the 19th of November, 2015, when Drupal 8.0.0 was launched.
I am nowhere near a wine connoisseur, but, even I know that the older the wine, the better it is. Same could be said about software development, especially in the world of open source. It is great to see that after almost four and a half years of continuous development, the promises that were being made then are very much being delivered now.
Create the ultimate online presence for your business with our Drupal development services.
Taking strides in development, making big changes – that's what keeps Drupal relevant, according to Dries Buytaert, founder and lead developer of Drupal. Many limitations in Drupal 7 were being tackled by modules contributed by the community. Drupal 8 aims to address these limitations by taking them head on, and are now solved at the core level.
Basing the release on modern standards, minimizing the use of structured arrays, embracing object oriented programming and the Symfony framework, helps Drupal keep up with the rapidly changing demands of the Internet. The whole write-once-run-anywhere concept of OOP helps immensely and makes maintenance a breeze. Out of the four and a half years of Drupal 8 development, a significant chunk of that time has gone into making Drupal 8 mobile first. This means users will be able to carry out all the CMS functions on the device of their preference.
Some Drupal statistics (as of November 2015)

Source: brightlemon
Drupal is an enterprise-class content management system serving a back-end framework for at least 2.5% of all websites worldwide. Source: builtwith
This is a must-watch video of how Drupal was made in the first place, what it has become over the years and what the eighth version brings to create the ultimate digital experiences in the modern world.
Something for everyone
Software gets stereotyped just like anything else that humanity decides to generalize. Too often has Drupal been compared to the open source behemoth, WordPress. The 'ease-of-use tag' has stuck with WordPress, and its popularity is evident with the sheer number of users and websites. While it was somewhat true for earlier versions of Drupal, the eighth installment aims to debunk the generalizations that using Drupal requires in-depth knowledge of PHP and that finding support can be more difficult.
What seems overly technical can be tackled by IT companies specializing in this regard and help you run your entire online setup with relative ease. Specifically, they can handle the tech part, while the non-techie users can perform frontend tasks like updating and editing of various content, assigning user rights, social media administration and more. This is big news for the masses as Drupal wants to expand its reach beyond the one million plus developers and users already on board, and make it easier for new people to start using Drupal.
The technical bit is simplified in Drupal 8 to make it easy for amateurs. What you get is a cohesive environment where the website / portal / blog or any other online presence is ready to scale and grow with your business, armed with a unified approach for multiple channels.
Thinking beyond global and going local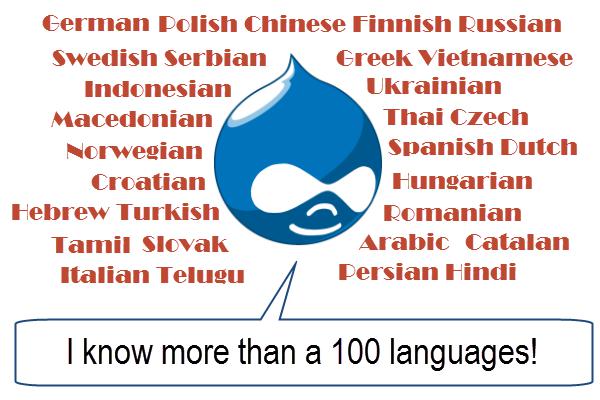 The other big part of this update is the foreign language and multilingual support from Drupal. There are now a whopping 100 languages to choose from. Translate any component of the software, like UI and page elements, to a foreign language for multilingual websites. Non-English speaking countries have lots to gain from this as it allows them to make their presence felt and cater to the entire global population on the Internet. The same goes for English websites that have customers / users in other countries.
Come together, right now
It has long been believed that too many cooks may spoil the broth, but these 3,300+ Drupal contributors, along with the massive Drupal community, just made the sweetest broth! Drupal 8 is another big win for open source. Such an orchestrated effort deserves all the accolades it can get as it continues to prove that collaboration can move mountains. Drupal is powered by some of the best open source technologies as shown below – Symfony, CKEditor, PHPUnit, Twig, and jQuery.
Some of the highlights of Drupal 8 include:
Improved mobile support
A revamped user interface
WYSIWYG and in-place editing
Improved multilingual support
Acquia Cloud is free for Drupal 8
New and improved Drupal Commerce
Revamped configuration management
More WAI-ARIA practices for greater accessibility
New features and improvements for both users and developers
Control how data is displayed without using a single line of code
A new object-oriented backend leveraging Symfony components
Build the most integrated experience and interact with countless applications
Added and improved key contributed modules – Views, Date, Entity Reference
The widespread adoption of Drupal 8 will take some time but this release seems to bring with it the biggest transformation of Drupal yet. It is set to empower users by allowing them to create digital experience platforms with greater flexibility, better usability, deeper integrations, and faster innovation. It is ideal for now and next-gen websites, web apps and intuitive digital experiences. With Acquia, the secure digital experience platform, you can build, deliver, and optimize digital experiences. So, what are you waiting for?