There are more than 1 million apps available in Apple's App Store and Google Play Store holds more than that. Mobility is ubiquitous and there is no surprise that enterprises have started embracing mobility to boost efficiency and make business processes flawless. Already the key motive behind communication, mobile is fast becoming the mainstay in marketing, commerce, and entertainment.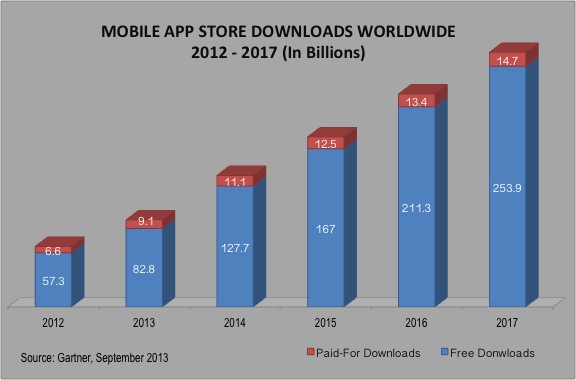 Gartner predicts that mobile apps will have generated $77 billion in revenue by 2017 and will be downloaded more than 268 billion times.
The app economy is irresistibly thriving, but the question is- how many are getting noticed with the number of apps hitting the market and eventually making money? The answer lies in great execution. Developing a plan for success in a competitive environment is not a cakewalk.
Starting from planning on a strategy to the launching and maintenance of your app, every move is counted that will make or break the whole game.
There's no secret that will guarantee success, but following the best practices will definitely help you make it. Here's what you should (and shouldn't) do:
1. Develop your strategy
This is a very initial phase to determine the success of your app and you should create a roadmap of the process to help you accomplish your goals. Your strategy is going to decide the effectiveness of the succeeding phases.
The very first decision you should make is to identify your target audience and then choose the platform. Based on your target audience and goals, you can make further decisions and ensure the success.
It is also very important to know the purpose of the app, which could be solely generating revenue for your company, driving traffic, or providing customer service to the existing customers.

Having a clear idea about the reasons for having an app will help you determine the user interface (UI) design needs. For instance, the app designed for tablet would have different UI than the one for smartphones. To reorganize and define the best features for the app, it's very important to understand early on why your organization wants to create the app.
And that's not all. It is very important to perform a competitive analysis to distinctively establish yourself unless you're marketing earrings made from old school bicycle parts. Hands down, it is going to take significant upfront time, but it all depends on your strategy and to what extent you are prepared to gain an edge over your competitors. This phase poses three major outputs and deliverables:
Best business model and high level goals
Target audience and its needs
Problems and solutions from the audience's point of view
2. Look into the user experience
Your organization can move on to the development phase once you have a solid strategy on board. QA testing is unquestionably an important part of the mobile application development lifecycle. Whether it's Apple Watch, Google Glass, or Snapchat app's new version—beta testing is all the rage. You cannot hold all the aces in current competitive market unless you focus on a key factor: the user experience. You also need to think over the interface, functions and application performance when designing the app.
[Tweet "Creating an Award-winning #App – What you should (& shouldn't) Do!"]
Here's what you should and shouldn't do to ensure the best user experience:
Don't Rush: The excitement is natural, but don't skip design steps that might save your energy and time. It is good practice to document your requirements, user interface design, and analysis performed during the early phase.
Don't get stuck: Make sure you design something that fits within the architecture of your organization. Ignoring the strengths (and limitations) will lead to the performance issues in the future.
Cut the fat: Jettison anything in your app that lowers the user experience, or has no significant performance impact.
Listen to the developer: You should involve developers in the early phase of development. This will help you get valuable insights and eliminate future problems.
Keep learning and adapt from other apps: Great people never stop learning. Keep learning from what's already been done. Studying the existing architecture and designs will help you make better decisions.
3. Choose the right platform
In the development phase, you need to make very serious decisions about the platform for your app: First, decide if you want to develop your app on a specific platform or a cross-platform framework. Second, decide on developer tools for building a mobile application. Each of these choices has its own advantages and limitations for the development and product support teams.
4. Put the right marketing efforts
There're more than 1.4 million apps available in the app stores (by 2015) and the number is just growing and growing. In such a scenario, it's critical to know how users are going to know about your apps. You need to define the effective marketing tactics and implement the strategy to place your app on higher visibility.
According to a recent Gartner survey study, 19% of respondents stated that improving customer engagement interactions was a key driver for mobile app development efforts.
Here are some quick tips to successfully market your app:
To stand out from the crowd, the name of an app is the most important element. The larger the market, the more critical it is to have a good brand name.
Keyword is the key factor in app marketing or app store optimization. There are numerous tools available in the market that will help you find the right keywords for your app. For instance: Google Keyword Planner.
Don't forget to make the most out of your social media channels like Facebook, LinkedIn, YouTube, Twitter, etc. You should keep updating your content regularly and share the latest features/updates with the people. Making the most of social media channels doesn't mean that you try to fake them out. Be real and build a healthy relationship with the people you are connected with.
Feedback matters – especially for new apps. Do your best to get reviews and suggestions from the users. And it's equally important to write users back on social media channels.
You can email and use newsletters for promotions and marketing purposes. This will help you make your audience remember that you are there. You can also market your app on other online sources and promote as much as you can.
5. Provide maintenance service
If you want to keep customers engaged and coming back then an effective and reliable app maintenance service is the key. Make sure you deliver a seamless experience with continuous improvement that will make your app stick.
Ultimately, your customers are interested in below things in your app:
Functionality of your app – Users are interested in what your app does and how.
Data security – Customers are interested in how the app uses and process data
App speed – People don't like a slow app.
Stability – Make sure your app doesn't crash and it provides consistent experience.
Mobile app marketing is developing at a rapid rate. With the increasing smartphone usage, it's an exciting time for app developers. The mobile app development isn't easy, but this guide would surely help you create a successful app. To create an award-winning app, you'd need nothing but one brilliant idea.
Source: http://www.gartner.com/newsroom/id/2654115
Source: http://blogs.gartner.com/robert-desisto/2014/12/05/gartner-releases-2015-mobile-app-and-development-predicts/