Modern manufacturers not only aim to get their job done faster but with utmost accuracy (right at the first time), while also keeping in mind the safety of workers. On the other hand, workers want real-time contextual information, instant situational awareness and connected insights to make decisions faster and increase the bottom line. And all this would only be possible if the organization has the right IoT-enabled smart connected worker solution. With an end-to-end connected worker solution, you can achieve desired results in terms of worker productivity, operator efficiency and safety.
Did you know?
According to a study from Accenture, 85%of manufacturing executives in North America, Europe and Asia believe connected workers will be commonplace in their plants by 2020.
A smart connected worker solution not only makes the workplace safer but also simplifies device configuration, testing and maintenance. It also makes compliance administration simpler by making the incident and other key reports handy for the plant manager. This proactive approach in a manufacturing floor includes everything from assigning work assignments, completing quality checks and log raw materials using technologies such as mobile devices, Bluetooth headsets, smartwatches and augmented reality devices. Apart from that, it also helps workers to fix issues in a timelier manner by sending them push notifications/alerts on critical events such as machine breakdown, pending quality checks or other life-threatening incidents.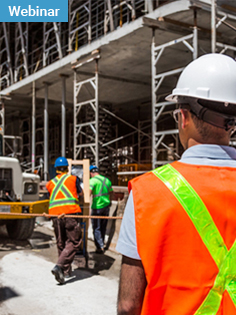 How to achieve increased worker safety and productivity with IoT
Webinar agenda
Impact of digital transformation and the opportunities it brings
Major risk factors for workers
Real-world connected worker use cases to improve safety
What steps you can take to get started
5 reasons why manufacturers must have a smart connected worker solution
Better remote monitoring
An IoT-enabled connected worker solution when combined with Microsoft HoloLens helps to manage high-risk workers in remote areas and lone situations. You can perform continuous environmental monitoring and send alerts from the gateway as well as from the remote command center. Also, by using a camera and AR, remote support technicians can share their augmented vision to fix issues and find machine drawings and other standard operating procedures when needed. All in all, by adopting this solution, you can reduce risk to emergency response, save lives, respond faster and prevent incidents and critical situations via remote monitoring.
Increased process automation
The manufacturing facility has to perform various complex industrial operations with a limited operating budget and total safety. With a smart connected worker solution, task management, data logging and analytics become automatic, which help workers to focus more on their core tasks instead of spending time behind manual processes and other non-value added steps. Hence, you can deliver greater productivity, reduce errors, decrease training time and achieve standardized compliance across facilities and workforce.
Enable voice maintenance and inspection
One of the biggest challenges that a manufacturing unit faces is inefficient documenting inspection as well as maintenance checklists. This is because they compel technicians to follow their guidelines as a separate procedure other than the inspection process. Now this problem is resolved with the connected worker solution as it helps to increase workers level of documentation and compliance with voice technology's hands-and-eyes-free combined process.
Gain powerful business insights
Now you can also equip your operations managers with the right data to make more effective decisions, refine workflows and achieve safety goals all at the same time. Because the connected worker solutions offer analytics capabilities to integrate raw monitoring data in real-time and derive actionable insights, plant managers can use the same to improve safety. Further, the real-time information received via remote monitoring of biometrics, gas/threat detector networks and RFID promotes overall safety and response in a manufacturing unit. It doesn't end here; this solution also saves a huge amount of time and streamlines administrative tasks, data analysis, compliance tracking, report generation, scheduling maintenance and more.
So, now you can enable faster fact-based decision-making by using real-time data and historical information combined with AI capabilities to predict outcomes and make necessary provisions accordingly.
Increased compliance and productivity
It is an important priority for any operation to maintain compliance with regulations and internal directives and manufacturing is no exception. The critical challenges that a manufacturing unit faces in terms of compliances are high costs of incidents, worker safety and lost productivity. With IoT-driven connected worker solution, you can determine whether Personal Protective Equipment (PPE) and other equipment have been properly inspected and are safe for the trained worker to use. You can automate the entire administration of training and assign training to workers from time to time. By doing so you will be able to quickly identify – whether a worker is compliant with training requirement and is ready to be on the production floor.
Not just that, you can also eliminate the pen and paper approach and instead, automatically log as well as track compliance data for maintaining regulatory assurance. So, at the end of the day you will be able to ensure that all the inspections and checks are properly carried out, certified workers use the appropriate equipment, and operations are safely executed.
The final say
Even when manufacturers have a tight budget to utilize and intensifying regulations to meet – a smart connected worker solution helps industrial workforces to improve productivity, minimize downtime, ensure complete regulatory compliance and safety and maximize profit. If you are looking forward to deploying IoT-enabled smart connected worker solution to improve your business, talk to our experts.