The landscape of cloud computing has phenomenally evolved into an inevitable business strategy now. The end-to-end cloud services include applications/software, networking, storage, computing, development, and deployment platforms as well as business processes.
By 2020, 67% of enterprise infrastructure and software will be for cloud-based offerings – IDC
Role of cloud computing in underpinning various technologies
Cloud and IoT
IoT-enabled devices, sensors, apps, websites, and machines depend on the cloud for storing, sending, receiving, and processing the massive amount of data it gathers on a daily basis. With cloud computing service, IoT data can get complete backup, security, privacy, and disaster recovery capabilities. So, by deploying an IoT-based application with the right cloud computing service model, an enteprise can ensure seamless connectivity, streamline processes, and build real-time interactions.
Nowadays, big companies like Microsoft, Amazon, and Google offer cloud IoT services which help in improving the limitations of real-world objects in a more distributed and dynamic way. Besides, it also provides semantic interoperability of IoT data and cloud services, which helps an enterprise to integrate advanced IoT and data analytics applications that are used in IoT solutions such as smart transport, smart cities, smart utilities, and smart energy.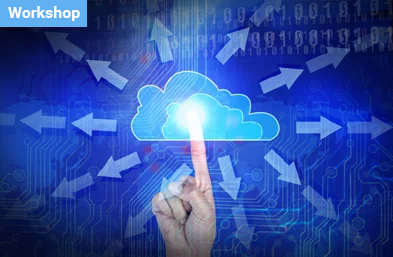 Cloud strategy and assessment workshop
The adoption of cloud-based infrastructure by enterprises is increasing greatly. However, a lot of enterprises are still reluctant to adopt a cloud strategy due to lack of skills or knowledge.
Cloud and big data
These days organizations own a huge volume of data which include structured or unstructured data, and sometimes both. By using cloud computing for big data, companies can quickly gather and store data from multiple sources such as ERP, CRM, social media networks, web analytics, clickstream data, and inventory spreadsheets.
This eliminates the need for an enterprise to own huge servers, instead of which, they can store a massive amount of data on the cloud. The compiled data can be processed by using big data frameworks such as Hadoop, Apache Spark and more to derive insights and make informed business decisions.
Now, enterprises have various options for cloud big data services such as SaaS, PaaS, IaaS and they can choose one based on their existing infrastructure, compliance need, and business model. However, if an organization adopts an end-to-end cloud-based big data analytics platform that complies with the General Data Protection Regulation (GDPR), they can get benefits such as easy provisioning, streamlined management, greater agility and flexibility, cost-savings, and the ability to access data from anywhere.
Cloud and artificial intelligence
Big companies like Amazon, Google, IBM, and Microsoft etc. are trying to conquer the business market by providing artificial intelligence services through cloud computing. With AI cloud services, enterprises would get the power of artificial intelligence, cognitive services, natural language programming and cloud computing along with access to advanced computing infrastructure.
Moreover, many of the platform as a service (PaaS) delivery models are available with inbuilt AI capabilities such as;
GPU optimized infrastructure
Supports apps implemented in AI framework
Manage AI-based models
Improve the intelligence of cloud services like storage, security, and compute
Cloud-based AI services help organizations to gather, store, apply sophisticated ML algorithms, process, and identify hidden patterns to assess potential risks and opportunities using cloud computing and artificial intelligence.
AI and machine learning techniques are applied to the data and it needs greater computing power and storage. Some of the intelligent assistants like Siri, Cortana, Google Assistant, and Alexa are proper examples of Cloud AI which needs the intelligence of AI as well as the cloud for storage and processing.
Cloud and 5G
A one-size-fits-all approach to network infrastructure will not be enough for companies having a huge database. By using cloud RAN (radio access network), 5G can offer modern enterprises with effective network infrastructure for their application, provide NFV (network function virtualization) function which helps cloud computing to improve its network capacity, management, as well as operations. This advanced technology uses Cloud RAN (radio access network) that helps in building effective network infrastructure.
Insights
Softweb's Cloud Foundry Enablement Services
Cloud Foundry is an open source cloud platform as a service (PaaS) that empowers companies to build, deploy, run and scale applications on their existing cloud infrastructure.
Apart from that 5G network has some real enhancement as they are built around several technologies such as 2G, 3G, LTE, LTE-A, Wi-Fi, M2M, unlike monolithic network entities. Hence, 5G technology is designed in such a way that it can support many technologies like augmented reality (AR), connected wearbles, Internet of Things (IoT) and more. Thus, the combination of 5G and cloud computing can actually enable faster machine to machine communications and seamless user experience.
The final say
The cloud adoption is taking place faster in most of the market segments for the capabilities it offers – simplified collaboration, high-speed connectivity, improved mobility, greater efficiency, as well as cost-effectiveness. Also, the cloud computing platform is essential to implement IoT, AI, ML, big data, or any other modern technology. If you are looking for enterprise cloud consulting to know how cloud-based infrastructure or application can benefit your business, talk to our experts.