At the Microsoft Build 2023 conference, Microsoft unveiled its latest product – Microsoft Fabric. This AI-powered platform demonstrates the company's commitment in revolutionizing the data analytics solutions. With Fabric, Microsoft aims to bring together various elements of data analytics, including compute, storage, analytics stack, governance and business models, into a cohesive and integrated solution.
What is Microsoft Fabric?
Microsoft Fabric is an innovative tool that harnesses the power of AI to help businesses make sense of their data. It acts as a powerful engine that brings together information from different sources, simplifying data analysis. Key components of Microsoft Fabric include:
Data processing capacity: Microsoft Fabric provides robust computational capabilities, leveraging advanced algorithms and AI technologies to handle complex calculations, analytics, and machine learning tasks efficiently.
Unified data storage: Microsoft Fabric offers a centralized storage solution, eliminating data fragmentation and promoting data integrity. This unified storage enables easy access and management of data from various sources.
Microsoft Fabric provides a platform that integrates different tools and technologies, allowing users to analyze and work with data effectively. It supports tasks such as running complex queries, training machine learning models and data exploration.
Moreover, Microsoft Fabric seamlessly integrates with Microsoft 365, facilitating collaboration and enabling ad hoc analysis within familiar Microsoft 365 applications.
To enhance productivity, Microsoft Fabric introduces Copilot, an AI-powered assistant. Copilot utilizes artificial intelligence to assist users in tasks like generating SQL statements, creating reports and setting up automated workflows based on triggers. By leveraging AI capabilities, Copilot streamlines and automates data-related tasks, enabling users to work more efficiently and derive actionable insights from their data.
Components of Microsoft Fabric
The Power of Microsoft Fabric enables developers to build scalable and robust applications that can seamlessly interact with other Microsoft products and services. Microsoft Fabric provides a wide range of analytics experiences that flawlessly integrate with each other. These experiences are specifically designed for different user roles and tasks, covering all aspects of analytical needs from start to finish.
Data Factory is a cloud-based service that helps organizations move, transform and load data into various data stores.
Synapse Data Warehouse is a cloud-based data warehouse that provides high performance and scalability for analytics workloads.
Synapse Data Engineering is a cloud-based service that helps organizations build and manage data pipelines.
Synapse Data Science is a cloud-based service that helps organizations build and deploy AI machine learning models.
Synapse Real-Time Analytics is a cloud-based service that helps organizations analyze streaming data in real time.
Power BI is a business intelligence tool that helps organizations visualize and analyze data.
Data activator is a no-code experience within Microsoft Fabric that allows business analysts to automate actions based on data insights.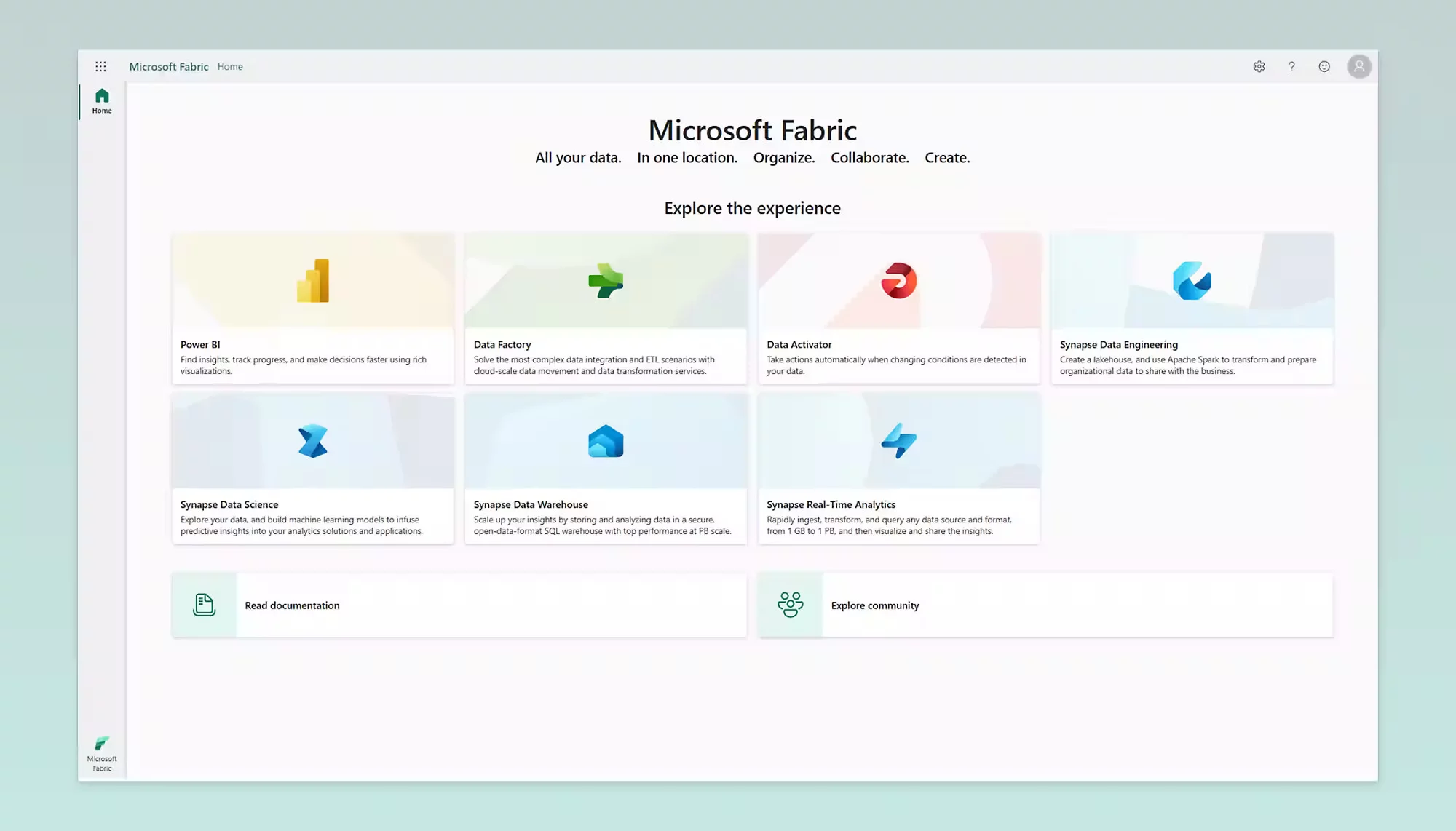 Source: https://www.microsoft.com/en-in/microsoft-fabric
Microsoft Fabric: Standout features that make a difference in analytics
Fabric offers several distinctive features that set it apart from other analytics platforms:
1. Complete Analytics Platform: By delivering Fabric as a Software-as-a-Service (SaaS) offering, Microsoft ensures automatic integration and optimization of all components. Users can sign up quickly and start deriving real business value within minutes. The role-specific experiences cater to the unique needs of data engineers, data scientists, data analysts, and business users, ensuring a seamless and intuitive workflow.
2. Lake-centric and open approach: Microsoft Fabric introduces OneLake, a multi-cloud data lake, akin to OneDrive for data. OneLake simplifies the creation, integration with Azure services, management and operation of data lakes, reducing complexities associated with different data formats and vendor lock-in concerns. It allows for easy sharing and governance of data, promotes collaboration and taps into the vast ecosystem of applications and tools compatible with Azure Data Lake Storage Gen2. It supports open data formats and eliminates data duplication, providing flexibility and compatibility with various applications and tools.
3. Powered by AI: Microsoft Fabric incorporates Azure OpenAI Service throughout its layers, allowing users to leverage generative AI capabilities against their data. The AI-powered Copilot feature assists in data-related tasks, such as creating dataflows, building machine learning models and generating code.
4. Empowers Business Users: Fabric seamlessly integrates with popular Microsoft 365 applications such as Excel, Teams, PowerPoint and SharePoint. This integration enables users to easily discover and analyze data within OneLake directly from these applications, fostering a data-driven culture throughout the organization. Power BI's visualization and analytics capabilities further enhance the value derived from data within Microsoft 365.
5. Unified capacities: Microsoft Fabric provides a comprehensive analytics solution, eliminating the need for organizations to stitch together multiple disjointed services from various vendors. With Fabric, you can purchase a single pool of computing resources that powers all your analytics requirements. This approach reduces costs by eliminating wastage and allows for seamless utilization of computing capacity across different analytics systems.
Companies embracing Microsoft Fabric's feature-rich platform
With the extensive range of key benefits and features of Microsoft Fabric, it has become a go-to solution for numerous companies. Microsoft Fabric empowers these companies to streamline their day-to-day operations and maximize efficiency. Let's delve into how different companies are embracing the key benefits and features of Microsoft Fabric.
Ferguson
Ferguson is a top distributor of plumbing, heating, ventilation, and air conditioning (HVAC) and waterworks supplies in North America. They are using Microsoft Fabric to combine their analytics tools into one solution, which they hope will help them work faster and more efficiently.
As per Principal Database Architect of Ferguson, Microsoft Fabric streamlines their processes and shortens delivery time by eliminating the need for multiple separate services. It consolidates essential data provisioning, transformation, modeling and analysis services into a single user interface (UI). This consolidation significantly reduces the time it takes to go from raw data to business intelligence.
Ferguson's data storage, engineering and analytics teams benefit greatly from Fabric, as they can now perform all these tasks within the same UI, resulting in faster delivery of insights.
KPMG
KPMG is a globally recognized professional services firm providing audit, tax, and advisory services. With a strong presence in various industries, KPMG offers expertise and insights to help businesses thrive.
"According to a manager at KPMG, a significant portion of their regular activities are linked to data, making data integration and management of hybrid and multi-cloud data environments challenging. To address these challenges, Microsoft Fabric simplifies data integration and unifies data across various platforms, empowering them to fully leverage customers data and expedite their data-driven initiatives."
T-mobile
T-Mobile, a major US wireless provider, aims to bring innovation and enhanced customer experiences in the field of wireless communication and beyond. They look to leverage Microsoft Fabric to elevate their platform and data-driven decision-making capabilities.
T-Mobile is excited about the introduction of Microsoft Fabric, which will help them to enhance their customer service. This technology streamlines the process of gathering information from various sources, enabling T-Mobile to gain deeper insights into their customers' needs. With Fabric, they will be able to search for data in one place instead of multiple locations. It will also allow them to process data faster, saving time and making the work more efficient. The data can be shared with team more easily, reducing the need for duplicate information. T-Mobile eagerly anticipates the implementation of these new features, as they will undoubtedly enhance the quality of their services for customers.
Begin your journey with Microsoft Fabric
Microsoft Fabric has been released as a public preview, available for a limited time at no cost during the Microsoft Fabric (Preview) trial. This trial grants access to Fabric product experiences and the necessary resources for creating and hosting Fabric items. Existing Power BI Premium users can simply turn on Fabric through the Power BI admin portal. Starting from July 1, 2023, Fabric will be automatically enabled for all Power BI tenants.
Microsoft Fabric stands as a powerful solution for businesses seeking to unlock the full potential of their data. Our team of experienced professionals can guide you through the seamless integration with Fabric's AI-driven collaborative features, empowering you to streamline data analysis, enhance collaboration, boost productivity, and optimize costs.