Did you know that augmented reality is expected to grow into a $90 billion industry by 2020?
Augmented Reality (AR) is a technology that combines virtual reality and the real world. It enriches the real world with media and digital information like 3D models, images, and videos, overlapping in real-time the camera view of your connected glasses, smartphone, tablet, or PC.
How different industries are using augmented reality in operations
Manufacturing – Increase process efficiency across the board from production to warehouse
Augmented reality (AR) technology is the best fit for manufacturing employees who perform complex assembly, maintenance, and repair jobs. AR-Based Solution can define real-time images of physical objects by overlapping virtual work instructions that can assist assembly line workers as well as quality assurance technicians in doing multiple tasks. Workers will be able to request live help and collaboration for difficult tasks from remote experts, and select training demos from online repositories for on-the-spot guidance. Ultimately, maintenance processes guided by AR improves quality, reduces errors, and increases the assembly process in manufacturing units.
Source: GMIS: Global Manufacturing & Industrialisation Summit
Augmented reality application in a manufacturing shop floor environment from production to warehousing
Healthcare – Improve patient diagnosis and treatment effectiveness
When we talk about AR in pharma and healthcare, it not only helps in saving lives, but it can also support healthcare organizations in making their existing processes more precise and efficient. A lot of researchers have already adopted this technology to help doctors to perform surgeries more effectively. Moreover, augmented reality is useful in viewing workout related data for improving fitness, teaching difficult subjects to medical students with visual examples and more.
Source: mbits imaging GmbH
Augmented reality application used by surgeons to obtain a 3D view of a patient during surgery.
Marketing and Sales – Boost sales with enticing product catalogs
For marketers and sales professionals, augmented reality helps in capturing customer preferences and selections. With this technology, sales reps can showcase products in a highly realistic manner directly in the customers' environment. Sharing product catalogs is much easier than before and one can have access to up-to-date information. Also, if the CRM system is integrated with AR on the iPad, iPhone and Android devices, product specs and designs can be synchronized directly to the account.
Pricing calculation errors related to multiple pricing models, managing discounts, etc.
Unreliable and unrealistic traditional processes lead to weeks of back-and-forth.
Lack of collaboration between the client and the production or engineering department.
Other challenges include a longer quote-to-order cycle, eroding profit margins and error-prone orders.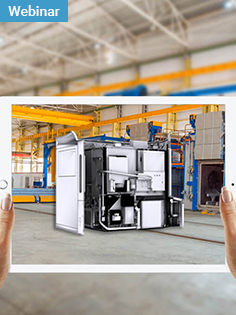 Streamline sales process with Augmented Reality (AR) product visualization
Webinar agenda
Why manufacturers should realize the importance of Augmented CPQ
Common challenges faced by manufacturers to close deals faster
Ways to streamline sales process using Augmented CPQ
Field Service – Make field technicians well-equipped and productive
With AR-assisted field service the technician can easily maintain machinery, equipment, and other products with smart glasses that frees up the operator's hand to use as required. Other than that, AR devices come with a user interface including speech, eye-gaze, and gesture or touch screen which equips the field service engineers to work efficiently. If a field technician wants to interact and get feedback from an expert, an advanced AR-based field service system integrated with video conferencing and collaboration tools can greatly help.
Real Estate – Showcase properties under construction in real-time
With the use of augmented reality, real estate agents can effectively project the information about the properties for sale with richer and more immersive photos of the houses. The super-imposed data visible to the user gives them an architectural visualization of floor plans, bedrooms, kitchen, drawing room in order to help them to understand how the final construction would look like. In certain scenarios, the buyer can not only see the overlapped data, but they can also visualize how the interior of the house will look after completion from outside with AR integrated mobile devices.
Education – Give a new dimension to learning
In the education industry, augmented reality overlays engaging 3D models on text to make learning more immersive. Students can be taught about lab safety by displaying information on how to use equipment safely without accidents. When training and interacting with deaf children, AR can provide video overlay for words, making them understand how to write a word or phrase. Even students can receive real-time instruction for assignments from their professors and teachers with AR's video overlay.
Retail – Enhance the retail customer experience
A lot of big brands have adopted AR solutions already to take advantage of the visual dynamics. Augmented reality adds the engaging element to help consumers visualize impressive 3D images while physically remaining in reality. Now with AR, retailers can augment their reach without having to build or rent any new physical location. Shoppers can walk through the virtual stores, pick the items just by clicking on the smartphone or tablet screens and have their items delivered directly to their homes once done. Hence, customers can see brands and their stock and engage with them in a new way.
The final say
With so many advantages and positive predictions of market growth, there's no doubt augmented reality is a powerful platform that will give early adopters an unprecedented advantage. Our expert team can offer you AR solutions that are well positioned and properly embedded in your business operations to increase revenue and reduce costs. To know how augmented reality can help your business, get in touch with our AR experts.