The manufacturing industry is evolving at a breakneck speed, and so is the configurable products landscape. With the introduction of smart technologies, manufacturing companies are moving their sales and distribution processes in the direction of digital transformation. So, adopting an intelligent CPQ tool has become the top priority of manufacturers today.
In today's dynamic environment, consumers expect to see what they are buying even before the products get manufactured. Thereby, the utilization of virtual CPQ (Configure, Price and Quote) tools in the manufacturing sales process are gaining traction. Augmented Reality (AR) plays an increasingly significant role in the sales process for configurable products. It holds the potential to make the CPQ sales process smarter and ubiquitous.
An Augmented reality based CPQ solution can provide an immersive buying experience to customers through supported smartphones or mobile devices. The tool can let you create designs in augmented reality, generate a quote instantly and complete the order.
Let's first look at some of the challenges faced by manufacturers today while dealing with configured products
Manufacturing sales reps are on the frontline facing off several challenges while configuring products, determining the price of each product, and then sending a quote. Let us look at some of the challenges faced by manufacturers.
Pricing calculation errors related to multiple pricing models, managing discounts, etc.
Unreliable and unrealistic traditional processes lead to weeks of back-and-forth.
Lack of collaboration between the client and the production or engineering department.
Other challenges include a longer quote-to-order cycle, eroding profit margins and error-prone orders.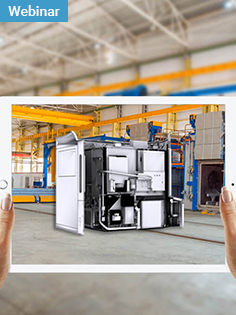 Streamline sales process with Augmented Reality (AR) product visualization
Webinar agenda
Why manufacturers should realize the importance of Augmented CPQ
Common challenges faced by manufacturers to close deals faster
Ways to streamline sales process using Augmented CPQ
With the increasing complexity of product structures and pricing strategies, the approach for CPQ needs to be changed. Thus, manufacturers must adopt innovative augmented reality CPQ solutions to close product configuration gaps and drive faster sales.
What is a mobile Augmented reality based CPQ sales tool?
Mobile augmented reality means an AR application that lets you augment the real world with dynamic content via smartphones or mobile devices. It enables your customers to experience the objects outside the confines of a physical store. The CPQ process of a mobile AR-based CPQ sales tool looks like this:
Configure: Mobile AR-based CPQ sales tool will allow you to present photorealistic 3D rendering of products to your customers in real-time. It means you can create configure-to-order products within a virtual space called an augmented CPQ configurator.
Price: After product configuration, the advanced AR-based CPQ solution tool will allow your customers to price the configurable product correctly. It automatically calculates the price of the viewed configurable product.
Quote: The mobile AR-based visual CPQ tool lets you generate contextual quotations through any mobile device at any time. It instantly generates a sales quote and sends it to the customer.
The tool enables you to create an interactive user experience, allowing your customers to interact with products inside a virtual room. The AR technology takes the CPQ process to the next level.
How mobile based Augmented Reality CPQ tools can address the challenges of industrial manufacturing sales
Today, it has become vital for manufacturing sales reps to tackle problems arising due to the lack of a CPQ tool or usage of the traditional CPQ system by adopting advanced technologies. Augmented CPQ solutions in manufacturing can help sales executives to address many of its daunting challenges.
Let us take the example of Hennig Inc – a leader in producing quality machine protection and chip/coolant management systems. Our team of experts has worked closely with Hennig to help them improve their sales process. Our robust mobile app lets them configure products virtually and generate quotes instantly. By simply entering customers' data inputs, the company's sales reps could generate a quote within a couple of minutes. In a nutshell, we have helped the client reduce iterations, bring automation in product configuration and quicken up their quote creation process.
Hennig is an example of how a business can utilize AR-based CPQ solutions in manufacturing to optimize the sales process. With this tool, manufacturing companies can increase productivity and bolster customer satisfaction. Moreover, the tool can help you overcome the common challenges that you are facing with the traditional CPQ process, as follows:
Helps you to sell complex products more efficiently and rapidly
Allows you to interact directly with customers using AR and 3D configuration
Let you streamline collaboration between sales, manufacturing and engineering teams
Enables your users to visualize and move animations in a near realistic environment
Increases the speed of quote time and product selling – all while boosting revenue
Features of Augmented CPQ sales tool
Asset-based ordering
Dynamic product configuration
Real-time quote generation
Pre-loaded product holograms
Guided selling process
Mobile-friendly, tablet-friendly
Augmented CPQ for tomorrow and beyond!
The AR technology holds the potential to drive more leads and deals in the manufacturing industry. Given the clear potential, modern industrial manufacturing firms are fast expanding their traditional CPQ offerings to AR-based CPQ solutions. Implementing AR in your CPQ process is a valuable step, but you will need a team of experts to do it. If you want to integrate AR into your CPQ process to fuel your manufacturing sales growth, then get in touch with our experts.