So the word is out… Microsoft's SharePoint will release in 2016 and it will be called SP2016. Microsoft announced the next version of SharePoint that will impact decision makers as to what version they should use for their business.
SharePoint 2019 Pre-Migration Check
There are several reasons why you should migrate to SharePoint 2019. It has hybrid cloud search, all the sites are in one place, it allows rapid site development, there are many PowerShell scripts and so on.
Tablets and mobiles are becoming an inevitable part of our lives and such devices are gaining much popularity in the commercial world. The new version of SharePoint will have more mobile features like a scaled down page view, true responsive interface and an enhanced UI that will be further redesigned for a touch interface. SP2016 will be rolled-out with the next version of Office; Office 2015 and Microsoft lovers can expect new versions of Exchange and Skype for Business.
The giant has started leaking news about SharePoint 2016 and they suggest the company  showcased an early edition at Ignite – the all-in-one conference for everyone from IT experts, senior decision makers and "big thinkers".
Microsoft plans to deliver a public beta of SharePoint 2016 in the fourth quarter of this year. SharePoint Server 2016 will become generally available in Q2 2016.
Bill Baer, senior technical project manager and Microsoft Certified Master for SharePoint said that the company will offer a look at the latest version at the conference, which was held in Chicago from May 4 through 8.

Insights
How SharePoint is Helping Enterprises Become More Efficient
SharePoint is a comprehensive collaboration tool that businesses are increasingly adopting in order to become more efficient and helping their employees become more productive.
Cloud Improvements Coming to Server
The giant continues to focus on SharePoint's Files, Content management, sites and portals components. It aims at making it easier to use hybrid architectures (
SharePoint Server and Office 365 services
). It also plans to make it easier for the organizations to perform migrations when they're ready, according to Seth Patton, global senior director for SharePoint. Microsoft is planning to add new experiences to SharePoint in order to make it more mobile and social. The company also wants to leverage machine learning capabilities.
Microsoft is also working to make OneDrive for Business more viable for organizations, especially on the mobile front. During the Ignite session, Baer said, "OneDrive for Business isn't where we want it to be. Microsoft is improving the lightweight file sharing capabilities of OneDrive for Business while also improving SharePoint Server's file sharing capabilities."
He also added that SharePoint Server 2016 will have the cloud as its foundation and that will affect how Microsoft thinks about its premises-based products. Hybrid use has tended to create silos of information (in the cloud and on premises) when it comes to searching the documents, but Microsoft plans to address this issue in SP2016. A new cloud search service will allow organizations to unify their search index across cloud and premises environments.
Improved user experiences
Organizations can work effectively when they are capable of making faster decisions. The stakeholders should be able to access the information on the go. SharePoint Server 2016 will provide mobile access to people, content and applications across devices. This will make document collaboration and file storage more people-centric. It will offer improved user experience and capabilities derived from innovations in Office 365. For instance, users will be able to discover relevant information and data stored across both on-premises and cloud environments. Microsoft focuses on helping the customers streamline communications with richer integration of Yammer and Exchange.
Compliance and Reporting
Data Loss Prevention (DLP) is a non-negotiable requirement, and overexposure to information can have legal and compliance consequences. SP2016 will provide a wide range of features and functionalities designed to ensure that the confidential information remains protected. The new version will be out with new scenarios to enable data encryption, and compliance features to maintain a balance between ensuring content usage and enabling user self-service.
Patch and Deployment Enhancements
Microsoft will add a new server role installation wizard to SharePoint Server 2016. The organizations will no longer have to plough through 15 pages of PowerShell commands to perform hybrid installations.
SharePoint Server 2016 Requirements
SP2016 will require Windows Server 2012 R2 or "Windows Server 10". It also needs Windows Server AppFabric 1.1. Users can migrate or upgrade to SharePoint Server 2016. It will not be possible to upgrade directly from SharePoint 2010 to SharePoint 2016.
Microsoft has decided that SharePoint Server 2013 will be the "Stepping Stone" to SharePoint Server 2016. The 2013 version is considered to be the genesis block for future SharePoint versions and its similarity with SharePoint Server 2016.
Talking about another change: Standalone installations will not be supported. The organizations will have to connect to a database server installed on the same system.
Some good news associated with SharePoint Server 2016: Microsoft will expand the content database size, list threshold size, site collections per database and maximum file size. (see chart below)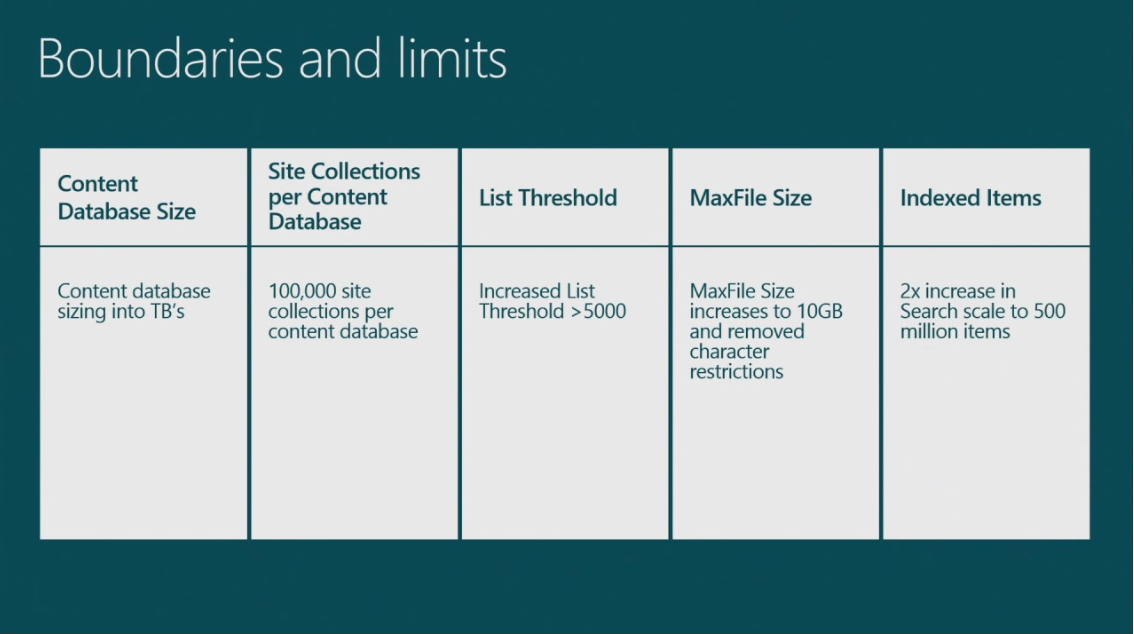 Source: Ignite 2015 session