Android 5.0 "Lollipop" is available for download now and this version is considered the biggest upgrade to the Android OS till date. There are several changes and new features, including a stronger security environment, in this Android release.
Let's take a quick review of all the main features available in Android Lollipop.
Material design – Google takes on Apple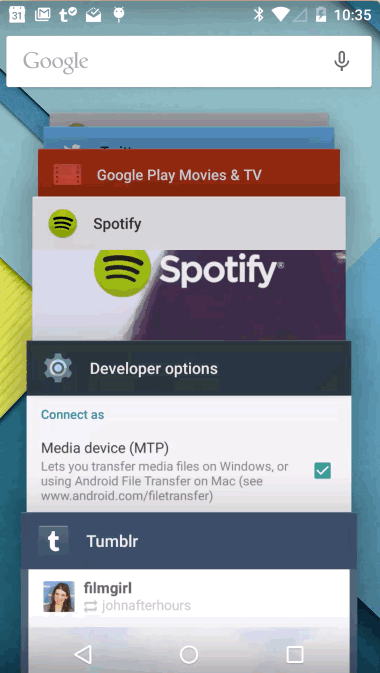 Source: http://mashable.com/2014/11/15/ios-8-vs-android-lollipop/
Google has been talking about its new design approach "Material Design" for some time now and many developers are also excited about this new Android UI. Material Design is a new design language that Google hopes will help it take on Apple's much acclaimed design experience. The plan is to have a unified design language across all devices – mobile, desktop, wearables and anything else that runs Android.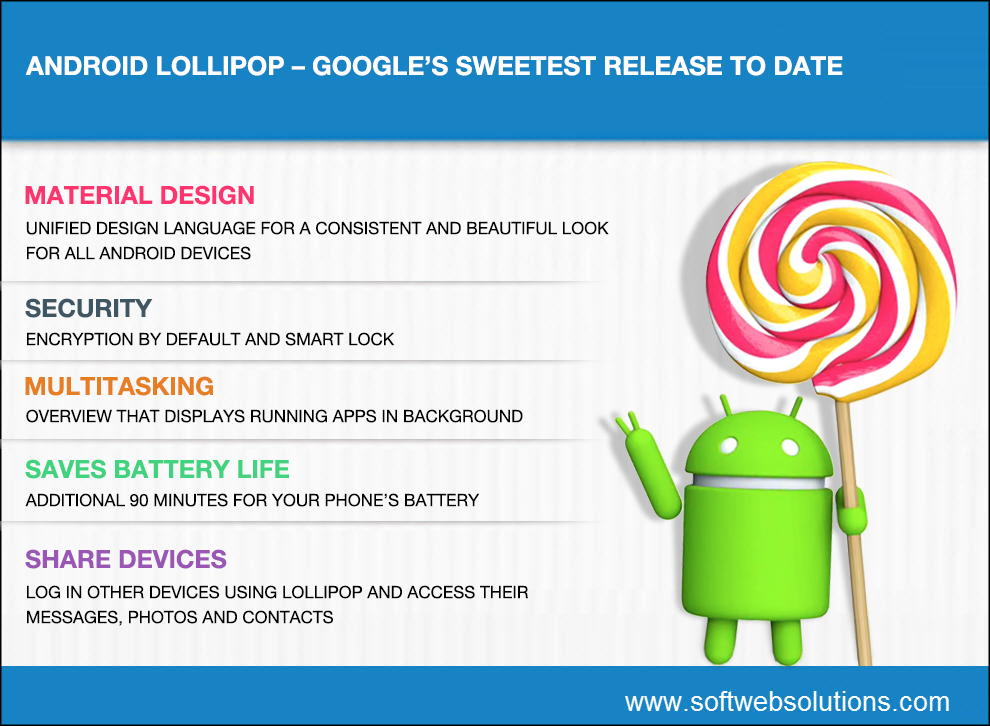 It is a cleaner design that uses more grid-based layouts, responsive animations and transitions. Matias Duarte, vice president of design for Android, has said that the idea was to come up with a design system that would help them (Google) unify and rationalize all the different screens that Android is used on. Material Design uses layers and is based on a paper and ink feel for users.
Inbox, Google's new email app, is an example of Material Design. Gmail and Calendar have also gotten major changes in Lollipop.
Material design approach also makes its way into other stock Google apps but most of the changes will be seen only on Nexus devices initially since most smartphone and tablet makers often use their own customized skins to change the look of their devices.
Security – A Lollipop Wrapped in Kevlar
Google has also made major changes to Android's security structure to address its security loopholes. Android 5.0 now has encryption by default and a new way of locking and unlocking the phone.
A locked screen is still one of the easiest and best ways to prevent data theft and unwanted snooping of the Android device. But many Android users are not keen on locking and unlocking their device a dozen times a day. Android 5.0 eliminates this issue with the Smart Lock, a platform using which you can unlock your phone using Bluetooth pairing or NFC. With this security feature enabled, your phone unlocks automatically when you are close to the Bluetooth device that you have selected or when you tap an NFC tag. When you are out of range from the device, your phone will be locked down and can then be unlocked only through a PIN, password or pattern lock.
This security feature is perfect for use with a smartwatch. Linking it with your smartwatch will mean that it is always unlocked when you are using it and as soon as someone steals it and takes it away from your Bluetooth range, the device will be locked down.
Google has strengthened the security of Android devices by adding device encryption from the first boot, using a unique key that never leaves the device. The encryption scrambles all the data on the device and can be unscrambled only with a special key, which is accessible with a password that the user creates. This safety feature is now the default for every Android device that runs Lollipop (including older devices that upgrade to Lollipop).
Smart Lock also has face recognition technology under the "Trusted face" option. You can quickly train your phone to recognize your face. With Lollipop, this technology has matured and easier to use than in the previous versions.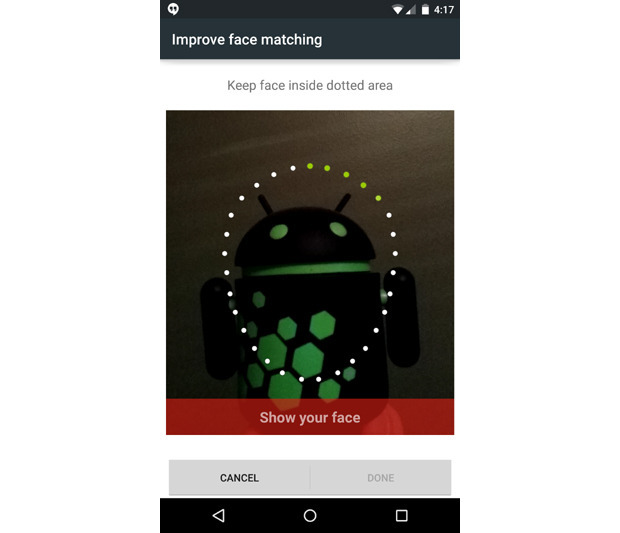 Source: http://www.computerworld.com/article/2848834/android-50-lollipop-features.html
Multitasking made easier
Lollipop makes multitasking easier by doing away with the "Recent Apps" and replacing it with a new menu called Overview that displays running apps in the background which resemble a card stack. The design is similar to the view the user gets when browsing through the open tabs on the Android app for Chrome. The Overview option also displays multiple tasks among different apps. This means that if you are drafting a new email in your Gmail account and also checking your inbox, you can see two Gmail tabs for these two separate tasks.
Lollipop extends battery life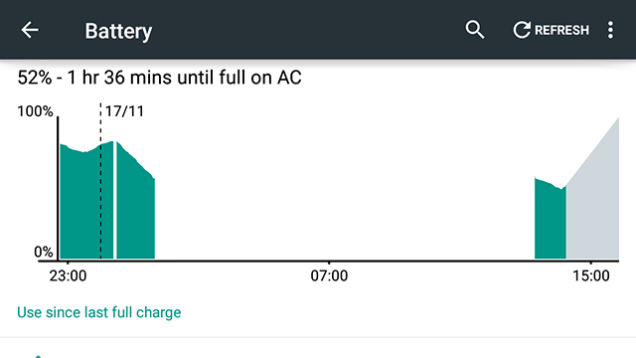 Source: http://fieldguide.gizmodo.com/16-things-you-can-do-in-android-lollipop-that-you-could-1659628014
The latest version of Android also comes with an enhanced mode for making your phone and tablet's battery last longer.
It clocks down the device's CPU, reduces the ambient light and even turns down any background data when devices need extra battery life. The user can turn on this feature manually or program it to start working when the battery hits a predefined low level. Google claims that this feature can add up to 90 minutes to your phone's battery.
Lollipop users also get to see how much time is left before the battery runs out of power or how long the user needs to wait before the device is fully charged up.
Device sharing – share your phone, not your stuff
Secure device sharing becomes possible with Lollipop. Jelly Bean had already bought the feature of multiple users for tablets and now Lollipop makes it possible for even smart phones to utilize this functionality.
This means that you can log in another Android smartphone running Lollipop and access all your messages, photos and even contacts using the Guest mode feature.
Another way to share your device securely is to pin a particular app to the screen and handover the device to the other user. This guest user will then be able to use the pinned app but will not be able to leave the app to explore the rest of the device. This feature can be turned on from settings and then the app can be chosen from Overview.
Lollipop gives better overall performance
ART, the new Android runtime, improves application performance and responsiveness.
Supports 64 bit devices, which means that desktop class CPUs are now available for Android.
Lollipop runs 64-bit native apps like Chrome, Gmail, Calendar and Google Play Music, among several others.
Lollipop's photography features lets users capture full resolution frames around 30 fps and support raw formats such as YUV and Bayer RAW.
Users can control settings for sensor, lens, and flash per individual frame.
Lollipop's video technology supports UHD (4K video) playback.
Android Lollipop is now available in over 68 languages.
Lollipop has many other cool features that make Android's latest version unmatched in features and capabilities in the mobile arena. Apple and Windows certainly have their work cut out for them!
Main Banner Image source: http://www.officialandroid.blogspot.in/2014/10/android-be-together-not-same.html