Energy is one of the vital resources for any building regardless of whether it is residential or commercial. Increasing energy costs, rising demand and stringent enforcement of government policies are some of the factors that lead many building owners to adopt the Internet of Things technology to monitor, control and save energy.
In a traditional energy management system, facility managers, building owners and tenants manually manage energy resources such as lighting, HVAC, security systems and fire systems which they operate with a lot of negligence. Moreover, due to aging infrastructure and irregular maintenance, stakeholders know that energy is getting wasted. However, they often fail to detect the source of the wastage and take corrective actions. All they can do is carrying out periodic maintenance and corrective maintenance (run-to-failure) with their guesswork to prevent energy wastage, but it is time-consuming, ineffective and costly.
"It has been estimated by Research and Markets that the energy management system market will grow to $9.3 billion by 2023".
Today, building owners and facility managers can monitor and control a building's electrical systems, such as lighting, HVAC, water heating and more by implementing an IoT-based energy monitoring solution. Such a smart energy monitoring system, when integrated with big data analytics and artificial intelligence (AI) can help them to identify numerous ways to optimize energy usage, prevent wastage and reduce energy consumption.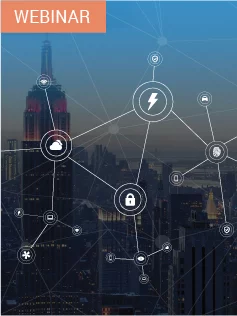 How smart building is taking operational and energy efficiency to the next level

Webinar agenda
Comparison of different building management systems
Biggest challenges of a typical commercial building
Core components of a Smart Building solution
Real-life use cases
Here're some of the advantages of the IoT-enabled energy monitoring solution.
Monitor energy consumption in real-time
With the smart energy monitoring solution, you can track and monitor energy consuming components through a mobile app. Through sensors, data related to temperature, CO2 moisture, indoor air quality and internal energy usage are gathered. This collected data is analyzed and represented via charts, graphs and reports that showcase energy consumption trends in a building over the years. Also, data is further analyzed to detect energy drifts and area wise usage to take corrective measures for better efficiency. This type of real-time energy monitoring solution helps to cut costs by preventing energy wastage instead of cutting down the usage.
Control power consumption remotely
With real-time energy monitoring in your building, you get a holistic perspective of smart, connected devices on your mobile phone or desktop. This solution is not just useful to monitor energy consumption in real-time, but it is also useful to control a building's systems such as lighting, HVAC systems, water heating, etc. on different floors and rooms, remotely. For example, you can adjust the temperature depending on the occupancy of a room, turn off lights in an empty room, shut off the gas or electric water heaters when it crosses the threshold. Hence, it enables the centralized monitoring of power consumption with better control in real-time and simplifies energy conservation.
Prevent power outages
The prime element of a smart energy monitoring system includes the placement of connected sensors across the energy infrastructure. The building's electrical system includes sensors for circuits, transformers and transmission lines, etc. These sensors monitor and measure critical information such as heat, temperature and pressure which are factors that contribute to power failure.
Moreover, the data collection, sharing and analytical functionality of a real-time energy monitoring solution provide an integrated view of how a specific electrical component (such as circuits) might affect the power grid. This perspective is necessary to enable predictive analytics and proactive intervention to prevent power outages.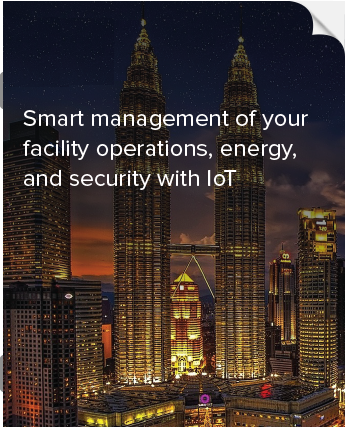 Insights
Smart management of your facility operations, energy, and security with IoT
Every asset, product, system, machine has now become smart and generates data. Sensors can monitor and manage almost any facet of a building environment from temperature, the usage and performance of utility assets
Reduction in carbon footprint
Buildings generate nearly 40% of annual global greenhouse gas emissions. And under the continual wave of urban growth, the global building stock will double in area by 2060. It's like adding an entire New York City every month for 40 years. Reduction in energy consumption also means a reduction in carbon footprint and an increase in sustainability. With a smart building energy monitoring system deployed in your building, you can align your building's energy consumption with regards to outside temperature, occupancy, time of day, degree of sunlight and other factors. Overall, you can take corrective steps to increase energy efficiency and reduce carbon footprint of your building while increasing occupant comfort.
Reduction in utility bills
By judiciously using energy, utility bills would decrease automatically. With an IoT-based energy monitoring solution, facility managers can efficiently manage the building's systems like HVAC, lighting systems, thereby saving on maintenance costs.
The final say
All in all, a smart energy monitoring system is inevitable as it not only provides the above-mentioned benefits, but also helps you to predict energy usage patterns and provide automated energy alerts and notifications. With such features, you can increase energy savings even more and reduce the time spent in managing the building's energy use. If you want to know more about the smart energy monitoring solution or want to implement it, talk to our experts.