In any organization, it is the workforce that matters the most and is considered to be a valuable asset. However, organizations struggle to ensure complete regulatory compliance and safety of their entire workforce. Also, businesses with a traditional approach lack details to understand what a worker is doing at the remote site and they also fail to track work progress. In order to gain this information, supervisors have to make multiple trips to the job-site located at different locations, which is costly and time-consuming. Even the workers struggle with outdated work instructions manuals and the paper-based manual approach for data collection to analyze and share with customers and stakeholders.
Now to digitally transform workplaces, improve safety and increase productivity, companies across various industries need a smart connected worker solution integrated into their business operations. However, before adopting IoT-driven connected worker solutions, organizations might want to get all the necessary information to make an informed decision.
Some important questions to consider when deploying IoT-enabled smart connected worker solutions
1. Which are the key technologies underpinning an end-to-end smart connected worker ecosystem?
The common technology gap in the smart connected worker environment is poor network connectivity, lack of mobile devices provisioned with the right apps and very basic back-end applications for analytics, reports and no real-time incident alerts.
A holistic smart connected worker environment would involve the integration of various effective systems, tools as well as processes. The prime features of the connected worker environment include an Industrial Internet of Things (IIoT) platform and infrastructure, mobile apps, robust backend applications, content repositories, RFID systems, cloud computing, edge hardware, smart glasses, proximity beacons, sensor-equipped wearables and more.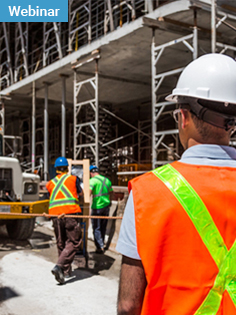 How to achieve increased worker safety and productivity with IoT
Webinar agenda
Impact of digital transformation and the opportunities it brings
Major risk factors for workers
Real-world connected worker use cases to improve safety
What steps you can take to get started
2. How do IoT-enabled smart connected worker solutions improve worker safety and compliance?
For organizations, it is one of the crucial missions to help workers stay safe on the job. The IoT-enabled smart connected worker platform offers remote monitoring and remote threat detection solutions to support operations managers. Managers can have real-time visibility and get insights into workers activity, hazards, status, biometrics, plume status, compliance status, man-down status, alarms, threat readings, location, biometric, and others. So during any critical incident, the data from each detector will immediately send alerts to the worker at the remote or lone location. All in all, this solution really proves to be helpful in improving productivity, reducing safety incidents, promoting preventive behavior, increasing compliance and cutting costs.
3. How can smart connected worker solutions help your business with analytics?
Organizations gather a lot of data, but that's not enough. What's more important is to turn that data into powerful business insights to take prompt actions. A smart connected worker solution with built-in AI-based data analytics capabilities can assess valuable data and help in making fact-based decisions rapidly. Not just that, it also gives access to real-time information on laptops, desktops, and smartphones. The data from the remote locations can be shared from anywhere, at any time for incident response time, data analysis, monitoring, compliance tracking and more. By the virtue of a smart connected worker solution, your managers can quickly eliminate and resolve negative performance trends, predict and prevent potential future safety incidents and optimize productivity and safety in real-time.
4. How can your company implement connected worker solutions?
Companies have started understanding that the workforce is changing and so are their expectations from the employers. By adopting a digital transformation like IoT-enabled smart connected worker, organizations cannot only address worker safety and productivity related challenges but can also set a whole new standard for the workforce.
It is true that organizations find it challenging to deploy a successful IoT-based smart connected worker solution, but this is because they lack a proper implementation strategy. Partner with an experienced company who can develop a realistic roadmap and design a fail-proof IoT strategy for smart connected worker solutions with below-mentioned capabilities:
Geo-localization, navigation and asset visualization
Real-time monitoring of workers' vitals
Examining environment factors
Planning and scheduling automation
Prescriptive analytics
Visualization of live data
Diagnostic analytics and more
You can even organize an IoT workshop to know why and how to implement an IoT-enabled smart connected worker solution for your business.
The final say
These are some of the prime questions that the CEO of any company would ask before planning to adopt an IoT solution. By now you must have realized that without an IoT-enabled solution for the workforce, it is difficult to achieve operational performance and safety of workers. Talk to our experts to know how our smart connected worker solution can digitize your core operations with zero incidents.