We're on the cusp of a revolution in smart devices and things. Companies in the IT sector are busy establishing their own identity in the quickly rising IoT ecosystem and as part of their endeavor they are inviting everyone else to join the IoT revolution.


At present, IoT related technologies such as sensors, wearables, cloud, and other related platforms are much in demand. We can also see that researchers, developers, and practitioners from diverse fields including scientists and engineers are coming together for a single cause. It looks like the world is set to see some evolutionary changes in the near future.
The phrase "Internet of Things" was first coined by Kevin Ashton in 1999. He stated that, "the Internet of Things (IoT) has the potential to change the world, just as the Internet did – maybe even more so." IC Insights expects that between 2014 and 2019, sensor shipments will surge with a CAGR of 11.4%, culminating in a total of 19.1 billion sensors by 2019. Revenues will rise 6 % annually as a result.

Commonly used sensors in IoT
The variety and the type of sensors available at present make you baffled. They are used for various purposes benefitting every facet of human life. As IoT rises to dominance, a sensor takes more responsible part, which for the most part, is designed to measure a physical quality and enumerate it into a value that can be read by a user or another device. Since it is not so easy to list out or talk about all the sensors, let's focus on those sensors which are commonly used in IoT.
They are:
Temperature Sensors
These are one of the most popular sensors that measure the temperature or heat of a given medium. These sensors utilize a number of different methods to determine and quantify the temperature of an object. These sensors work in a number of different ways, some of the sensors required to be in physical contact with the object while another type of sensors do not require contact as they can detect liquid or gases that emit radiant energy like spike in heat or a plummeting temperature.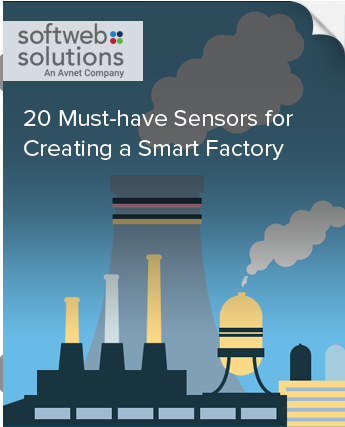 Insights
20 Must-have Sensors for Creating a Smart Factory
The Internet of Things is changing the manufacturing industry and sensors are at the heart of IoT solutions.
Uses
Used in simple thermostat devices to highly sensitive semiconductors which are capable enough to control intricate procedures.
Proximity Sensors
Proximity sensors are the best to detect motion. They are a common component in applications involving security, safety, or efficiency. These sensors are used to avoid obstacles in navigating to a crowded place or any complex route as it can be the best possible sensor for map building and guiding. Proximity sensors utilize electromagnetic radiation or radar to conclude motion or habitation.
Uses
Proximity sensors have best use in retail industry. The retailers use proximity sensors to connect with the customers once they are in the vicinity of their premises by sending them some offers on their mobile phones. They can be used in parking systems, museums, airports, etc.
Pressure Sensors
Pressure sensors are used for measuring pressure of gas or liquid by converting the physical power into an electrical signal. They are also good at measuring other variables such as speed and altitude or such elements in some way. Barometers and pressure gauges are the most popular pressure sensors used for IoT ecosystem. Barometers are an absolute help in weather forecasting as it accurately measures the ambient air. Pressure gauges are mostly used in industrial sites as it is good in monitoring the pressure in sealed environments.
Uses
Pressure sensors are ultimate solution for IoT as they can be used in various areas such as touch screen devices, bio medical instrumentation, devices used in automotive and manufacturing industry, etc.
Optical Sensors
Fiber optic sensing technology is used to detect electromagnetic energies like light, electricity, or such elemental particles. They can emit, receive, and convert light energy into electrical signal. The fiber optic sensor IoT interface is connected to internet and cloud platform which collects information for monitoring various parameters. These optical sensors have great use in digital cameras which act as one of the major physical devices of an IoT ecosystem. We can expect high growth of innovative fiber optic sensors as part of the rise in sophisticated industrial automation applications. As they are passive to all forms of electrical interfaces, they are considered as the much loved sensors for IoT.
Uses
Great sensors for energy, health care, aerospace, chemicals, environment IoT platforms. Optical sensors can be ideal for environments such as oil refineries, grain bins, mining operations, pharmaceutical manufacture, and chemical processing due to its no-risk components.
The following image shows a typical IoT node within a building include edge routers: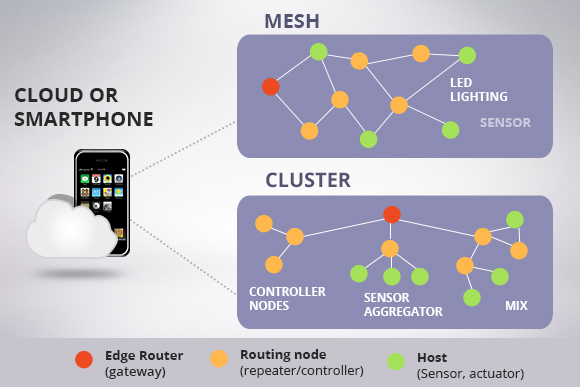 Sensors used for Environmental Monitoring: Sensors contribute adequately to environment monitoring. There are sensors to detect temperature, humidity, carbon monoxide (CO), carbon dioxide (CO2), dust, gas, VOC, etc.
Sensors used for Motion Sensing & Security Sensors: Sensors contribute very much in the field of motion sensing and security with sensors for vibration, collision, beacons, and door sensors.
Sensors used for physical monitoring: There are various sensors used for physical monitoring as well. They can be used for physical monitoring of water, noise, camera, and power.
Softweb Solutions, in association with other companies, is working hard to deliver the best IoT-based solutions to various businesses. As one of the premier Chicago based Internet of Things Company, we believe that data is everywhere and to make the best use of it, businesses must utilize this data to gain actionable insights.