A chatbot is basically software that resides on a messaging platform and is developed with the purpose of having lifelike interactions with humans through text or audio.
But how can these bots contribute to restaurants, you ask?
Suppose you feel like having your favorite pizza but don't feel like getting out of your jammies. Wouldn't it be great if someone magically delivered your pizza? Well, we don't have pizza delivering robots as of now, but we have the next best thing – bots.
Following today's technology trends, bots are the only ones that can interact with you over chat using Machine Learning and NLP (Natural Language Processing).
How bots work
If you want to have a burger for lunch, you'd probably visit a nearby fast food restaurant. Alternatively, you may also search for some restaurants online, click around until you find what you want, and then place your order.
With a bot, you can have your favorite burger delivered to your doorstep just by texting the bot, which would be a part of Facebook Messenger or any other popular messaging app. You'd be doing something similar to what you do while searching for a restaurant online, the difference being, with bots, you don't have to bother about downloading anything new or shuffling between websites. Bots are more personalized than apps or websites ever could be, thus providing a better user experience.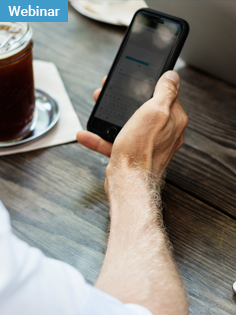 Smart chatbot for BFSI industry – What can it do for you?
Webinar agenda
Introduction to chatbot – The intelligent assistant
Capabilities of a smart chatbot
Current chatbot adoption in BFSI
Challenges of BFSI industry
Chatbot use cases in BFSI
Chatbot demo
Bots as virtual assistants for restaurants
If you are a restaurant owner, a chatbot that handles your customer interaction can prove to be an ace for your business. A chatbot can overcome a lot of challenges that are difficult to tackle using any manual process. Here are some challenges that bots can address and act as your companion and not just some nerdy piece of code:
1: Sluggish delivery and order processing
Solution: The manual process of ordering your food using a website or an app becomes tiresome as majority of the times, you're not provided with the order tracking facility. At times when you can track your order, you would have to visit the website and check for yourself if the order is dispatched. With the help of bots, you can make the delivery and order processing faster and transparent. The bot will notify you as soon as your order is prepared or is on the way to your home.
2: Incapable of knowing order patterns for frequent customers
Solution: Customers are habituated of ordering the same food from the same place over and over again. Presently, food ordering websites allow you to save your favorite orders for placing a quick order in the future. But, bots can take this further by reminding users what they had the last few times, when they had it and maybe even what the occasion was. In such scenarios, bots can also notify the customers that they can avail some discount on repeating their previous order.
3: Unable to keep track of loyal customers
Solution: For any business, it is hard to find and retain customers who are loyal to them. If you have found customers who frequently order their meals from your restaurant, they deserve some special treatment, don't they? Customers need to know that you value them and bots can do just that for any business. Using bots, restaurants can notify customers about special offers or loyalty points that they are offering to their frequent customers.
4: No customer feedback to assess performance based on analysis and reporting
Solution: Usually, customers don't bother to provide an insightful feedback on how they liked the food or service of a restaurant. This might not sound like a big deal, but only by getting customer feedback, businesses can move forward. As soon as customers are done with their meal, the bot will ask them to provide a quick feedback, so that businesses can better analyze where they need improvement.
5: Customer preference is not taken into consideration while presenting the menu
Solution: Of course, you would be delighted if the restaurants knew about your preferences and tastes. Bots use machine learning and previous customers' data to know what you like and what you don't. Suppose you are a vegetarian, then the bot would only pop vegetarian options from the menu. It can also remember if you are allergic to mushrooms and keep you away from recipes that include them.
Easy integration with your existing systems
Do you know what makes bots the most convenient option? They can simply be integrated with any restaurant's existing communication system either by using Facebook Messenger, Skype or any restaurant POS that they are currently using. Integration with any internal chat messenger of the restaurant that is linked to their website or mobile app can also be considered as an easy option.
Let's work smartly!
The process of ordering food becomes much simpler with bots. Customers can get what they need from the comfort of their home and restaurant owners can tackle a lot of challenges that they otherwise face in the absence of bots. If you are a restaurant owner and want to implement such a system for the services that you offer, you can get our help without a second thought.