Tired of loading and unloading items in the supermarket and waiting to check out while you stand in the long queue? Don't you think that there has got to be better way, a faster way to check out your groceries?
Team 4 (FB: #SoftwebHackathon4) has come up with a smart solution that can eliminate the long lines and give you the ability to checkout within seconds.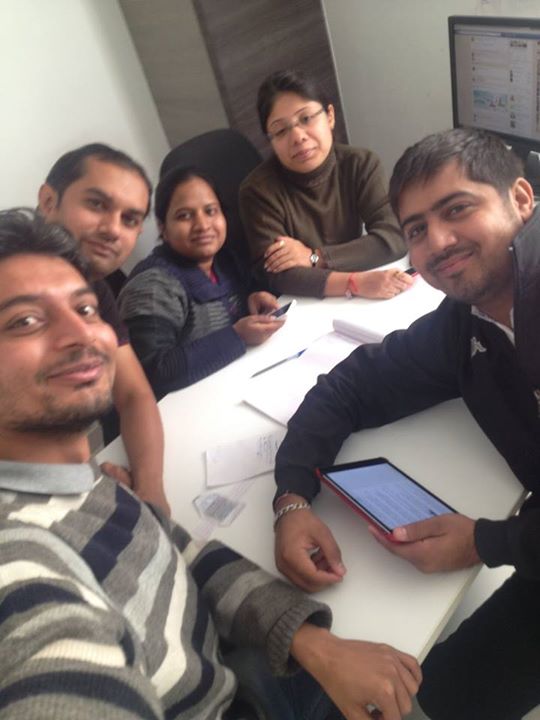 (L to R: Abhayrajsinh Vala, Diken Shah, Pooja Jalan, Suchita Paleja and Jethanand Nandpal)
Team leader Suchita says that the idea came to them when they were brainstorming for a project and realized that Apple's Handoff could also be used in the retail sector.
The feature, already available in iOS 8 by default lets users pick up right where they left off. The user can start browsing a website on his iPhone and then continue from the same scroll position on his Mac. Suchita says this continuity feature forms the core of their app –SmartShopin.
The retailer needs to have smart trolleys in his shop as the first step. Today there are smart trolleys that have an electronic display, RFID reader and even a weighing console to measure fresh produce.
The cart total is then transferred to the consumer's iPhone through either Bluetooth or through a web service.
At the checkout counter, the consumer shares his cart information with the cashier using SmartShopin. For this, the consumer has to log into the retailer's iCloud account since Handoff requires a common iCloud account between two devices.
The cashier can see the consumers' shopping cart list on his Apple device and then the payment can be done via any method – cash, credit card or Apple Pay. The main advantage of this technology is that it completely eliminates the process of unloading the cart at the checkout counter and the cashier having to scan every product.

It took the team 12 hours to create this concept and the team believes that this can be extended into a viable prototype given more time. The best thing that they liked about the hackathon was that they got to work on their own projects and are already coming up with ideas for the next hackathon!