Bots are set to change the way businesses interact with customers and even their employees in the same way that mobile apps did five years ago. In our recent webinar on bots – Fall of Mobile Apps and the Rise of Bots, we talked about how businesses can create and implement bots with the help of use cases and demos. In this blog post, we will briefly explain how bots are the next best thing to sliced bread!
7 reasons why we believe bots will replace most mobile applications –
1) Bots reside in messaging apps, which are becoming the most used mobile applications; surpassing even social networking apps in terms of active monthly users.
2) Bots are easy to install, and can even be recommended by other bots. For example, in Slack, another team member can add your bot so that your entire team can make use of it.
3) Feature-rich mobile apps are expensive to develop, deploy, and maintain. Moreover, the app needs to be tested, upgraded, and submitted to the app store for approvals.
4) In the case of bots, you can install it in the messaging app built by someone else and new feature deployment can be done with continuous integration from the backend.
5) Bots are quite portable as messaging apps can be integrated easily into live chat, car audio systems, personal assistants (Siri, Google Now, Echo), as a voice in your ear, in smart watches, email, and push notifications.
6) A bot can reduce the user's cognitive load as it can search Google, flip through results, click a few links, derive the essential information, and make a decision. This is particularly useful when on-the-go or when you don't have enough time.
7) Bots are progressively augmenting their place in the business world. The existing frameworks, platforms, and machine learning capabilities are also evolving to strengthen its offerings to replace existing models.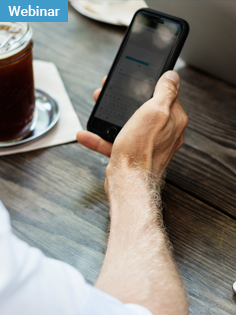 Smart chatbot for BFSI industry – What can it do for you?
Webinar agenda
Introduction to chatbot – The intelligent assistant
Capabilities of a smart chatbot
Current chatbot adoption in BFSI
Challenges of BFSI industry
Chatbot use cases in BFSI
Chatbot demo
There are already thousands of bots on all the major messaging applications. Facebook Messenger has 33,000 bots as of September 2016 and there are hundreds of bots available for Slack, Telegram and Skype. There is no exact count for all the applications since many are developed for internal enterprise usage.
Our poll results from the webinar show that most businesses believe that bots can help them in carrying out routine tasks and are planning to create bots in the next few months.
Poll Question 1: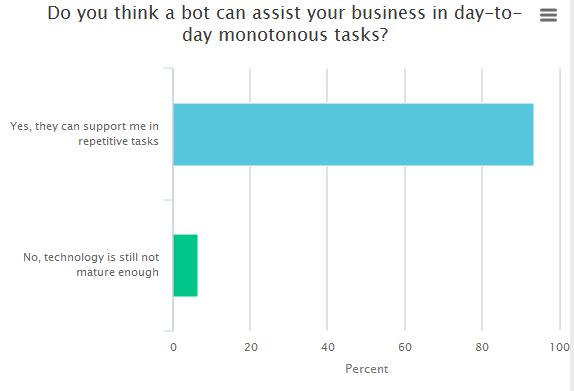 Poll Question 2: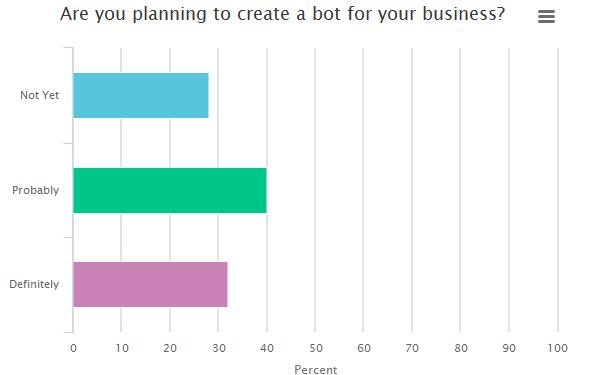 As you can see from the above poll responses, the majority of respondents find bots capable of a tremendous amount of things, from simple conversation to describing content to scheduling and more. So, if you are planning to develop a bot for your business, talk to our experts.