If we talk about e-commerce development, Magento is the first name that comes to our mind. It is quite obvious as Magento has uplifted e-commerce standards to a whole new paradigm with ease, efficiency, and accessibility for online stores. Magento is the #1 provider to the world's e-commerce giants such as Taunton Store, Gant, Nike, Bazaar, Paul Smith, etc. for their software development requirements.
Now, with the release of Magento 2.0 it is all set to revolutionize the current online shopping industry like never before. Let's unleash the power of Magento by hiring Magento web developers.
With $50 Billion+ in gross transactions annually, more and more businesses rely on Magento. -Magento.com
After many years of e-commerce web development, Magento is finally available with its three-stage release. Most businesses will upgrade their systems to Magento 2.0 for better performance along with its key features. A new era of commerce innovation has started with the release of e-commerce magnet Magento 2.0.
Magento 2.0 was recently released on 17 November, 2015. Also, two new products based on this powerful e-commerce platform were released for download:
Magento Enterprise Edition 2.0
Magento Community Edition 2.0
Let's have a look at the Magento 2.0 updates timeline.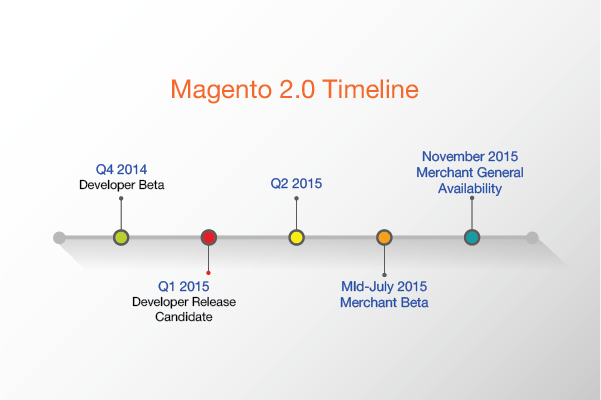 Top advantages of getting upgraded to Magento 2.0
What is more exciting about the latest Magento release? What makes it essential for enterprises to get upgraded with Magento 2.0? Let's stroll down and have a check on the topmost advantages of Magento 2.0.
Insights
Why you should upgrade to Magento 2
Magento 2 is a preferred software and platform that allows you to build a full-fledged e-commerce website with less effort and time. It helps in improving the performance of your web store with its upgraded and enhanced features.
Magento 2.0 has the following new technologies under its hood:
As far as online businesses are concerned, it has become tedious to manage each and every experience on the web. Magento 2.0 facilitates businesses with a brand new, user friendly backed UI. With the help of these new features businesses can transform their digital commerce on a whole new level with better customer experience.
Open-source and flexible architecture
Engaging shopping experience
A more powerful toolset to serve clients
Enhanced business productivity and agility
Enterprise-grade scalability and performance
Simple external integrations
Secure payment system
Streamline customization
Easy maintenance and upgrades
Faster development cycles and better documentation
Get a faster time to market in low development costs!
Magento 2.0 results in faster development that'll help you in launching your business on time. You can get 50% reduction in time to market your products/services stack. It also facilitates you with low development costs and lowered long-term maintenance costs. It gives you a greater flexibility to adapt to new opportunities. It will empower enterprises with a consistent branding. Also, enterprises can have advantages in better email marketing campaigns and performance.
With a goal of modernizing the web technology stack while improving performance and scalability, Magento 2.0 is aiming for a superior digital experience for both- consumers and businesses. It has high code quality and improved testing framework to assure quality development in lesser time. Also, easy customization can be carried out with cleaner installation and upgrades. Magento 2.0 facilitates you with separate business logic from presentation.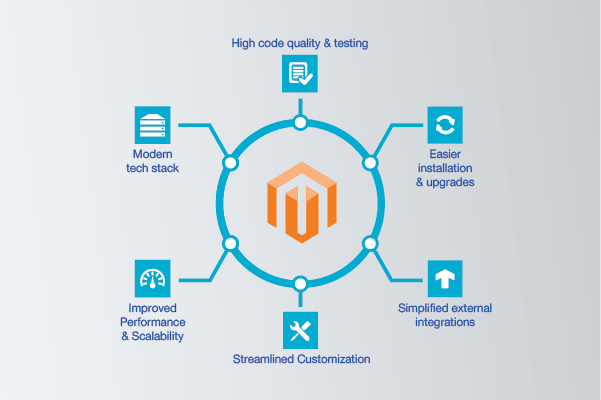 This is how Magento 2.0 is going to transform digital commerce forever. Meanwhile, there is other speculation going on such as "Is it a one step process or easy method to move from old existing versions to the latest edition Magento 2.0? The answer is- "No, it's not!" It is a set of processes and you need to hire Magento experts who will assist you in the complete transformation to the latest version.
Meanwhile, the Magento open-source team is planning to support Magento 1.14 and Magento 1.9 for the next three years from the time of the Magento 2.0 release
If you want to modernize your e-commerce business, hire a team of experienced Magento developers. Contact our sales representative to get a broader idea of the entire transformation of your existing e-commerce solution with Magento 2.0.
Are you ready to reach-out to new heights with the leading digital commerce platform, Magento 2.0? Let's deliver the best e-commerce experience for customers.