Sticking to the traditional CPQ (configure, price, quote) tools is taking you nowhere. One of the most challenging aspects for manufacturers is managing the manufacturing-to-sales process, which is never easy. There are several variables that matter in delivering an accurate CPQ such as machine specifications, material types, speed, space and dimensions. Every machine has a different footprint and needs to be fitted the right way. Often the workforce is required to go on-site, measure the requirements and get quotes in place. This conventional process consumes the customer's time, salesperson's time, and your time to close deals faster.
Augmented reality (AR) is turning the tables by changing the way manufacturers connect and interact. AR, as we know, is a combination of digital and audiovisual elements that connect the real and digital worlds. AR provides you with human-and-machine interaction.
Challenges of traditional manufacturing CPQ
Manufacturers are constantly required to deliver highly varied products; each with different specifications, as demanded by buyers. They utilize a CPQ tool to closely align with the manufacturing process. But traditional CPQ tools fail to feature few repetitions, higher product variance and lower volume.
Further, buyers are not inclined to settle for solutions that do not meet their requirements. Therefore, manufacturers need to address each stated need and deliver effective solutions. On the one hand, buyers expect prices that are competitive while stakeholders expect margins that support profitability. On the other hand, manufacturers require the ability to handle different manufacturing processes and have them ready to go without major re-tooling or plant modifications.
As manufacturers switch between processes and production technologies, it requires new configurations, pricing and quotes for the buyer. Therefore, to assure the continuous, smooth and steady flow of products throughout the development and production process, a traditional CPQ is no longer effective. This paves the way for the Augmented CPQ product configurator solution to match the manufacturing process and assists in generating pricing and quotations in real-time.
Augmented CPQ functionalities that boost manufacturing operations
Augmented CPQ Product Configuration is one of the most promising productivity solutions in the market for industrial use. It is driven by deep insights and shaped by innovation. Besides, it simplifies the sales-to-manufacturing process. Here are a handful of features that Augmented CPQ supports:
Visual selling techniques
Allow your users to experiment with interactive versions of your products as Augmented CPQ radically transforms selling for businesses. By overlaying digital content over the environment for better visualization and deeper interaction with users, it bridges the gap between the product and end-users allowing them to showcase any product in its real size with the most accurate details and a variety of colors. 3D models of the goods are the only thing required to build this solution and it can be developed in measured time.
Augmented CPQ allows the user to quickly customize products in 2D, 3D or AR. Since every configuration follows your set business and manufacturing criteria, your sales order is always correct, error-free and lucrative.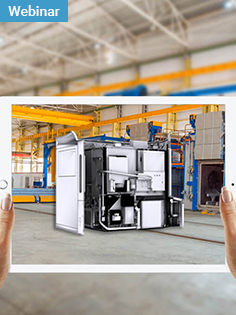 Streamline sales process with Augmented Reality (AR) product visualization
Webinar agenda
Why manufacturers should realize the importance of Augmented CPQ
Common challenges faced by manufacturers to close deals faster
Ways to streamline sales process using Augmented CPQ
Simplify configurations
Augmented CPQ gives you the ability to create CAD designs and files, bills of materials (BOM), assembly instructions, parts' lists, product renderings and more. Besides, it also feeds your sales teams with the original product configuration performed either by the sales representative, distributor or end customer. This way Augmented CPQ will help you streamline your sales processes and achieve desired outcomes.
Closing deals faster with guided selling
It is now easy for salespeople, partners and consumers to walk through a series of questions to determine the best product fit. Upsell and cross-sell chances are triggered and prompted for potential buyers, resulting in larger deal sizes that conclude quickly. Simultaneously, you can combine it with your e-commerce platform for seamless, automated B2B and B2C selling.
The outstanding benefits of Augmented CPQ
Dynamic pricing
Allow for faster purchases by using calculated pricing that changes as customers change demands. Based on pre-configured rules, pricing is updated and made accurate, and shows changes promptly.
Real-time quoting
Give each sales rep the ability to configure a product that generates high-quality, accurate quotes with accompanying information, including product renderings and BOM.
Automation and CAD
Close the gap between sales, engineering and manufacturing processes by creating dynamic CAD files, while the designed workflows generate BOM and production documentation automatically.
Integrated CPQ
Use REST web services, pre-built setups or integrate your CPQ solution with your websites, apps and core business systems to streamline your Augmented CPQ solution.
Advanced rule engine
Deliver consistent configurations by creating rules using drag-and-drop blocks from the toolbox and snapping them together to construct simple logic statements.
Administration of cloud platforms
Bring your disparate processes by avoiding dependency on custom code. Also, easily manage your products, integrations, buying channels, users and other aspects of your cloud-based CPQ.
How Softweb Solutions' Augmented CPQ product configurators can help manufacturers to improve efficiency
Early adopters benefit from a competitive edge with Augmented CPQ. Our customizable Augmented CPQ solution can help you keep up with changing product needs, market conditions and customer expectations. Additionally, our solutions also help you streamline and optimize manufacturing operations so you can conveniently focus on your customers, staff and business expansion.
Here's a use case for a better understanding: Augmented CPQ is all new for manufacturers. When a manufacturer showcases products with an AR interactive demonstration at the customer's location, it will allow them to be more familiar virtually. Also, you can line up existing machines and systems at an actual scale and configure product specifications and the sales reps can generate instant quotes for faster deal closures.
Augmented CPQ process overview

Benefits of Augmented CPQ product configurator to enhance your manufacturing processes:
Optimize lean manufacturing to focus on the most important goals to make better decisions, reduce waste and boost customer satisfaction
From the shop floor to the top level to raw materials and finished goods, gain the ability to track, measure and monitor your entire operations
Get access to crucial information at any time and from anywhere
Remove bottlenecks and idle equipment required and improve production planning
Reduce expenses and streamline operations while increasing revenue and profits
Be early adopters!
Engage your customers in a new way using product configurator and enable users to view the products in 360 degrees. The implementation and expanded support offerings allow you to reduce product development time. Moreover, Augmented CPQ in manufacturing helps to increase sales and improve the ordering process with enhanced capabilities.
Visual configuration in 2D, 3D or AR can help you bring your products to life and increase sales. Find the best match of sales professionals, dealers and customers to effortlessly modify product options and pricing in real-time. Check out our Augmented CPQ services for enterprises.