Advances in augmented reality (AR) have revealed many possibilities that previously were confined to our imaginations. Today, several sophisticated computer-produced visions can be used to enhance our physical environment in completely new and captivating ways. Augmented reality has been around for some time and it's not a new term for businesses. However, it is necessary to check out the new advancement of augmented reality development for the web that is gaining popularity among various industries. In this blog post, we will be talking about the currently trending WebAR technology.
What is Web AR
First of all, you may ask, what exactly is WebAR? Isn't it similar to augmented reality? Well, WebAR is undoubtedly an augmented reality experience, but it is accessed through a web browser instead of an app or a particular software. This web-based AR experience is supported by the use of technologies such as WebGL, WebRTC, WebVR and APIs. Also, you just need a smartphone to access it.
WebAR enables mobile users to explore AR technology in the easiest way using web-based internet browsers, which reduces the need to buy dedicated AR hardware. It simply breaks down barriers and creates interactive 3D models that can be accessed through a QR-code or a link. For the time being, web-based AR provides limited functionalities compared to app-based AR, but it already includes simple animations, images and some degree of interactivity. Moreover, WebAR also supports image target detection in which an image is recognized through its natural shape using a camera lens and matched with a superimposed 3D object target resource database.
What are the core benefits of Web-AR for businesses?
1. Provide immersive experience to your customers
Traditional marketing alone is quickly becoming less effective. Today, augmented reality paves a way for interactive experiences. With a quick scan, you can allow your customers to engage with your brand and your product range in a special and personal way.
2. Allow your customers to personalize their experience
Using AR features you can allow your customers to personalize the color and style of their favorite product. For instance, a customer looking for blue sports shoes, in an online store, the customer will only be able to look at color options, but with AR features the customer can experience the product by simply choosing from the available colors and knowing whether the blue show suits him or her. Your customers can have a completely augmented experience from the comfort of their home, where AR overlays different shoe options and your customers can try them without actually wearing them.
Pricing calculation errors related to multiple pricing models, managing discounts, etc.
Unreliable and unrealistic traditional processes lead to weeks of back-and-forth.
Lack of collaboration between the client and the production or engineering department.
Other challenges include a longer quote-to-order cycle, eroding profit margins and error-prone orders.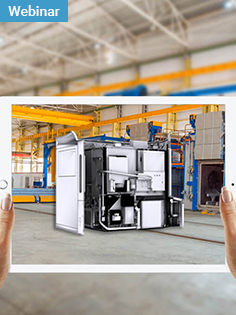 Streamline sales process with Augmented Reality (AR) product visualization
Webinar agenda
Why manufacturers should realize the importance of Augmented CPQ
Common challenges faced by manufacturers to close deals faster
Ways to streamline sales process using Augmented CPQ
3. Bridge the difference between print and digital
With the arrival of AR, do not assume that print products will disappear, but instead they are believed to assist augmented reality. WebAR can create an enriched storytelling experience for readers and provide new streams of profits for businesses. Therefore, digital and print can walk hand in hand, promoting each other. QR codes in print and digital take user experiences to much higher levels.
4. Resolve your language barriers
It is common that companies wanting to expand globally have to face language barriers that involve time, effort, and money to be resolved. But when you adopt WebAR it simplifies many marketing challenges as AR features can offer wide language options with a click of a button. It's amazing! Hence, growing organizations can take advantage of WebAR when targeting different cultural markets.
List of industrial uses of WebAR
E-commerce and Advertising sector
E-commerce retailers and marketers can provide their customers with a new experience using WebAR. WebAR in marketing acts as a new medium for advertising campaigns where users can simply scan a QR-code or click on the provided link to get more engaging and interactive advertisements that they can enjoy. For instance, you can allow your potential buyers to visualize the products while shopping.
Entertainment sector
The use of WebAR for entertainment is probably the most evident as interacting with it is enjoyable on its own. It can be used for gaming or even for film promotion. Here's a real-life example, Sony Pictures used WebAR to promote the popular Jumanji movie and succeeded in offering a truly engaging voice interaction experience to deliver an exciting 3D adventure.
Education sector
Developing WebAR applications in the educational process can be a great way to engage students in classrooms and make the entire education process more interactive and exciting. Imagine a life-size representation of virtual human anatomy in a real image for healthcare students, where they can move around it and gain a deeper understanding.

Summing up
Undoubtedly, WebAR is revolutionizing the web design industry and is opening doors with endless opportunities. We just shared with you some awesome ways of how WebAR can be leveraged to interact with your customers. Moreover, your users will get to enjoy it regardless of the device they are using. Also, remember that WebAR can be used for both purposes, commercial as well as educational. If you are planning to go for WebAR application development and have any queries pertaining to it, talk to our AR developers now.