COVID-19 has turned into a global crisis and is unfolding at an unprecedented rate. Four months into 2020 and the world is a very different place. The pandemic has fundamentally changed the way we work and collaborate today. Moreover, professional turmoil caused by the coronavirus and the rapidly changing situations are leading companies to establish a digital workplace. The virtual culture is an instance of business transformation that empowers organizations to embrace "work from home" or "teleworking" policies for their employees, enabling them to work remotely.
According to Gartner HR survey of around 800 global executives, 88% of organizations worldwide have felt it necessary to encourage employees to work from home, considering the impact of the pandemic. – Gartner
A rapid shift of organizations and businesses around the globe to remote working has sprung up the culture of work from home (WFH) into the mainstream. But the pertinent question lying here is, how prepared is your organization to work efficiently in a virtual environment from remote locations?
Moving to a virtual culture with a remote workforce
With social distancing becoming the new normal amid the recent outbreak, maintaining close ties with customers, employees and partners is crucial for sustaining business continuity. However, digitization brings a sea of change for all organizations and businesses across the globe in a way they function, connect and collaborate, independent of industry and size. Consequently, the transforming competitive landscape encourages companies and organizations to shift to a virtual culture with a remote workforce, enabling employees to work from home.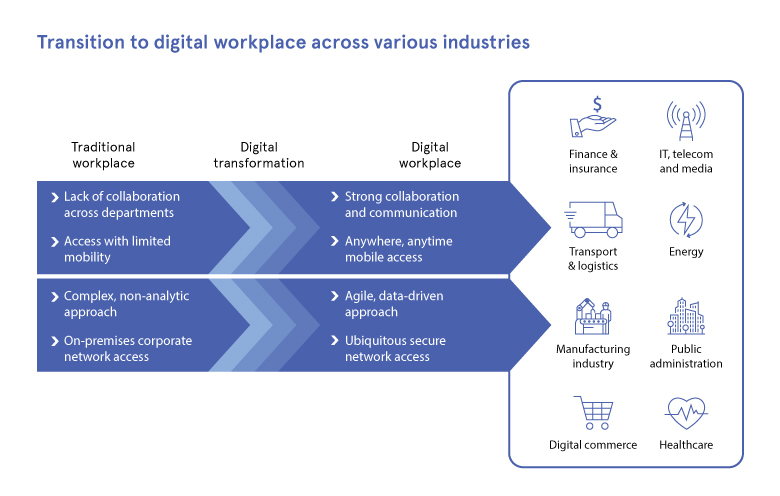 While transitioning from brick-and-mortar work culture to a digital workplace, it is significant to ensure that critical business operations continue with agility, flexibility and utmost security. In order to ensure continued operations in a remote work environment, an organization must adopt the latest collaborative tools, techniques and services to ease growing masses working from home.
Socially separated, collaboratively close
As the world is practicing social distancing after getting hit by the pandemic, virtual collaboration tools and technologies are keeping people close and connected. In the modern era, where technological sophistication and innovations have been the norm, mobility solutions, secure remote working solutions and services are playing a significant role in accelerating the transition to a digital workplace. Mobility solutions and services are the services that manage a company's cloud services, security services, applications and much more.
To fully leverage the cloud platform, collaborative tools and various other technologies that allow employees to collaborate amongst each other and clients, customers or external parties, your organization require assistance and support of best-in-class industry experts, as going digital is more than just deploying digital tools and technology.
Insights
Digital workplace: Embrace a new way of working in the era of COVID-19
The evolution of the digital workplace has been going on for a long time now but the sudden outbreak of the COVID-19 pandemic has finally driven organizations worldwide to adapt to the new way of working - remote work.
Staying connected and productive through digital workplace
In the midst of this situation of uncertainty, to maintain productivity and a sense of connectedness is critical for organizations. In a virtual world, collaboration plays a vital role. To foster streamlined cross-functional collaboration when your entire workforce is shifted to a virtual workplace, you need to set up the right virtual governance, apps and collaborative productivity software suite for mobile and web to run inside your remote environment.
One of the critical challenges is to help employees adapt to remote working and enhance their 'work from home' experience to maximize productivity, including how to run small and large-scale virtual meetings effectively. However, various factors hamper the productivity of employees including network-related obstacles like slow VPN access, internet connectivity, remote access to files, equipment, systems, necessary passwords and much more. To mitigate all the issues related to hardware or software that affects workforce productivity, modern workplaces running in a remote work environment need to embrace these productivity and enablement-oriented solutions:
Creation of virtual desktops via Azure or AWS
Network speed optimization
Advanced network, hardware and collaboration tools
Rapid remote application access
Cloud applications migration for rapid access to files and data
Critical business metrics enablement using a modern cloud-based mechanism
Data reporting and visualizations utilizing tools like Microsoft PowerBI, Tableau and others
Digital revolution: Reshaping the workplace
While coronavirus is the catalyst for the prompt enforcement of digital workplace, we believe that in the near future, such crises will radically transform the entire workplace, including ways of working, organization, business processes, adopted tools, techniques and systems. However, as per Gartner's recent research, by the end of the year 2030, the demand for distance working will boost by 30% owing to Generation Z's extensive entrance into the modern workforce.
To meet the novel requirements of corporations and organizations due to the ever-changing scenario, corporate leaders and managers need to focus on the six elements mentioned below, which are proving efficient in swiftly transitioning to a remote work environment: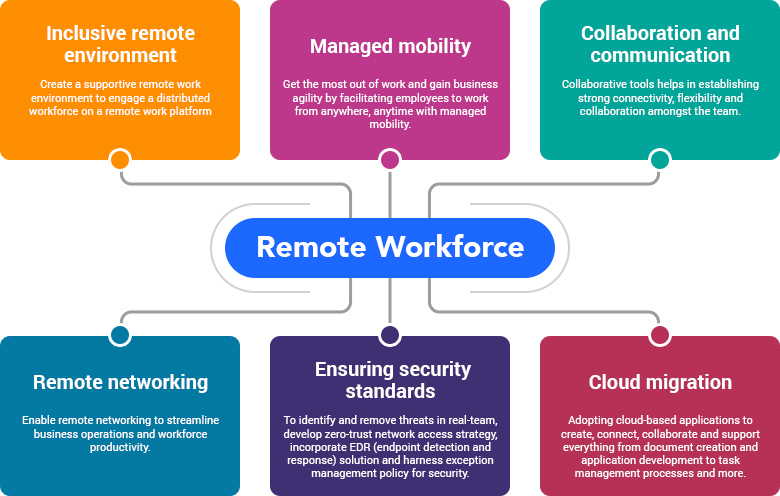 The final say
In an increasingly connected and interconnected society, territorial, organizational, physical and virtual boundaries are blurred. Organizations that are successful in the transition to digital workplaces are efficiently managing the functioning of their remote teams to make them more resilient for the future. While the COVID-19 endgame is not clear, leveraging your organization with the right tools and services to effectively manage your workforce and business operations can help you build and maintain a great virtual culture.
Our highly-skilled team of domain experts can not only assist you in embracing advanced cloud-based tools but also provide various Microsoft services and build custom business apps to help you make a smooth transformation to this new way of working.