With the growing popularity of chatbots today, providing a conversational user interface has become an essential part of digital marketing. Users are expecting chatbots to be more human like. In fact, this principle has lead the development of chatbots for the past four decades since ELIZA came online.
As more and more commercial businesses choose chatbot development, a question has perhaps crossed every entrepreneur's mind. "Is there a way to measure the performance of a chatbot?"
The answer is yes! In order to evaluate a chatbot's performance, the following metrics need to be measured. These identified metrics are a comprehensive toolset which provide value to the users and help to track the overall performance of a chatbot.
Chatbots could save businesses $8 billion annually by 2022, up from $20 million in 2017. – Juniper Research
1. Comprehension capabilities
Good comprehension capabilities of a chatbot should ensure a good texting and error free experience for the user. When a user types a spelling mistake or makes an error in a sentence, the chatbot should enable the 'auto-correct' feature. The Bing Spell Check API from Microsoft's Cognitive Services is the best example of comprehension capabilities. This cognitive service adds intelligence to chatbots with spell check capabilities named as 'Spell' for web searches, in order to return better search results for the user.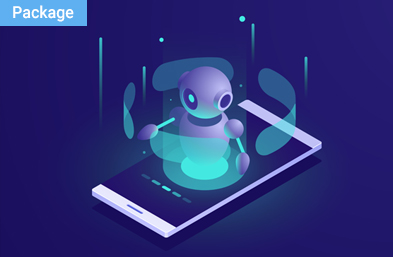 AI-BASED CHATBOT IMPLEMENTATION STRATEGY
Softweb's AI-based bot implementation strategy is specifically designed to help companies understand how to build and deploy intelligent chatbots.
Furthermore, chatbots should have two types of intent understanding. Firstly, it should have 'text-based understanding' to quickly understand the questions and statements the user is texting. For example, the user texts "Are you happy?" or, "I would like to order a pizza". In this case, the chatbot should be able to differentiate between a question and an order.
Secondly, chatbot should be capable of 'balanced text-use'. This means that a chatbot will use a combination of both short descriptions and engaging content like rich media to hold the user's attention.
2. User engagement
Good chatbots should be capable of initiating conversation with the users and interact with them to share information. Also, chatbots should be built to classify the target audience, deliver meaningful messages, take direct orders from users, and navigate to layouts and more. On top of this, chatbots should also be designed to answer frequently asked questions (FAQs) of users by being able to access personal information, account status, purchase history, previous actions and more. These user engaging attributes would result in ensuring a good retention rate of users
A system that analyses all these interactions will deliver good conversational analytics for chatbots
3. Speed
One of the prime purposes for the existence of a chatbot is to help the users instantly, directly relating it with response speed of a chatbot. When building a chatbot, it should be integrated with knowledge-based database and programmed to fetch information and respond quickly. Hence, measuring the response rate of the chatbot plays an important role when it comes to speed. Quality chatbots should be capable of delivering responses immediately for effective interactions.
Insights
9 golden rules to build your enterprise bot
Bots will be a huge game changer for the current era as it is going to be the next big thing in product service and development.
4. Functionality
Good chatbots should be created with a variety of well-designed functionalities such as onboarding, rich media use, and navigation that lead to a great conversational flow. For instance, chatbots should welcome users with a series of onboarding steps, use engaging rich media images with text to get the user's attention, and provide navigation tools to help the users with the layout.
5. Interoperability
Interoperability simply means the ability of computer systems or software applications to exchange and make use of information. A well-designed chatbot should be deployed in such a manner that it would be capable of supporting multiple channels such as Bing, Cortana, Facebook Messenger, Kik, and Slack. Users should be allowed to quickly change the settings in order to run the chatbot on any selected channel. For instance, a commercial bot can be connected to the Bing search results, allowing users to interact with results generated on Bing. This way the users can get maximum search results from various channels.
6. Scalability
Good chatbots should be designed to be scalable so that they can support numerous users and additional modules at the same time. Also, a chatbot should be built to accommodate itself in most server environments as per the various industry requirements. So regardless of any server environment, chatbot should be capable of working on either of them.
Let's say a human resource chatbot which is built to address the needs of employees on leave count and approvals, needs to work with the accounts department for pay calculations. A scalable chatbot will not only be able to integrate with the database of the accounts department but also to handle the additional queries quickly.
To conclude in a nutshell, when we analyze the metrics it gets easier to understand how chatbots operate with the desired needs of the users. The performance and analysis of chatbots are still at an early stage, and companies need to monitor chatbot analytics carefully.
At Softweb Solutions, our chatbot developers design chatbots that supports various industries' technology environments. To know more about how you can benefit from chatbots, get in touch with us.