Augmented reality has reached a point where people have started considering more industrial uses of the AR-powered smart glasses and HMDs, rather than considering them as new tech toys. The market is flooded with a variety of augmented reality smart glasses and applications that are creating a perfect blend of real and virtual worlds. In spite of all the smart glasses and HMDs available, very few are suited for industrial application, especially when they are used in extreme environments.
With ODG R-7 and R-7HL (Here HL stands for Hazardous Locations), the Osterhout Design Group (ODG) claims to have developed the perfect AR smart glasses for industrial use. Even before the launch of ODG R-7HL, the previous iteration, ODG R-7 had a wide range of potential applications. So, what was the need for R-7HL? The company stated that R-7HL is redesigned to survive in extreme conditions such as low pressure, temperature, vibration, drop, shock, and meet numerous industry safety and durability standards, which wasn't the case with ODG R-7.
Both the smart glasses are seeing widespread adoption in various industries; this blog will discuss some of the use cases of these ODG smart glasses as well as augmented reality solutions that use ODG for some of the major industries.
Manufacturing
Manufacturing companies can use ODG R-7HL to offer AR-powered field service solutions. Let's consider the case of a chemical manufacturer, where AR devices are exposed to harmful gases and flames. ODG R-7HL comes with capabilities of explosion prevention and chemical splash protection, allowing field technicians to use it even in hazardous locations. It can provide a platform to field service technicians to easily access work manuals and checklists and also pull up the design model of a machine and then gain step-by-step guidance on how to create or repair it; all of it while keeping their hands free. Softweb offers Field Alpha – a field service AR solution that allows field service technicians to take instructions from subject matter experts in real-time. It also allows the experts to annotate 3D graphics on a technician's field of vision. A technician can also visualize equipment statuses such as temperature and pressure on his device's field of view while collaborating with the Subject Matter Experts.
Pricing calculation errors related to multiple pricing models, managing discounts, etc.
Unreliable and unrealistic traditional processes lead to weeks of back-and-forth.
Lack of collaboration between the client and the production or engineering department.
Other challenges include a longer quote-to-order cycle, eroding profit margins and error-prone orders.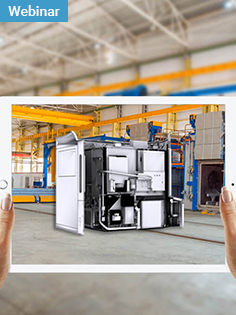 Streamline sales process with Augmented Reality (AR) product visualization
Webinar agenda
Why manufacturers should realize the importance of Augmented CPQ
Common challenges faced by manufacturers to close deals faster
Ways to streamline sales process using Augmented CPQ
Healthcare
According to Pete Jameson, chief operating officer of ODG, healthcare is the biggest market opportunity for ODG smart glasses. Medical practitioners can use smart glasses to interact with patients and to perform certain medical procedures with the use of telepresence. Healthcare providers can evaluate and share patient information and get visual access to monitoring devices, medical records, and vitals, thus keeping their hands free and available for treatment procedures. Remote patient care becomes more viable with live point-of-view camera feed, providing the ability to communicate from with the operating rooms. Additionally, the hands-free capabilities that ODG R-7 offers, reduces the risk of contamination, which is a huge bonus when it comes to the healthcare sector.
Logistics
Logistics companies can use ODG-based augmented reality applications to scan and display information on the heads-up display that can help workers to execute operations smoothly, reduce workload, make interactive workflows, and provide higher accuracy. Professionals in logistics and warehouses can use vision picking to pick up packages, get guidance through their packing lists, during freight loading and unloading and to manage inventory in real-time. With the use of ODG smart glasses, pickers can scan barcodes to make sure the right packages are picked and delivered with accuracy and efficiency.
Oil and Gas
The rugged version of ODG R-7 is specifically designed for oil exploration and production, where workers need to operate at unsafe locations that are situated below land surface or in the sea. The engineers often work in extremely hot and humid environments. In such a situation, ODG R-7HL can sustain such ruggedness while offering all the benefits that AR possibly can. The device allows workers to interact with 3D CAD models, while keeping their hands free to get done with the tasks. Workers can also use the ODG's Assist Reality feature, which gives them the access to training and how-to videos to complete the task with the use of correct techniques and considering the best practices.
Softweb Solutions is a proud member of ReticleConnect™ Program and an ODG Authorized Representative, and we are planning to create tailored AR solutions for manufacturing, healthcare, oil & gas, energy, logistics and other industries. This partnership allows us to develop innovative AR solutions for businesses, considering the upsides of ODG R-7HL for usage in heavy industries.