Innovative technologies are transforming the industrial workplace. Digital transformation is revolutionizing the present and the future of businesses, especially for industrial enterprises. Since the dawn of pandemic and remote work, augmented reality (AR) has considerably accelerated the digitization of the industrial world.
The new normal is more virtual than ever before. According to a Research and Markets report, the enterprise segment accounted for approximately 72% of the AR market in 2020. In today's business climate of razor-thin operating margins, the competitive rush for becoming smarter and faster is driving companies to adopt industrial AR applications.
According to a Statista report, the number of mobile augmented reality users will reach 1.73 billion by 2024.
To get ahead in Industry 4.0, remote assistance through AR is the next thing that industrial companies will focus on in the coming time. But before looking into the future, let us first see where industrial enterprises stand today and the current challenges.
Top challenges faced by industrial enterprises today
The traditional means of sharing expertise with on-field support staff and front-line workers are inefficient and time-consuming.
In the pandemic era, it is difficult for field engineers to collaborate with clients in-person to fix errors and ensure the smooth running of machinery.
Even with no travel restrictions, enterprises take several days to send specialists to remote places, resulting in delays and downtimes.
The time-taking data accumulation process causes field technicians to delay their daily tasks assembling parts, operating machinery, or servicing equipment.
How AR remote support can help industrial enterprises overcome the overarching challenges
Traditional means of support and collaboration are not enough to meet modern business challenges. As we say, modern problems require modern solutions. An AR remote assistance tool can help you overcome modern challenges and drive a tremendous amount of value in these three areas:
Manufacturing: AR-powered remote support solutions can help manufacturers avoid operational disruptions in their manufacturing facilities and improve the maintenance process of the factories' equipment. It also modernizes the entire production process.
Service: Augmented reality field service apps link field workers and subject matter experts. It can help technicians carry out field repairs rapidly, increase the first-time equipment fixation rate and enhance customer satisfaction through video guides.
Training: AR remote support can provide immersive training to front-line workers with minimal risks while operating on heavy equipment or machinery. It can help them retain their skills faster and reduce new hires' onboarding costs along with their training time.
How does the AR remote assistance work?
AR-powered remote assistance is an evolving technology that combines augmented reality with live video streaming. Remote assistance enables technicians to immediately bring subject matter experts virtually to a customer site utilizing AR to help them address complex service issues. It gives step-by-step text and audio instructions to customers and field workers, guiding them through a complicated repair.
Let us consider an example. Andrew is a field worker who is trying to fix a pallet dispenser. He contacts David, a subject matter expert to help him out. As Andrew targets the pallet dispenser with his smartphone's AR app, the view of the machine gets shared with David, who examines the machine and gives his feedback via voice communication. Andrew can now fix the machine quickly.
Pricing calculation errors related to multiple pricing models, managing discounts, etc.
Unreliable and unrealistic traditional processes lead to weeks of back-and-forth.
Lack of collaboration between the client and the production or engineering department.
Other challenges include a longer quote-to-order cycle, eroding profit margins and error-prone orders.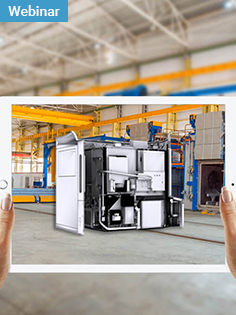 Streamline sales process with Augmented Reality (AR) product visualization
Webinar agenda
Why manufacturers should realize the importance of Augmented CPQ
Common challenges faced by manufacturers to close deals faster
Ways to streamline sales process using Augmented CPQ
Advantages of industrial AR remote support
1. Cost reduction
There are many areas where you can systematically save costs with AR-based remote support that require modest investment at low recurring expenditure. To begin with, it can help you to reduce travel expenses as the app eliminates the need for a technician to visit the actual location. Besides, it can reduce the costs related to truck rolls and hardware replacement significantly. With AR remote support, you can also reduce the training and employee onboarding expenses. Further, it can assist you to curtail operating costs and added spending related to downtime.
2. Downtime reduction
With AR remote support, you can minimize the chances of equipment downtime. The live streaming feature enables the remote expert to provide real-time AR instructions that can help you resolve downtimes without the need to travel or visit the site. It will also help you to solve issues faster and speed up the troubleshooting process. Thus, with AR remote assistance apps, you can not only slash downtime but also mitigate machine breakdown or any malfunction.
3. Error reduction
Augmented reality remote support apps empower field technicians to fix all the issues related to machine handling or maintenance in real-time by connecting them visually to technical experts. Thus, AR instructions can help you reduce unnecessary errors and misinterpretations. It can even give you minor details as to which parts or cables you must remove or adjust by highlighting them. So, this ultimately reduces the chances of human errors.
4. Real-time support
AR remote support provides real-time visual assistance, offering instant access to real-time data and instructions to field technicians while maintaining or repairing the equipment. Real-time data will also enable your customers to perform self-service to avoid asset downtime, especially in a pandemic-like situation. Thus, with real-time collaboration and proper two-way communication between experts and team members, technicians or customers can execute field repairs quickly.
5. Greater productivity
Remote support utilizing AR technology can help your field technicians achieve unprecedented productivity. The AR remote tool can help your workers plan repairs in prior i.e. before even reaching the site. Thereby, this results in increased productivity and efficiency in the field. AR makes the field worker's job more simplified and effective. Thanks to virtual simulation and remote assistance!
Unleash the power of AR remote support!
Augmented reality-based apps with remote assistance are poised to transform the landscape of industrial enterprises. You can reap a whole load of advantages by embracing AR apps for remote support. To get a better understanding of how AR remote assistance can help your business foster, you can get in touch with our team of specialists.