Popularly known as the world's number one customer relationship management (CRM) platform – Salesforce is entirely cloud-based, with standalone applications for sales, customer service and marketing among Salesforce's comprehensive product suite. Salesforce is widely used by modern enterprises to simplify business processes, secure customer data, generate sales opportunities, oversee marketing campaigns and interact with customers through every stage of their journey. With the surge of cloud computing technologies in recent years, Salesforce has had an immense impact on both organizations and customers.
In this blog post, we will glance through the Salesforce ecosystem. Whether you're a prospective user of Salesforce, a newbie on the platform, or looking to learn how Salesforce can optimize your business, this blog will add to your knowledge.
Why Salesforce?
Salesforce offers a humungous umbrella of services. All products are designed to cater to the majority of modern business aspects as well as house several functionalities to simplify business processes. Also, implementing Salesforce is completely customizable, allowing its users to build their own solution that perfectly meets the need of their business in unique ways.
In today's digital era, where every business thrives to close a deal online or influence a higher conversion rate, may encounter several challenges with factors like value, relevance, clarity, distraction, or perhaps urgency. That's why a complete cloud platform with a multitude of integration capabilities is the way to go forward.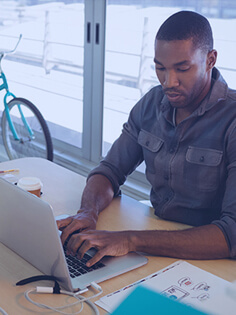 Get a Free Salesforce Audit
With a free Salesforce audit, we will help you to build a resilient business roadmap and navigate through it to tackle the challenges and meet your business goals. We can help you with the following services:
Review your current usage of Salesforce
Suggest suitable tools and the latest platform features
Gain visibility across your organization and intensify ROI
Determine and fix potential vulnerabilities in your security settings
Let's have a look at some core Salesforce products that deliver customer-centric values:
1. Sales Cloud
A sales team can perform as strong as the database that supports it. Sales Cloud helps to monitor all facets of the sales process, from lead generation to the use of the data for potential action. Users can benefit from a full 360-degree view of their customers as well as make informed sales decisions based on the activity, transaction history, notes shared by other team members and insights obtained from social media.
What's more, Salesforce's Einstein AI module helps track where the lead came from and identifies the best time to approach potential and repeat customers. Moreover, Sales data visualization allows the user to create custom sales forecasting reports and keep track of the team's performance on a broader level. The Sales Cloud is also extended as a mobile app that makes logging, visualization and sales data access simple, especially when sales reps are on the go.
2. Salesforce CPQ
Salesforce CPQ is a dedicated sales tool for businesses to provide specific pricing for any product configuration scenario. It assists sales representatives to quickly and reliably quote product pricing. Besides, it also enables customizations, discounts, quantities and several optional features related to the product. The CPQ tool is hosted on Sales Cloud, providing you direct access to your CRM and helps you to make impactful sales decisions.
3. Service Cloud
Modern enterprises desire instant solutions to their issues, the reason why Service Cloud allows customers to create self-service customer service portals. This further facilitates quick and productive customer interactions to manage credibility through online brand presence. Besides, it encourages direct communication with customers, be it requests or complaints, both get registered and responded immediately. Service Cloud also helps to minimize the handling time of every event and proposes automated response workflows.
"The IDC report states that Salesforce customers, on average, experience a return on their investment in Salesforce technology within 13 months of its implementation."
4. Marketing Cloud
Salesforce's Marketing Cloud creates and tracks consumer journeys. It analyzes individual consumer profiles and suggests how to turn the customer interaction into a purchase through social message, mail, or interactive piece of content. The Pardot framework combines sales and marketing data into a unified platform, making it simpler to visualize and analyze business data.
Users may also customize their marketing activities in depth through various development studios offered by the Marketing Cloud. Besides, social posts can be formulated; mails can be created and distributed skillfully through Email Studio. Besides, the integration of Marketing Cloud with other Salesforce Suite products help to derive data-driven insights.
5. Field Service Lightning
Field Service Lightning is a Service Cloud extension that gives a holistic view of workforce management. For instance, it assists a field service technician with where he is now, where to show up, what resources are available, and more. Simply put, it aims to improve the efficiency of field service operations using a versatile field service approach, both on and offline. From generating work orders for field service operations, refining schedules and intelligently assigning tasks, it provides everything a field service technician may need.
6. Analytics Cloud
The Analytics Cloud provides an enterprise with a business intelligence platform to work with massive data sets, create graphs, charts and other data pictorial representations. It can be optimized and integrated with other Salesforce clouds to leverage mobile access and data visualization.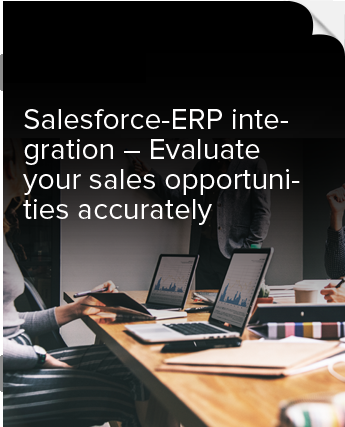 Insights
Salesforce-ERP integration - Evaluate your sales opportunities accurately
Vendors that respond faster gain more business opportunities. This is why companies must empower their sales reps with instant customer and prospect information access by integrating their ERP system with the Salesforce platform.
Ways how Salesforce creates the best value
Now that we have a clear understanding of Salesforce and the types of its products, let's look at some of its core values and advantages. Salesforce helps to:
Maintain detailed customer profiles so that brands can identify their loyal customers and market more effectively.
Connect thousands of employees across the organizations, locations and time zones for a complete customer success journey.
Personalize emails to users, use dashboards to get real-time status on their opinions across different regions.
View and update data, co-ordinate with clients easily and find effective community resources.
Deliver unified experiences to your customers and make them happy.
Manage multiple geographies and several business functions to connect people and information.
Run a single layer of data management throughout the organization for fast and efficient business operations.
Deliver, design and deploy critical cloud applications for better stability and cost-effective scalability.
The future with Salesforce
Over the years, the Salesforce products suite has provided countless opportunities for potential users. Also, every year, Salesforce introduces new possibilities to its ecosystem, which evolves immensely. If you want to develop your organization around the Salesforce ecosystem, we can help. From Salesforce integration to CRM and ERP applications, we are aware of the growth activities, implementation efforts, scalability and Salesforce constraints. We can also give you a head start on your project ideas and help you build a business application. Check out our Salesforce implementation services and get in touch with our Salesforce developers to discuss your business requirements.