Legacy systems are no longer capable of surviving the cutthroat competitive nature of today's information technology (IT) infrastructure modernization. With the infrastructure modernization you demand today, you're playing a new game with new rules. Especially if you choose to modernize not only the tools and functions but also the way your organization uses IT.
IT activities must enable cutting-edge capabilities in areas like data analytics, cybersecurity, automated processing, and integration with third-party systems. Organizations must remain focused on their competitive advantage and your IT infrastructure modernization initiatives must add value across the gamut.
DO'S
Do understand what's driving modernization
Every organization must not only be skilled at modernization but also understand what drives modernization. It is the requirement for flexibility and agility in order to integrate IT technologies capable of meeting your company's needs. Let's get one thing clear: legacy mainframe applications are frequently incompatible with today's open-system platforms.
Organizations that rely on outdated technologies are generally limited in their ability to meet critical business demands and capitalize on future growth opportunities. It is also emphasized that the high cost of maintaining outdated applications and systems is driving infrastructure modernization.
Do evaluate your organization's current-state technical landscape
When evaluating the current state of your technological infrastructure, you'll need a solution that incorporates both technology and business process tools at each stage. As a result, it is advised that you begin with an evaluation that results in a complete mapping of your business as well as an explanation of your apps and architectures in order to develop the best application modernization strategy. Several IT service providers like us offer a variety of deployment choices, ranging from a progressive rollout to a big-bang deployment.
Do design for flexibility and speed
As a modern company, you must constantly adapt to an ever-changing environment, which necessitates ongoing innovation in products, services and procedures. As a result, you'll need to create a more flexible and adaptable architecture using modular technologies. These solutions can quickly handle a variety of connection and configuration options while modernizing enterprise infrastructure.
It is advisable to keep an eye out for modular platforms that can handle a wide range of plug-and-play functions for your business, including those that have yet to be built or imagined. Develop your skills in the design and deployment of advanced IT systems that can flex to accommodate innovation.
Do modernize your IT infrastructure by capabilities
Most businesses are unable to completely rearrange their legacy IT systems at once. What if you grouped them according to their infrastructural capabilities instead? The most distinctive capabilities are the combinations of systems, processes and operations that provide your company with unique value. Consider the modernization of your system project as an opportunity to strengthen these capabilities proactively, leveraging your digital knowledge.
You don't have to worry about the multiple layers of the technology stack when you organize by capabilities. They're all covered. Your IT department is no longer constrained by traditional ideas; principles such as mobile access, API-based design, microservices, cloud-based infrastructure and modular IT structures can help accelerate the digital transformation.
Do work with a partner on shared values and trust
Your organization's future depends on the technical systems you modernize today. As a result, your technology modernization strategy is critical to have eyes on. So, don't think of modernization or goods and services as a transaction. Working with a long-term partner who uses standard evaluation criteria is recommended. Look for organizations that can provide mutual benefits and with whom you can establish a working relationship based on mutual commitment and creative collaboration.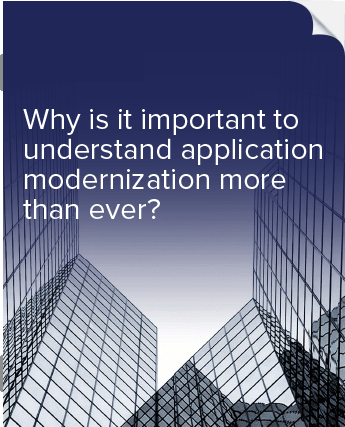 Insights
Why is it important to understand application modernization more than ever?
In this digital age, organizations need to be competitive more than ever to ensure business growth. Addressing performance issues of business apps should be the topmost priority of any small or big company. Business app users look for new features, resolutions for their concerns and updates that will help them with their tasks.
DON'TS
Do not rely on aging hardware
Legacy system modernization can be an endless journey that promises to boost corporate performance, optimize processes and provide new ways to serve customers. Several enterprises are likely to invest in modernizing their IT infrastructure to realize their strategic vision. This can be an arduous journey to take, but it can be even more difficult for businesses whose crucial business processes rely on old technology and legacy software. These outdated systems are frequently incompatible with the technology platforms required for digital transformation with app modernization.
Do not use a legacy system to run a mainframe for core business operations
Mainframe applications remain the backbone of enterprise IT infrastructure, especially for businesses that rely on high-volume transaction processing. In fact, most major firms still rely on mainframe-based legacy applications for fundamental business operations. Although these systems are outdated, they have been fine-tuned over time to deliver necessary business functionality. Consequently, mainframes are expected to remain at the core of IT, and hence, they should match innovation with the changing digital landscape.
Do not opt to 'rip and replace' legacy systems with a new system built from scratch
There are several always to modernize IT and each company's approach will be determined by its strategic priorities. Many companies choose to "rip and replace" legacy systems in favor of a brand-new system developed from the ground up. Others may opt to create a custom commercial solution or transfer technologies, processes, and people from a third-party source.
These methods may have benefits, but they are often expensive, dangerous, time-consuming, and disruptive to the organization. Organizations should instead choose fully automated cloud migration, which uses technology to move legacy code and data to current platforms and allows them to modernize in stages without disrupting business operations. This could be a more effective option.
Do not choose to tailor a new off-the-shelf software solution
Many companies choose to customize a new commercial off-the-shelf software solution or to transfer technologies, processes, and personnel from a third-party vendor. Although, in comparison to custom systems, which can take many years to demonstrate value, such a solution often gives a faster, more accurate alternative to traditional custom reengineering. However, it can be costly and time-consuming to do so. Moreover, without proper assessment and planning, modernizing information technology can also disrupt the current business operations and necessitate new system requirements.
With all these do's and don'ts, also consider looking at the six key considerations before modernizing legacy applications. The blog talks in detail about how you should look into integration and compliance, risk factors associated with app modernization, existing budgetary resources and data management constraints. It also communicates the benefits of legacy system modernization.  
 
It's time to begin your modernization journey
Application modernization is a process that takes time. It is always preferable to define the scope of your IT landscape modernization and use a low-risk approach that focuses on core system improvements rather than recreating what currently works. Get in touch with a leading solution provider to replace legacy systems with modern systems by addressing the pain areas. Now leverage new systems across your projects to modernize your business.