Chicago, IL, December 1, 2017 – Clutch, an independent DC-based research firm recognizes Softweb Solutions Inc. as one of the leading IoT development firms based on an in-depth evaluation of work portfolios, client feedback, and the overall ability to deliver state-of-the-art solutions.
The B2B research, ratings, and reviews firm has recently published the report that identifies leading software and professional services providers across the IoT space. To find the industry leaders that deliver IoT services and solutions, Clutch analyzed over 475 top B2B service providers across six industries.
Softweb Solutions Inc. is ranked 17th in the list of "Top IoT Developers". There are three major criteria on which IoT development firms are evaluated – 1) the ability to deliver, 2) clients and experience and 3) market presence. Here's the complete report available – https://clutch.co/developers/internet-of-things/leaders-matrix
"It is an incredible achievement for Softweb Solutions to be selected among the best IoT firms across the world this year. Seeing the name of our company alongside these titans is truly a proud moment for our people," said Ripal Vyas, President of Softweb Solutions Inc. "It has always been our stance to work with emerging technologies and deliver innovative solutions. We are glad that we are working across the latest technologies like the Internet of Thing and artificial intelligence to solve our clients' complex business problems."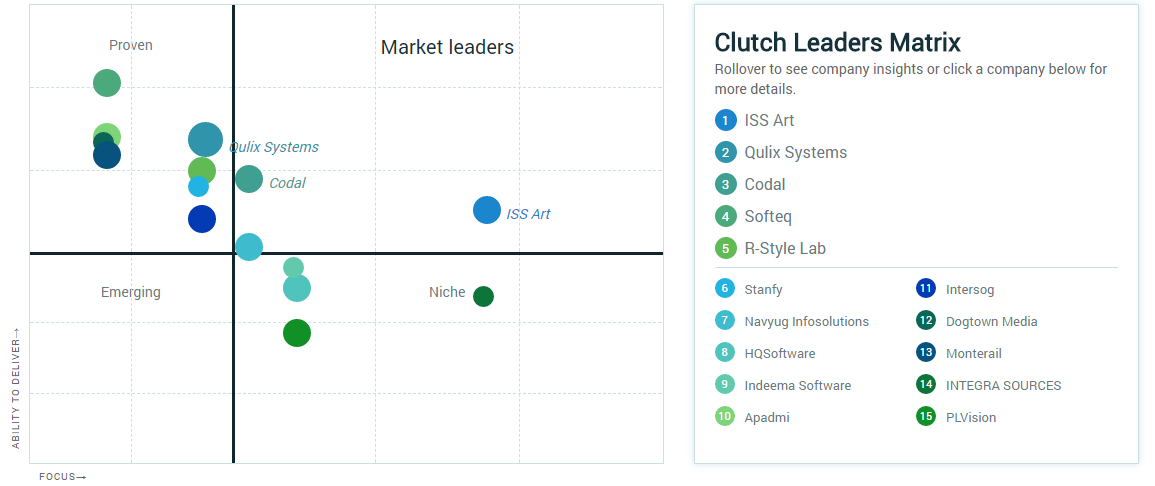 About Clutch
A B2B research, ratings, and reviews firm in the heart of Washington, DC, Clutch connects small and medium businesses with the best-fit agencies, software, or consultants they need to tackle business challenges together and with confidence. Clutch's methodology compares business service providers and software in a specific market based on verified client reviews, services offered, work quality, and market presence.
About Softweb Solutions
Softweb Solutions Inc. is an Avnet company with offices in Chicago, Dallas and Ahmedabad. We deliver best-of-breed AI software for IoT applications, along with providing data services and digital transformation to enterprises. Over a decade of experience with startups to Fortune 100 companies has given us the proficiency to offer strategy, design, engineering solutions, and R&D services.
To stay up-to-date on news regarding Softweb Solutions, follow @softwebchicago on Twitter.
Corporate website – www.softwebsolutions.com
IoT Connect – www.iotconnect.io