In the past few years, e-commerce development has gained momentum as businesses all over the world have realized the benefits of having an online presence. This is because of a significant difference between sales of a brick-and-mortar setup and sales of an online portal.
E-commerce solutions provide ample sales opportunities along with greater profits and flexibility to enterprises. It increases the outreach of a business irrespective of its physical location. The boosts in e-commerce business development led to a rise in web development platforms. And Magento's e-commerce development fitted as the most efficient one out of all the other platforms in a very short period.
Magento provides complete functionality to build all sorts of e-commerce stores whether simple, complex, established, or start-up. There are enormous benefits to building Magento e-commerce websites. And you must consider taking help from an end-to-end Magento website development service provider for the successful development of your e-commerce website.
Magento provides business owners with a platform that they can operate systematically. It gives them several options for payment and shipping. An e-commerce platform that is built on Magento is highly secure due to a private SSL certificate.
This addresses the privacy concerns of business owners and their customers. These websites are rated for high quality as they offer safety and convenience to their customers.
Let's take a look at how Magento helps you to manage your e-commerce store:
Enable browsing products
Magento provides a seamless product browsing experience for your visitors. They get options to view various images for each product, check product reviews, zoom images, check the availability of stock, keep items on their wish list, share product links with friends via email or social media channels, etc.
Helps in managing orders
It becomes easy for customers to re-order their previous purchases, receive notifications via email and print invoices when your website is built on Magento. They can also get an RSS (Really Simple Syndication) feed for new orders. RSS is an online file that has details about everything a site has published. Apart from this, the administrators can view complete order histories. Another advantage of using Magento is that it generates personalized offers and discounts depending upon the shopping patterns of your customers.
Advanced analytics and reporting
Magento provides visitor and user statistics, and sales and order analytics and helps in retargeting a customer easily. It integrates with Google Analytics and Website Optimizer and provides detailed insights into a customer's needs. The administrator can monitor trends and outline a plan of action with the help of its inbuilt reporting system. Other than this, the reporting feature of Magento provides data on various parameters like total sales, most viewed products, most purchased products, sales return, orders received, etc.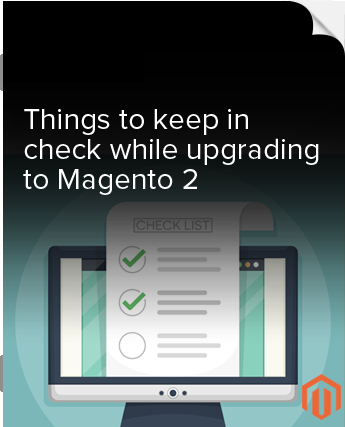 Insights
Things to keep in check while upgrading to Magento 2
Web store owners often worry about serving their customers with personalized and custom solutions. Moreover, it is equally worrisome for e-commerce providers to find out their customers are browsing their products and leaving their cart empty.
Allows catalog browsing
You can create a tailored and feature-packed website using Magento. Catalog browsing contains various useful features like:
Layered navigation
Product comparison
Reviews and ratings
Recently viewed products
Filter items by product tags
Products for cross-selling and up-selling
Offers catalog management
Catalog management is very convenient with Magento. You can very easily classify products as per their size, color, design and features. Furthermore, you can:
Batch import and export the catalog
Batch product updates
Tax rates per location
Customer group and product type
With Magento, you can create store-specific allocations instantly, manage product tags and create alerts for low inventory.
Manages customer accounts and service
Magento helps you to save unlimited addresses in the Address Book. It allows customers to check and track order status, view order history, and receive order updates via email.
More than 250,000 merchants worldwide use Magento as their e-commerce platform. – Magento.com
Simplifies payment facility and checkout
Magento easily integrates with a variety of payment gateways, may it be PayPal, Amazon, Google, etc. For offline payments, you can save credit card methods, accept purchase orders and customer store credits, etc.
Magento improves the checkout process and increases business conversion. It gives multiple payment methods and provides single-page checkout to customers. It also provides SSL security for front-end and back-end orders. Magento allows visitors to save items in shopping carts, gift-receiving messages for every item in an order and delivery schedules.
Provides shipping services
Building an e-commerce platform on Magento enables you to display real-time career rates. It integrates easily with shipment providers like UPS, FedEx, etc. Customers can ship numerous shipments to different addresses in a single order and get reasonable shipping rates.
Search engine optimization
Search engine optimization plays an imperative role in attracting customers to your e-commerce store. Magento provides SEO-friendly URLs. For controlling meta-tags on product landing pages, you can use the Magento Rewrite tool. It auto-generates the most used search terms page and site map.
Provides international support
E-commerce takes your business to the global market. Magento supports multiple languages and currencies. Moreover, the availability of a product can be customized depending upon the demands of buyers of a specific location.
Increases marketing activities
Websites built on Magento offer bundled products and different pricing as per the quantity selected. It provides tools to run campaigns, shows compared products and online surveys for marketing products on your website. This increases website visitors and leads to greater revenue generation.
Enables shopping experiences through social media
Shopping via social media is in trend these days. Social media integration is imperative with your online store to increase outreach and sales. Magento enables you to include buttons on your website for all the social media portals that you have your presence on. Customers can click these buttons and visit your Magento store to buy your products.
They can also share your product links with friends and family via these social media portals. Interestingly, your customers can checkout through your e-commerce portal since Magento uses a Beetailer integration to integrate with social media websites.
Conclusion
Magento is one of the best e-commerce platforms for businesses considering the advantages mentioned above. It provides numerous beneficial features and CMS with the help of which you can sell online innovatively. You can define achievable goals and utilize this technology to enhance growth, boost conversion rates, decrease costs, etc. Are you curious to build your e-commerce store on Magento? Consult our Magento developers to get detailed information now.