By now, I'm sure you would be aware of chatbots. Bot is no longer a jargon for the world. We now understand the capabilities that a chatbot consists of. And I'm again sure that most of us might also have had a conversation with chatbots. The adoption rate of chatbots is noteworthy. In the past few years, numerous businesses have implemented chatbots for improving customer engagement.
80% of businesses want to deploy chatbots by 2020. – Business Insider.
This statistic implies that enterprises are open to adopt newer technologies to minimize human contact for purchasing efforts. This also indicates that companies are open for opportunities that can automate many such processes, which would lead to significant cost savings.
Why chatbots have gained popularity
"What 1997 was to Internet and browsers, 2017 is to bots." – Dharmesh Shah, HubSpot founder and CTO.
Chatbots are a powerful platform for the brand-to-customer communication that also helps to reduce costs and resources. While chatbots primarily communicate in text, they also employ rich content such as images, audios, and videos. This is valuable as it means businesses can showcase their capabilities by sharing the details of their products and services. Chatbot development is more efficient and inexpensive to maintain.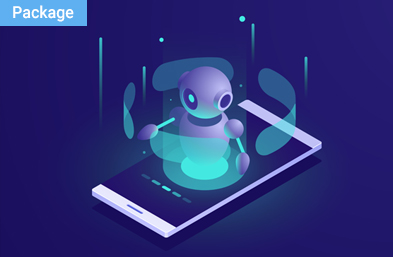 AI-BASED CHATBOT IMPLEMENTATION STRATEGY
Softweb's AI-based bot implementation strategy is specifically designed to help companies understand how to build and deploy intelligent chatbots.
For small businesses that don't engage in customer service at a greater extent, chatbots can give a boost. They can implement chatbots to take care of processes such as scheduling, document management and hiring to save on cost. Chatbots provide numerous opportunities to businesses.
Rise in the smartphone users
The usage of smartphone has revolutionized since its inception. The statistic says it all.
By the end of 2017, the number of mobile phone users is forecast to reach 4.77 billion. – Statista
Rise in the messaging app users
First, the way we communicate has changed radically. People have moved from phone calls to texts, and then to messaging apps.
The power of social media is such that, the number of worldwide users is expected to reach some 2.95 billion by 2020, around a third of Earth's entire population. – Statista
Adaptation on AI and machine learning
Natural language processing along with AI brings an accuracy of machine parsing and understanding of requests.
By the end of 2017, the global AI market is expected to be worth approximately 2.42 billion U.S. dollars. – Statista
Success stories
Over 50 brands have successfully implemented chatbots till now. The industries that have been benefited by chatbot adaptation include media & entertainment, publishers, health, sports, food, retail and eCommerce, beauty & fashion, financial, travel, utilities, and social cause.
Let's read some success stories of companies that have adopted chatbots.

Insights
9 golden rules to build your enterprise bot
Bots will be a huge game changer for the current era as it is going to be the next big thing in product service and development.
Disney
Disney created an Officer Judy Hopps bot on Facebook to promote the launch of the Zootopia movie. Users helped Judy Hopps to solve cases. Users spent over 10 minutes conversing with the bot and many went back multiple times to solve a new case.
Marriot
Marriott International, Inc., the global hospitality leader, has implemented chatbots for customer service, careers and loyalty rewards. Marriott has seen brilliant success by adopting chatbots for user requests. Since then, around 2.5 million requests have been received from the users before they checked in.
H&M
H&M's Kik bot offers outfit inspiration and on-demand personal styling. Users can share a piece of clothing and the bot pulls from H&M's lines to build a whole outfit. H&M's consistent increased sales over the past year initiated the launch of an eCommerce platform in Canada and South Korea along with 11 new H&M online markets. This signifies positive results for its chatbot implementation.
The National Railroad Passenger Corporation
Julie, a bot that is designed to guide users through Amtrak.com using natural language capabilities and a broad knowledge-base of the site helps customers find information on making a reservation, getting more information on Amtrak's rewards program, finding station and route information, and a variety of other areas. According to nextIT, the company was able to save $1 million in customer service email costs annually and also lead to 25% more bookings.
1-800-FLOWERS
A floral and gourmet foods gift retailer and distribution company introduced a Facebook bot, GWYN, to offer a customized shopping experience based on a user's past buying behaviors. It interprets customer questions about a product or service and suggests the best possible option available. The company released its 2017 first quarter results showing increase in the total revenues by 6.3% to $165.8 million, with the company's Gourmet Food and Gift Baskets business as a significant contributor.
Other notable chatbots
CNN
The news network, CNN was one of the Facebook bot launch partners. They implemented a messenger bot that sends personalized breaking news or specific stories daily to the users.
Baidu
The "Google of China" launched Melody, a medical chatbot that lives within the Baidu Doctor app. It helps patients narrow down their medical problems in order to speed up in-person diagnoses and treatment.
Capital One
Capital One has a new Amazon Echo Skill that allows consumers to check balances, review transactions, make payments, and conduct other banking services using voice command.
KLM Royal Dutch Airlines
The KLM bot sends flight information, check-in notifications, boarding passes, and flight status updates. For complicated questions, passengers are seamlessly connected with a human agent.
Uber
The Uber integration in Facebook Messenger enables users to request a ride and notify their friends with an ETA in a single Messenger conversation and without needing the Uber app.
What chatbot means to us
$4.5 Billion is expected to be invested in enterprise intelligent assistants by 2021. – Opus research
The statistics speak in volumes. Chatbots have gained a lot more interest in past couple years and are being widely adopted by industries all over. Enterprises are exploring the possibilities chatbots can bring to their business and are planning to adopt them in near future. Knowing the benefits of leveraging chatbots, businesses are no more skeptical about the capabilities that chatbots possess.
Softweb Solutions has been exploring the vertical of conversational AI since many years now. With our adept team of developers, we have proudly served clients in different verticals with the same. If you are an enterprise looking for implementing chatbots, our team of experts would be happy to lend you an ear to listen to your idea. Reach out to us for more details.