In past few years, chatbots have gained much fanfare amongst the developers as well as businesses that are in constant search of new ways to market their offerings and engage with their customers. Some thought it was just another fad, while others thought it was a revolution.
When this fad was still in its initial stage, I read quite a lot about chatbots and artificial intelligence and how they are going to help businesses or how they will take our jobs. It didn't catch my attention, until I interacted with a chatbot myself. And when I did, I knew it wasn't a fad. (I'm still keeping my job!)
According to Gartner's 'Top Strategic Predictions for 2018 and Beyond' report, "More than 50% of enterprises will spend more per annum on chatbot and bots creation than traditional mobile app development by 2021."
Talking about the year 2018, it will be bringing a series of chatbot trends that will not only make them smarter and more fun, but also present new opportunities for businesses to turn this so-called fad into a business revolution.

Some of the chatbot trends that will rule 2018 are:
Blockchain
The rise of cryptocurrencies such as bitcoin has been meteoric in 2017, and this is going to impact the technology landscape in 2018. Blockchain – originally invented for bitcoin, has now caught the attention of tech companies due to its potential uses in this digital era.
Chatbot development companies have already started adopting this new technology. For instance, Kik launched its own crypto-token named Kin. Ted Livingston, founder and CEO of Kik interactive stated that, "We're one step closer to launching Kin and integrating it into Kik, which will be the first mainstream adoption of cryptocurrency. Kin will fuel new experiences in communications, information, and commerce inside of Kik, and will also serve as a foundation for a new decentralized ecosystem of digital services, bringing a fair and sustainable business model to the market." One more chatbot company named Sensay started making use of blockchain for its Ethereum-based application token, SENSE. This token allowed users to earn rewards for their contributions across Sensay and other applications.
As we move further in 2018, we will see a wider implementation of cryptocurrencies to enhance the existing chatbots and move towards superintelligence.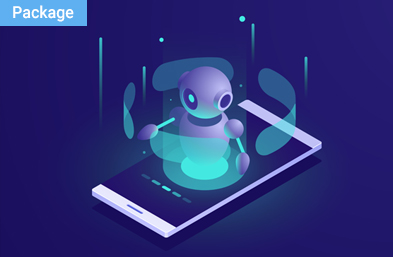 AI-BASED CHATBOT IMPLEMENTATION STRATEGY
Softweb's AI-based bot implementation strategy is specifically designed to help companies understand how to build and deploy intelligent chatbots.
Voice interfaces
The chatbot hype was at its peak in 2017. Users loved to rely on and communicate with a human-like bot to get answers to their basic queries and get done with some rudimentary tasks. However, lengthy text-based conversations don't justify the convenience that chatbots promise. Text conversations are not so natural to humans. Also, more often than not, text doesn't convey the context, emotions, and urgency of the conversation as compared with speech.
Enter voice assistants, which make use of natural language processing to understand and respond to user queries.
Voice assistants have taken a physical form as Amazon and Google came up with smart speakers by launching Alexa and Google Home respectively. This year, voice-based chatbots will be the new toy for companies to engage with their customers using speech, which is intuitive and easier to use.
Messaging as a Platform (MaaP)
Mark Zuckerberg stated that messaging platforms are one of the few things that people do more than social networking. However, people tend to stick to a few messaging applications that they use regularly, and brands need to develop chatbots for those apps to reach their customers. Messaging as a Platform will be the term that you will hear a lot in 2018. Today, messaging platforms have become ubiquitous, and chatbots make complete sense for businesses to extend their presence to applications where their customers already are. This year, you will see messaging applications evolve as a platform where interaction, commerce, and online activities will mostly occur; and chatbots will take you a step closer to your customers.

Insights
10 vital features without which your chatbot platform is a lame duck
Chatbots are no longer restricted to just consumer facing operations but are increasingly being deployed for increasing employee productivity inside the enterprise as well.
Personality of chatbot
In a world of conversational interfaces, personality is the new user experience. Your chatbot's personality can be a deciding factor of whether users will like to interact with it or will it be just another bot in the sea. The personality of the chatbot covers: how relevant it is, if it understands user's context, and lastly if it has an interesting conversational script.
Oren Jacon, the former CTO of Pixar clearly stated the importance of a persona at the Google I/O 2017, he said, "If you don't spend the time crafting that character and motivation carefully, you run the risk of people projecting motivations, personality traits, and other qualities onto your App and brand that you may not want associated with them". In 2018, chatbot developers will be focusing more on the language and persona of the bot and how to provide them the ability to steer a conversation from hello to goodbye.
Artificial intelligence and deep learning
Artificial intelligence is getting better, one step at a time, but we haven't yet discovered many chatbots that are smart enough to pass the Turing test. However, AI and deep learning have been advancing at a tremendous pace, so much so that we can imagine a future where chatbots will be indistinguishable from humans. As chatbots become more human, customers are more likely to connect with them on an emotional level, thus engaging with the brands.
AI can develop capabilities that can allow chatbots to run thousands of algorithms in real time and help them set a customized marketing strategy to convert every prospect personally. In the coming years, artificial intelligence will no more remain a "sounds-impressive" feature on the chatbot checklist.
2018 may have surprises in store for chatbots
As businesses are exploring the still-new technology of chatbots, they may come up with chatbot use cases that we didn't foresee. However, we expect the above-mentioned trends to be widely adopted among different industry verticals. And, you still have time to get on the chatbot bandwagon by implementing them for your business. Don't know how to get started? Our team is here to help.