Why enterprises love iOS 7 for their mobility solutions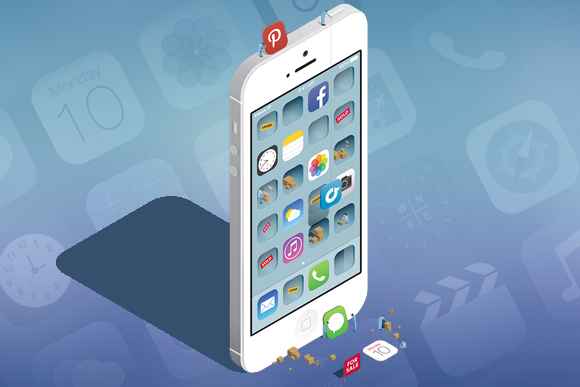 The Apple devices are very popular among masses due to its various developments in the mobility sector. Apple's iOS 7 is packed with many new business-friendly features that are specifically geared towards enterprise users. Enterprises face at least three levels of readiness they need to reach before iOS 7 will bring them the maximum benefit. With introduction of compelling features like Control Center, new types of Accessories, AirDrop for iOS, Map Kit, smarter multitasking, etc. iOS 7 has already created waves among the iOS UI/UX Designers and Developers. Certainly, Apple has defined an important new direction and a new beginning, in many ways, with the introduction of the sleek iOS 7.
Apple's latest mobile operating system has become the best choice for enterprise users on the mobile market today. According to the CEO Tim Cook prediction that iOS 7 would quickly become the world's most popular operating system globally. Even though, the iPhone 5S comes with a convenient biometric authentication opportunity for securing devices, Apple also included security features in its latest operating-system update. Apple's iOS 7 includes an Activation Lock function that inhibits thieves from disabling the Find My iPhone application whether or not the phone information is erased. Additionally, it requires the owner's Apple ID and passcode in order to reactivate the iPhone.
The company has also improved app security in iOS 7 by letting enterprise users to configure their apps to connect spontaneously to the VPN while blocking personal apps.
New features like "single sign on," or SSO user credentials allows enterprise users to access all the company's apps without having to reenter their password several times.
App Store Volume Purchase Program a security feature that lets enterprises assign apps that they purchase for single users while still allowing them to retain full proprietorship of those apps.
AirDrop offers enterprise users a rapid and easy method to share files wirelessly from device to device
iOS 7: Top three new enterprise features
Per app VPN: Since the lines between home and work life become more and more blurred, it's tough to maintain a separation among transmission of personal and company-owned details. Understandably, firm executives are careful of sending personal and private information over their enterprise networks; together with network admins concern you with the dangers of the converse. With the Per app VPN mission-critical applications you can immediately transmit data through secure VPN channels, while permitting personal data to flow freely over their very own networks, decreasing strain on their own company's infrastructure. Employees will not have to run their whole device on the VPN, which we know from general observations and can significantly degrade overall performance.
iBeacons: This feature is among the most excited about in iOS 7. It allows micro-location abilities by using a Bluetooth low energy (BLE) profile and utilized low priced, tiny, low-power Bluetooth devices to offer indoor mapping abilities, while not having to resort to battery hungry GPS signals or broad mobile cell tower triangulation.  Through a raft of indoor mapping services, one can imagine having the ability to walk around a museum and automatically acquire information read out about your preferred exhibits.
Touch ID fingerprint sensor: Everybody knows how important security is for corporate and business operations. In accordance with almost every other business, we need to enter the absolute minimum eight-digit, the alphanumeric passcode to unlock BYOD (Bring Your Own Device) iPhone, and also the password needs to be changed every 8 weeks. Overall 50 % of iOS users don't have any passcode set at all, and we know several individuals who will not setup BYOD usage of their corporate mail on their own cell phone because of the passcode requirement.  How great it'll be making use of biometric authentication to secure having access to both you and your company's data, with something which is quite literally always at your fingertips. It's quite simple to use, not to mention much faster compared to the alternative.
Features that make the Apple iOS 7 more Proactive?
Connected things will completely change the way we live our lives today, as well as it will open up new business scenarios for organizations involved in different business domains and activities. Mobile technology communication and sharing of information between various devices or gadgets is increasingly getting in trend via this new trend. The advent of Apple's latest iOS 7 has brought a number of tremendous features and useful updates for the developers and UI/UX designers that can be leveraged in the enterprise.
Summary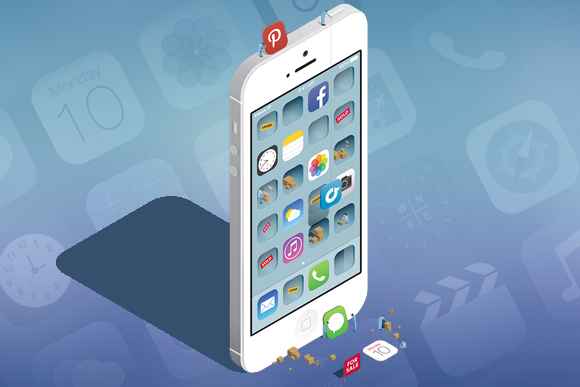 Article Name
Why Enterprise Love iOS 7 For Their Mobility Solutions
Description
Apple's iOS 7 is packed with many new business-friendly features towards enterprise users. learn Why Enterprise Loves iOS 7 For Mobility Solutions?
Author
Publisher Name
Publisher Logo
Subscribe to latest updates by Email
Receive occasional updates on our evolving perspectives on digital strategy, brand, marketing, and user experience: