Top 10 IoT based gift ideas for this Christmas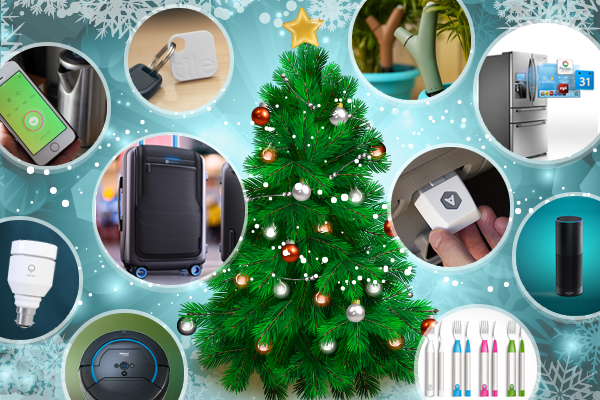 Santa Clause is on its way to knock our doors. He has already chosen gifts for us, but are we ready with our gifts? Most of us have already started looking for unique Christmas gifts for our loved ones.
As we all know, technology has its own fragrance because of its latest and user friendly inventions, and thus we should start taking advantage of it. The Internet of Things (IoT) is one of these technologies that are trending in the market with lots of innovative products for everyone.
We should go technical this season and have IoT based gifts for our family, friends or colleagues. To help you out with choosing perfect Christmas gifts, we have picked top 10 IoT based products that you can gift this Christmas within your budget.
Let's start the count down now…..!
10. Parrot Flower Power
You can gift this device to all plant lovers you know. This is a small Bluetooth-capable sensor that runs on a 1.5v AAA battery and it also sticks in the plant's dirt. People can use this Parrot Flower Power device to measure and track light intensity, fertilizer level, air temperature and soil moisture. People can monitor all these parameters with an app for the health of their plants. Your best gift idea can make a plant lover (either a family member or a friend) happier this Christmas.
Price: $59
9. Amazon Echo
This product is designed over people's voice. It is hands-free and always on. Along with its seven microphones and beam-forming technology, Echo can hear people from all the corners of a room- even if music is playing. Echo is proficiently turned into speaker that can fill any room along with immersive sound.
Echo is connected to Alexa, which is a cloud-based voice service, to provide relevant information, play music, answer questions, read the news, check sports scores, forecast the weather, etc. All you have to do is, just ask. You can pick Amazon Echo for anyone in your family or friends.
Price: $149.00
8. HAPIfork
This is a gift that should be given with caution, because basically, it is a weight loss device. The HAPIfork vibrates each time a person eats too quickly. The idea behind this device is to help people in monitoring their food consumption, because eating too fast can lead to poor digestion and poor weight control. This device can also help people to monitor and track their eating habits. It alerts you with the help of indicator lights and gentle vibrations, when you eat too fast. It measures "fork serving" each time you eat from your plate to your mouth with this fork. This device also monitors:
How long it took to eat your meal.
The amount of "fork servings" taken per minute.
Intervals between "fork servings".
This could be the perfect Christmas gift for those who are health conscious and believe in a well-balanced lifestyle.
Price: $79 
7. Automatic
When you drive, the Automatic adapter wirelessly pairs with the application through Bluetooth to log and display the details of each trip. You will also be able to see a route map with time, distance MPG and the cost of gas for every trip you take.
The Automatic application is filled with features that every driver should have for safe and secure driving. Automatic can diagnose engine problems, display your trip history, remember where you have parked your vehicle, and even calls for help in case of crash.
This gift should be chosen for all the people who love driving.
Price: $99.95
6. Samsung Smart Fridge
The Samsung 4-Door refrigerator with 8″ Wi-Fi Enabled LCD enables you to browse the Internet, connect it with mobile apps and other Samsung smart devices, providing a great deal of fun together with interactive communication.
People will get 8-inch touchscreen display that can be connected to Wi-Fi and users can easily access to apps like Pandora, Epicurious, AP, and Memos from the front door of the fridge. Plus it comes with 28 cubic feet of storage space, which is enough to accommodate around 28 bags of groceries.
So, if you want to gift this advanced refrigerator to you wife, don't wait just order it. She will love it.
Price: $3,600
5. LIFX
LIFX is the first Wi-Fi enabled, multi-colored LED which is controllable through a smart device using the app. LIFX offers the brightest, most flexible and energy efficient LED smart light for home and office. Gift this smart light bulb to your relative to offer them to experience LIFX and cast a whole new light on their surroundings.
Price: $59.99
4. iKettle 2.0
iKettle is the world's first Wi-Fi kettle; their makers have developed intelligent software that works seamlessly with people's smartphone. You can pop the kettle on from any corner of the house and save a lot of time!
The brand new smart iKettle 2.0 will take the technology to the next level, by providing users with more customization and control, continuing the revolution of the kitchen. You can gift this product to your tea and coffee lovers and make them happy.
Price: GBP £99.99
3. iRobot® Roomba® 980
The latest iRobot® Roomba® 980 provides clean surface, throughout the entire home and office, by just pushing one button. This unique device effortlessly navigates an entire level of home, such as keeping track of its locations and recharge as it requires until the work is done.
Its AeroForce™ Cleaning System with Carpet Boost automatically increases power on carpets wherever it is required the most. And most importantly, with the iRobot HOME App, you can clean and schedule the cleaning of your house.
Price: $899.99
2. Bluesmart
The Bluesmart carry-on is a suitcase that connects wirelessly to the smartphone so that users can remotely locate it, lock it, and even weigh it. The mobile app lets users see all their data and travel history in one place.
A built-in battery allows users to charge their smartphones up to six times so that they don't have to search for the charging port around an airport. Bluesmart is not just an ordinary suitcase, but it is the personal travel assistant for all the users. Gift this smart suitcase to your family and allow them to enjoy trips without any worries.
Price: $399
1. Tile
Tile is a Bluetooth-powered tracker that requires no charging till a year (though it needs to replace after a year, at about 50% the original cost). Just push a button on your phone, and a Tile attached to the keys/purse whatever will let out a nice, loud ring. What if you lose a phone itself? In that case, just double tap the button on any Tile, and the phone will start shouting (even if it's on silent mode). This is basically a tiny Bluetooth tracker and user friendly app that is able to find everyday items such as your phone, key, purse or any other products in just few minutes.
This tiny device could be the first choice gift for everyone on your list as it's a perfect way to track belongings.
Price: $25 each, but you can get them at cheaper if you buy more (4 for $70, etc.)
So, now you have gone through all our Christmas gift ideas. Most of them you will find amazing and most of them you may never heard of. Am I Right? Then, what are you waiting for? Just go and order your gifts now!
(Note: "Final selling price on above given products or services MAY (and normally does) vary; it can be set HIGHER (normally the case) or LOWER (rarely the case) by the distributor or manufacturer.")
Summary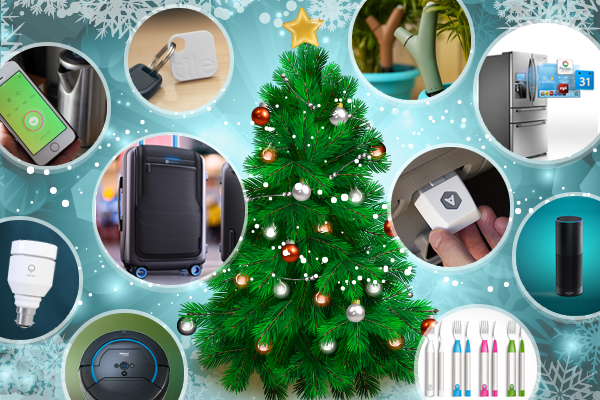 Article Name
Top 10 IoT based gift ideas for this Christmas
Description
Internet of Things (IoT) is a trending in the market with lots of innovative products for everyone.
Author
Publisher Name
Publisher Logo
Subscribe to latest updates by Email
Receive occasional updates on our evolving perspectives on digital strategy, brand, marketing, and user experience: