How did we come to this idea?
First of all we analyzed the delivery system provided by different currier companies associated with online shopping channels. We noted that delivery boys used to face an issue to find out the exact address of delivery. In that case, they have to either call the shopper or ask people for the address.

So we came up with the idea— a revolutionary tracking app that can connect the delivery boy and the user.
A user buys a product online.

Then an online retailer shared user details with a courier company.

A courier company delivers product to delivery boy with the mobile app.

Using the app, a delivery boy gets the user's address with direction on google map.

The user can also track his order on the 

Google

 map.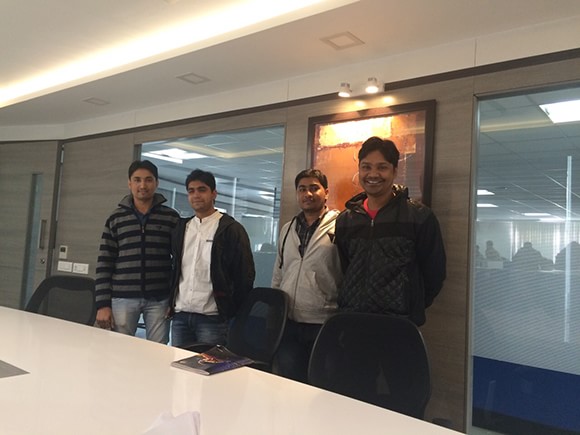 (L to R: Ajay Makwana, Rahul Jain, Mayur Chavda, Tarun Varma)
Applications
The tracking app is a boon to those who frequently purchase online. They can easily locate their product and the courier guy.

The app also facilitates courier company to locate customers' address accurately, which lessens the delivery time. 

Courier Companies can locate their delivery boys.
Technologies used
PhoneGap
SQLite
JavaScript library
Third Party API for QR code
Subscribe to latest updates by Email
Receive occasional updates on our evolving perspectives on digital strategy, brand, marketing, and user experience: