The ongoing COVID-19 pandemic must be having a huge impact on how your company engages with its internal employees. In spite of the evolving crisis, your employees are probably working from home, which means that they expect to receive constant support from the organization's end to deliver high productivity seamlessly. Due to social distancing and your employees working from home, you must be grappling to provide better accessibility and employee engagement. Hence, it is an ideal solution for businesses like yours to deploy an AI-based chatbot that can offer an effective response to employees and keep up business continuity.
A chatbot for enterprises with artificial intelligence (AI) capabilities can improve the overall operational agility by empowering employees to deliver better performance. Quick access to information, constant support for IT-related issues, availability of HR policies and training modules are some of the advantages of deploying a chatbot in your organization. All in all, the chatbot for your enterprise can enhance business capabilities to even manage remote operations without any hindrances.
How a chatbot benefits remote workers during the global shutdown
1. Enhances the IT help desk experience for employees
A chatbot for the IT help desk provides 24/7 self-service to employees by responding to their queries, updating work status, resolving IT issues, software fixes and upgrades and others. Also, such chatbots can automate troubleshooting and transfer issues to human help desk agents as and when needed. Another major advantage is that an IT help desk bot can be deployed across most channels. And it can also work with other systems for password resets, ticket management, virtual onboarding of new employees, retrieving information, pushing personalized notifications and more.
Apart from that, an IT helpdesk bot helps in incident management by sending alerts to an employee to inform about the status of their incident. Integrate your chatbot with your existing ITSM tools like ServiceNow and others to improve work efficiency and employee productivity.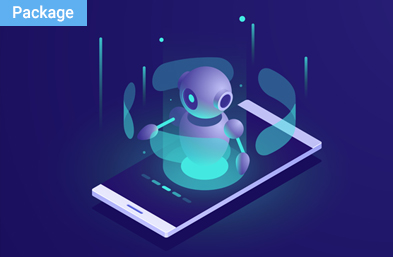 AI-BASED CHATBOT IMPLEMENTATION STRATEGY
Softweb's AI-based bot implementation strategy is specifically designed to help companies understand how to build and deploy intelligent chatbots.
2. Conducts employee training easily
Due to the coronavirus pandemic, employees are left with no choice but to maintain social distancing and work from home. However, companies must impart proper training that employees need and make their work productive, irrespective of employees working from home or office.
An AI-enabled chatbot can help employees to build as well as improve their professional skills to elevate their performance regardless of their location. Also, a chatbot can deliver expert knowledge to your employees at any time and on any device. Make sure you develop a chatbot that can be easily integrated into your corporate training software or LMS software to drastically improve the learning experience of your trainees forever.
3. Improves marketing and sales processes
Customer service and sales generation are two mutually dependent processes. If you want to run a successful business, you certainly need a chatbot for the customer support system. Even in times of any global pandemics, your sales team can work efficiently as chatbots are useful to identify and capture sales order information and divert them to your sales representatives to take the deal further.
Moreover, the bot also helps to connect qualified leads with the right member of your team and use the experience gained from interactions with customers, to create interactive marketing campaigns and shorten the sales cycle for better outcomes. An AI-enabled chatbot is also capable of gathering data from your customers in the form of simple questions and offering the right product/service information based on the inputs received.
Insights
Everything you need to know about chatbots powered by artificial intelligence
With the digital revolution, chatbots are moving ahead rapidly. Effective chatbots have demonstrated a deeper understanding of users and have allowed quick initiation of chatbots that result in quality user experience.
4. Redefines employee engagement and communication
Chatbots for enterprises are basically programmed to support two-way communication with employees. They are capable of initiating a variety of internal communications and can provide access to employee and company information 24/7.
A chatbot with AI capabilities can help you in the workforce task assignment by asking an employee to confirm their task status with a single click. A chatbot can also help employees to obtain PTO (paid time off) information, leave status, shift swap with a colleague, or view payslips with just a quick message, even if they cannot directly go to their HR team in the present work from home situation.
You can also deploy a chatbot on all of your company's internal communication channels – intranet, mobile apps, SharePoint space, messaging platforms like Skype, Messenger, Slack, and others and make internal communication seamless for your employees.
Not just that, chatbots have proved to be useful to organizations too as they facilitate in sending push broadcast messages to their targeted employee whenever they want, and similarly, they can also pull content from the chatbot regarding employees or departments whenever needed.
The final say
It's a proven fact that chatbots are one of the inevitable digital transformation trends that an enterprise must consider adopting. It is not just now, conversational UX or chatbots were already here long before the COVID-19 outbreak, but this virus has greatly accelerated its adoption. Undeniably, a chatbot can be very helpful in automating organizational processes and simplifying internal communication during such pandemics. If you want to build a chatbot for your enterprise and want to know how to go about it, then talk to our experts.