iBeacon is an indoor positioning system featured with cost effective transmitters that can notify nearby devices of their presence. iBeacon operates using Bluetooth low energy proximity sensing to transmit a universally unique identifier. iBeacons come in numerous formats, including USB sticks, small coin cell powered devices and software versions.
With BLE (Bluetooth Low Energy), iBeacon creates a beacon around region to send alerts signals.  For an example, beacons customized coupons and direction shower enables a user to get the particular product in no time. This is the best example -how it is beneficial to retail businesses. Smartphones that are in an iBeacon zone will benefit from personalized microlocation-based notification and activities that prompt a customer with special promotions based on their current location and history of the organization. iBeacon can provide the necessary information just like NFC and even it allows you to pay the bill using your device.

Hardware Information:
Accelerometer
Flash memory
A powerful ARM processor
Bluetooth connectivity
A single coin battery – Run for up to two years
Compatible devices
iOS devices with Bluetooth 4.0 (iPhone 4s, iPhone 5, iPhone 5c, iPhone 5s, new iPad, New Touch, mini iPad)
Android devices from Samsung (Galaxy S3, Galaxy S4, Galaxy S4 Mini, and Note 2)


iBeacon in Enterprise Environments
Smartphones change the way, we are living. In this mobile technology world, data becomes a precious asset for any organization and the risk is always there which need to be tackled through proper security and confidentiality. The two factors that are very important these days are data security and increasing productivity, which compel enterprises to take mobility strategy for their operations.
Managers can easily switch off the mobile camera during the confidential presentation or meeting. Placing an iBeacon at a suitable place enable, the employees to get wi-fi settings instantly based on the organization's internal security policy. It allows micro-location abilities by using a Bluetooth low energy (BLE) profile and utilized low priced, tiny, low-power Bluetooth devices to offer indoor mapping abilities, while not having to resort to battery hungry GPS signals or broad mobile cell tower triangulation.
Raft of indoor mapping services: Through a raft of indoor mapping services, one can imagine having the ability to walk around a museum, retail or any shopping mall and automatically acquire information read out about their preferred exhibits. iBeacons make use of small wireless sensors that send data to the iPhone via Bluetooth. Due to microlocation feature, the enterprise users can connect to the nearest beacon and acquire its hard coded Global Positioning System (GPS) location to navigate indoors.
Remotely controlling such sensors opens up a range of alternative possibilities:
Remotely switching off your your equipments
Controlling a refrigerator temperature based on the weather
Controlling the room lighting from your smartphone
Control over your employees
Enabled Internet through channels
Better Communication through organization
Ease your shopping and payments
Accurate information regarding products and their exact location
iBeacon & Mobile Device Management (MDM)
You can get countless possibilities and advantages of using MDM with iBeacon. With iBeacon, the user can get the advanced MDM support in real time. Bring Your Own Device (BYOD) management need device based software that protects its content, and Network based BYOD secures network resources. The open source iOS 7 with MDM protocol includes a number of amendments, which makes the solution more powerful and automatically controlled.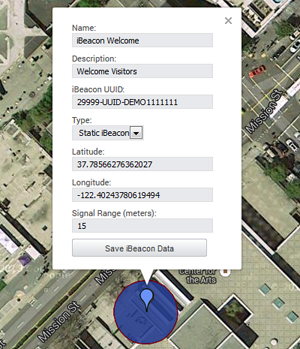 There are countless possibilities and advantages of using MDM with iBeacon.
What it does?
Enhance productivity
Compliance
Precisely pinpoint location indoors
Prevent accidental data leakage
Provide security against intentional data theft
Stop irresponsible data use by employees
How it prevents and assists the user?
Identify location using advanced iBeacon technology
Disable camera, apps, etc. in a specific location
Rises the productivity by simply sending settings and apps to staffs in a particular area
 How it operates?


iBeacon in Retail
iBeacon appears to be the most relevant solution for solving the indoor positioning conundrum in retail outlets. Navigating through an indoor retail environment is a new bonanza for retailers in sales. Customers can detect the location and the product availability information which he or she might have seen an advertisement and decided to check out the products offering in-store. A seamless solution to address the retailers need is nothing but iBeacon, which converts passive buyers into active buyers. Hence, it redefines the retail therapy experience in a long run.
iBeacon in Healthcare
iBeacon expanded its arms in the healthcare industry. For an example, let's take a patient charts which show the patient's details when the doctor arrives at the hospital. Through this doctor can easily get to know what is the number of patients, their problems, and easily diagnose the problem by providing proper medication. This information is only for the doctor and it is very confidential. To maintain its confidentiality ibeacon removed all the vital information from the device as soon as the doctor vacated the premises.
iBeacon in Education
When it comes to the education sector, iBeacon changes the traditional way of learning. Due to intervention of smart classes, gadgets like iPad, PC, light pens, and large screen blackboards came into existence. Using a beacon, when the educator enters the schoolroom with an iBeacon in the pocket, all iPads are forced to let access a textbook app and informational website only ( As per school policy/restriction). Another example is entering the library, the iOS mobile device is automatically switched to silent to make the environment peace for learning.
Subscribe to latest updates by Email
Receive occasional updates on our evolving perspectives on digital strategy, brand, marketing, and user experience: