Google announces Android KitKat 4.4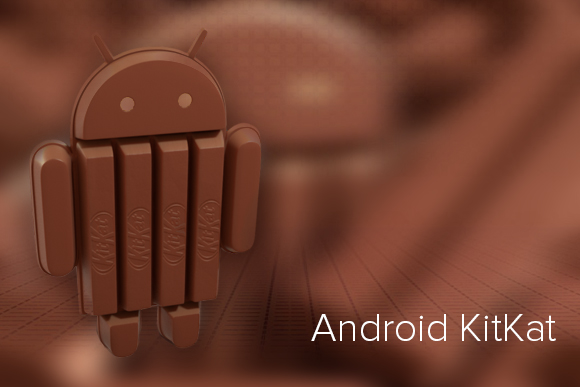 Android is an operating system that powers over one billion Smartphones and tablets. Because these devices help to make our way of life so sweet, each Android version is termed following a dessert: Cupcake, Donut, Eclair, Froyo, Gingerbread, Honeycomb, Ice Cream Sandwich, and Jelly Bean. As everybody finds that it is hard to step back from chocolate they have made a decision to name the following version of Android after one of our favorite chocolate treats, Kit Kat!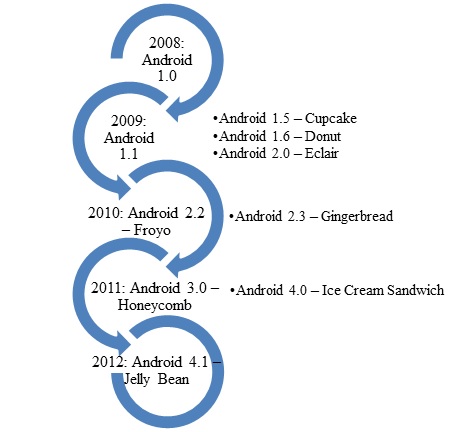 A short while ago, the biggest search engine, Android, and Chrome Google's head Sundar Pichai had confirmed that the subsequent version of Android will be called as Android KitKat, everyone believes the KitKat is the well-known brand of candy bar and liked by the majority of people, Google continues to be always using the nickname of most of its android versions launched till now, refer the above diagram to understand the different versions of android developed at different stages.
Sundar Pichai has twitted that " We now have over I Billion Android  activation and hopes this guy in front of the building keep that moment going"and assured that hopefully he will  keep the OS moment buzzing laterally.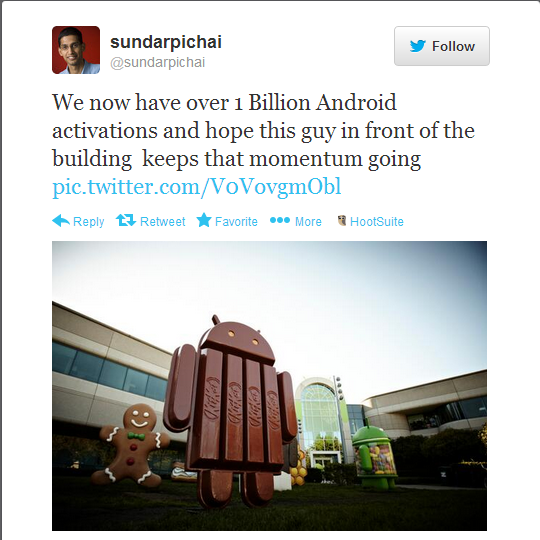 According to the knowledge shared by John Lagerling, director of Android global partnerships, that there's no money deal done between Google and Nestle as of this moment, the financial terms aren't being unveiled of this sweet deal between both of these giants with their respective fields.
Many tech commentators were speculating the brand new android version name would be Key Lime Pie, but the director of android Marketing Marc Vanlerberghe shared that KitKat was one of the favorite snack within the team of android; hence they gave a new name "Android KitKat ".
Rumors have flooded the thought of "Android 5.0 Key Lime Pie coming in October 2013″ to represent the Google's Android anniversary. However, the revolutionary OS version could be the Android 4.4 KitKat that may feature something totally new and changes to the Android environment.
Android 4.4 KitKat OS Features

Google can include the Android iteration in the upcoming 4.4 KitKat version which might use Linux 3.8 kernel to support lower memory devices. As of this moment, the only mid – range and high-end Android phones/tablets supports 4.1, 4.2 and 4.3 Jelly Bean which requires 512 MB of RAM. Equipment having a single-core processor for example Nexus S suffer problems with the Android 4.1 version and announced not upgradable to Android 4.2.
Here are some hints of speculating Android 4.4 features coming really soon for Nexus devices:
Attractive and impressive display
Manifold sensor support
Improved CPU core support
Innate orientation in portrait and landscape
Exclusive Cloud system for Android
Wider and more stable network coverage
Nexus availability and system compatibility enhancements
Upcoming Android accessories
All-new refined software and UI
Matching hardware and unibody design
Improved multi-touch support and responsiveness
Cleaner design and lighter weight
Thinner bezel on the screen
Universal network compatibility across the globe
Enhanced battery life
Little memory support
Summary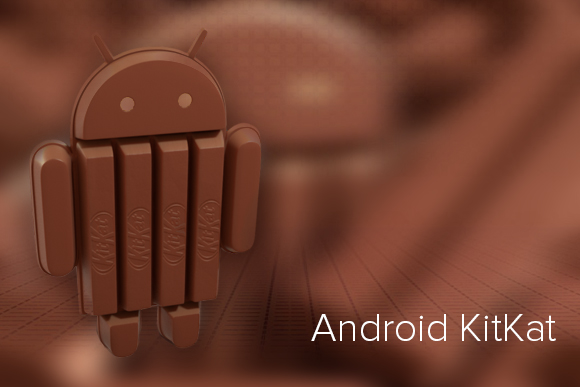 Article Name
Description
Author
Publisher Name
Publisher Logo
Subscribe to latest updates by Email
Receive occasional updates on our evolving perspectives on digital strategy, brand, marketing, and user experience: