IT is drastically gaining control over apps and the extensive use of mobile devices in enterprise has turned Enterprise App Stores(commonly referred to as EAS) into the current rage among various business areas. Managing the use of mobile device applications among employees has been the biggest challenge for the enterprises.
What is an Enterprise App Store?
An enterprise app store is a web portal through which end users can access, download and install certain approved mobile apps. Enterprise app stores also allow organizations to securely supervise and regulate the licensing, distribution and management of the mobile apps.
The app store is built in such a way that it integrates with the latest smartphones and tablets while considering all the aspects of cloud computing. The EAS gives employees a better user experience while accessing and downloading mobile apps in the office environment, and ensures that corporate security policies are followed at all times.
Why enterprises want to have an EAS at the drop of a hat
As more and more companies look forward to enabling enterprise-wide mobility, the need for solutions that can host smart application store functionalities with an advanced set of capabilities drastically increases. With the healthy benefits of business flexibility and increased productivity, enterprises are looking for mobile platforms that can leverage best practices and deliver substantial business value. The EAS model is unquestionably the way to go for any organization that is seeking to replicate internal services and processes on mobile platforms.
Insights
Mobile Application Management (MAM) - Providing much-needed security in App store
Mobile Application Management (MAM) has become mission critical with the increasing usage of different smart devices in organizations. Enterprises are challenged with balancing employee demand
"About 44% of IT executives in a new survey report they have internal enterprise app stores in place, but that may be about it. Organizations with app stores report they are better able to keep some control over application usage, as well as mitigate software expenditures." – 5 reasons for having an enterprise app store, zdnet.com
An EAS is the place where employees can view and download the enterprise apps to support their particular professional needs. Developing an Enterprise App Store is an effective way to support mobile users in your organization and increases productivity as well as eliminates the issue of managing the use of mobile device applications among employees.
Five Key Reasons to have an App Store:
Access control
Whereas public app stores provide significant access control and user permissions, the mobile apps hosted on an Enterprise Application Stores (EAS) can be designed to ensure that only authorized personnel can access, download and run an application in order to maintain security of confidential data. Another aspect behind having an EAS is to try and limit the purchase and use of apps, unlike consumer/generic app stores which encourage this behavior.
Version control
If you've seen the statistics regarding how many people are using legacy versions of Internet Explorer, you know that not everyone updates and has current software. With old, outdated versions of software come reliability issues, security concerns and compatability problems. An EAS can fix that, as companies can manage the version of the enterprise apps on an employee's mobile device and ensure that the latest version is pushed to the device. Employees don't need to worry about remembering to update, the App Store lets them know and makes it easy to stay current.
Analytics and Reviews
The EAS facilitates administrators to keep track of the various activities performed by employees in terms of app usage and other related statistics for analyzing parameters. Companies can also ensure maximum compliance to licenses and user rights through constant monitoring and reviewing of app purchases and downloads in the EAS.
Better Employee Experience
An EAS also results in a clutter-free experience for the employees. Going through a public app store can be a nightmare for employees, as it requires knowledge of proper key words and most searches will bring up additional, erroneous applications. An EAS eliminates all the hassle of having to sort through a generic/public app store. Not to mention an EAS store automatically provides a number of handy features, including certificate distribution, rolling out new version updates, etc.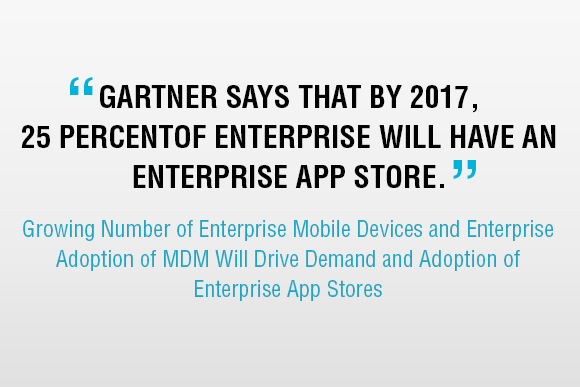 Reduced Security Risk
People aren't perfect. Technology gets lost, broken, stolen, hacked or a million other things that can create a security risk.  An App Store alleviates the risk of someone outside of the company obtaining confidential information from a smart device by incorporating a complete memory wipe feature of any device connected to the App Store. In additional, the automatic update functionality eliminates any risk associated with outdated applications.
The Future of an EAS in Enterprises
The Enterprise App Store provides the most efficient means to get the latest and greatest version of mobile apps out to the employees an organization. Gone are those days of IT micromanaging devices. We live in the era of mobility where such models no longer work, especially enterprises that utilize a Bring Your Own Device (BYOD) strategy.
Subscribe to latest updates by Email
Receive occasional updates on our evolving perspectives on digital strategy, brand, marketing, and user experience: