Beacons are small wireless devices that broadcast radio signals using Bluetooth Low Energy (BLE).
Applications:
Inventory Management:
In many big retail stores or warehouses, we observe that the staffs track the inventory manually by noting down on the papers and then they enter into the system. The beacon application will eliminate all manual tasks and inventory management flawless. The mobile app automates the entire process of inventory control and eliminates any need for manual counts and confirmations.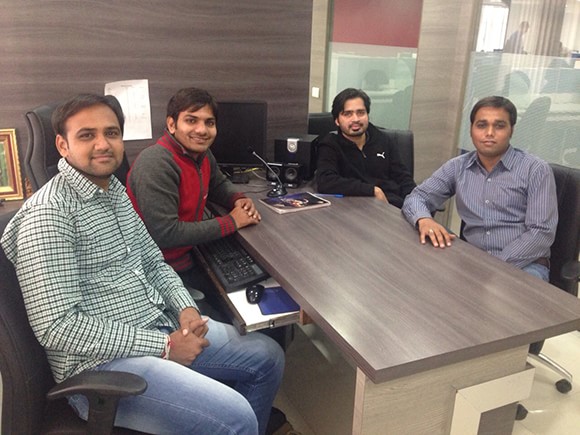 (L to R: Vipul Jadvani, Mayank Patel, Kunal Doshi, Tushar Kapadia )
Scope of this project:
Beacon App turns your storage and retrieval system into an excellently efficient storage and pick centre, organizing all products/goods by various categories like name, stock, expiry of the product, etc.
Key Features
Beacon app notifies user about Damage, Expiry and Stock-out.

User can send the information directly to the other employee via email or SMS.

The app helps you control inventory levels better and reorder when it's necessary.
Enhancement
With beacon we can track items that are received, picked, shipped, etc.
Library Application
Many a time, we've seen that when people go to public / school / college library, they have to stand in a queue to avail the books. In fact, finding a book from the rack sometimes becomes a tedious job. The mobile app connected with beacons eliminates all complexities and meets today's rapidly changing user demand.
Scope of this project:

The main benefit of Library Application with beacon is that users do not need to stand in the queue and go through a hectic process to avail books.

User can get the information of the new books, best authors, etc. directly on their mobile devices.
User can set the reminder for the book subscription expiry. So that user can know the expiry of the particular book subscription.
Future Enhancements
If user subscription is expired, then user can renew within the application sitting at home, meaning that they do not need to go at library and stand in a queue.
Hospital Application
Scope of this project
Equipment tracking
Patient information
Staff tracking
Hospital navigation and contextual information
Automated check-in for regular patients
Staff can track the equipment and visitor or staff can get the direction within the hospital.
Equipment tracking
Missing equipment in large hospitals often can be a constant pain point for any nurse. The beacon app enables staff to track anything that can be moved from one room to another, for example, medical machinery, wheel chairs, patient beds, etc.
Hospital navigation
Indoor navigation is one of the most obvious benefits of beacon technology. Beacon app facilitates visitors with indoor navigation within hospitals where GPS does not work well.
Subscribe to latest updates by Email
Receive occasional updates on our evolving perspectives on digital strategy, brand, marketing, and user experience: