2014 lineup brings revolutionary changes in the website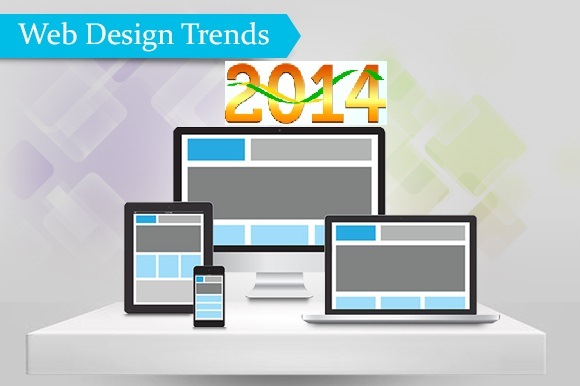 Are you creating your first website this year or have you already a website that needs customization? In our view, the design is nothing but merely a panorama of our values and expectations for user interfaces. The website you design represents your web presence on the internet and it shows your ideas in the web design community. In other words, every person has its own ideas when it comes to designing and fulfilling its terms. So let's take these ideas with a view something with skepticism.
In creating a digital product, user interface design is one of the most complex topics. This is justified with the respect of website layout designing matching with the customer's expectations. If you follow the latest trends of the website designing, then you can consider the best ideas, parameters for emerging technologies, and the global companies look out; when it comes to the dynamic or the static websites. Here are some facts you need to know before you begin.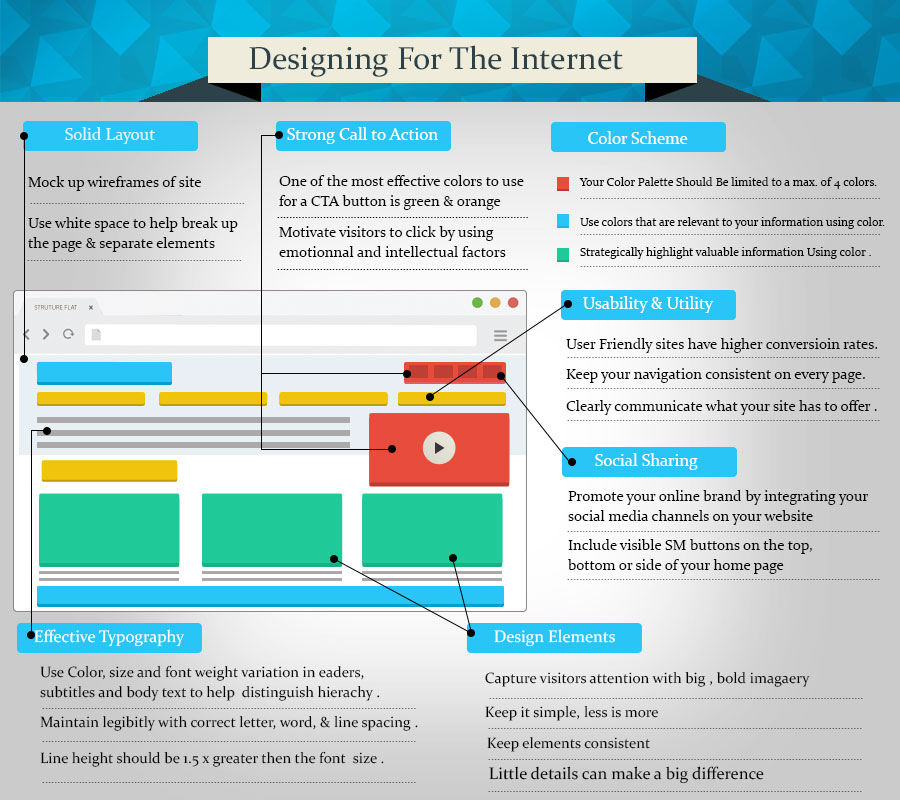 The hottest website Designing trends are:
Deep Box Shadows
CSS3 Animations
Vertical Navigation
Responsive Layouts
Retina Support
Fixed Header Bars
CSS Transparency
Digital QR Codes
Social Media Badges
Detailed Illustrations
Infinite Scrolling
Sliding Webpage Panels
Full Screen Typography
APIs and Open Source
Single-Page Web Design
Circular Design Elements
Minimalist Landing Pages
Large Photo Backgrounds
Mobile Navigation Toggle
Homepage Feature Tours
The Experts Tips for Website Designing
Wireframe
Call to action on every page
Must Be Responsive
Consider Usability Testing
Maintain Its Integrity
Be Creative with the Content
Put Donate Button Up Front and Center
Let white space & simplicity be your BFF's
Incorporate social media
Responsive Design A New Lookout:
Responsive design is a website design approach that leverages one content base across different screen resolutions. In simple words, it is a design that will fit in all the screens whether it is on desktop, mobile, and tablet. With the increased popularity among many, the businesses they are looking to upgrade their digital presence (website and portal).
Let us consider some of the questions regarding responsive design:
By implementing the extremely flexible and highly scalable structure combined with unparalleled customer service, technology has helped to incorporate several useful functionalities in any sites that make information and visibility easy for all website visitors on any device whether it is personal computers, mobile or iPad. Also, because of its easy site management features, users have not to worry about the website's structure and pay more attention to its expansion. Responsive designs with new technology enablement thus help in driving productivity across diverse enterprises without adding overheads in any way. Additionally, if implemented by the right service provider, the system could be a boon to your enterprise presence on the internet, whether it is a portal, website, or simply a landing page.
1. Do responsive design of the website has a same experience on every browser and device.
When it comes to browsing experience, most of the browsers need continuous development to support new standards of designs (Responsive). The visitors on the page want only the consistency to look and feel irrespective of their devices. The designers need to create unique experiences tailored to the different device type, whether mobile, tablet, and desktop, TV or even a gaming console.
Just focusing on the experiences and what people like, either it is a responsive design or adaptive design or both. In case of the adaptive design, the elements register screen resolution in accordance with the iPhone or iPad display screen. Using JavaScript, developers can create an adaptive design to make a better landscape and portrait modes that will respond differently. It also lets designers make the supreme use of touch features of the devices. In contrast, both the designs have their own significance, so the designer can select the best out of them and integrate it with compatible browsers. Before delivery of the projects, a rigorous testing is necessary that makes the client happy.
2. Is responsive design cost effective?
It is a simple formula, who gives the best thing to get the best thing. If you want a seamless website feature then you should not be more budgetary concerned. With the responsive designs you can get unified infrastructure, codebase, business platform, and content repository that will again add stars to your website with colorful return on investments.
A basic responsive site and implementing adaptive features are more complex because it needs more professionalism and expertise to cope up with the latest trends in designing. When we come to the costing part, we must consider the factors that will increase the total cost of the project on testing different modules, designing perspectives, development if any, enhancing the features with responsive, and adaptive designs.
Why should companies deploy a responsive design?
In this competitive world, companies are deploying their strategic needs and churn out the potential on the web. Responsive design is not a magic box where everything can be done. Whether to undergo a responsive design should be considered on the basis of the client's requirements and it differs from case to case. For an example, there are situations where native applications are required to optimize knowledge for a specific device type.
Web visitors for shopping and media websites are continuously imagining and engaging with different experiences. Therefore, they are using adaptive and responsive design for their commerce and media websites, and portals. Take a look why responsive designs are loved by designers?
Same experience on devices: In terms of designs, the layout may be smaller or bigger but it reflects the same experience in terms of usability, and visibility.
Less Maintenance: Multiple changes in design and multiple designs take more time to update. Nevertheless, using a single responsive design, the enterprises can decrease the time spend on updating the designs.
A single URL for every user: Whether you have a PERSONAL COMPUTER, TABLET, and SMART PHONE. You can have everything on the same URL (Uniform Resource Locator) and a better social media sharing that can be optimized for search engine to get top rankings (SERP).
Google Friendly: According to the Google spokesperson, the Googlebot loves the responsive designed website. The content will be indexed well in the responsive environment.
Content just needs to be repositioned for responsive design.
You have heard many things, before going to Google the biggest search engine like content optimization, W3C, and SEO for your website. This is the reason Google Webmaster highlighted responsive design as their preferred site configuration. This is very important to keep providing the fresh content to the website for better ranking and increasing traffic to your website. Googlebot loves to crawl fresh content and keep the website on high ranking. For this reason, the SEO experts also advise to provide just the content that needs to be repositioned for responsive design.
To address your mobile presence, you have to approach a responsive designer and a strategic plan that fits your criteria. Therefore, a mobile responsive design process should be made that will make your website more users friendly. Both the enterprises and the customers have concerns about the loading time of the website, look and feel approach that fits in all the screen sizes whether it is a desktop or mobile phone.
Avoid the Below Things:
Large Images
Heavy Videos
Lengthy Content
Cumbersome Front-end and back-end development
Repositioning content or hiding content using CSS
It is suggested to work with your internal designer teams to ensure that there is a strategy in place for creating the right renditions. For this, many digital asset management (DAM) tools are available, through which you can create renditions of images that offer a reduced version to support quicker load times.
Is 2014 will be the year of responsive design?
Responsive design has gained fabulous attention in the past few years and that trend will continue in the coming year (i.e. 2014).  But for the online marketing purpose, they are still wondering to explore new digital engagement, which will work for the next generation of websites. You can work with your IT development team to determine the best things out of adaptive and responsive design or even a mixture of adaptive and responsive design that works for your enterprise. You might want to use the following latest technologies that will bring the look and feel approach to your website.
W3C
HTML
CSS
JavaScript
API's
Summary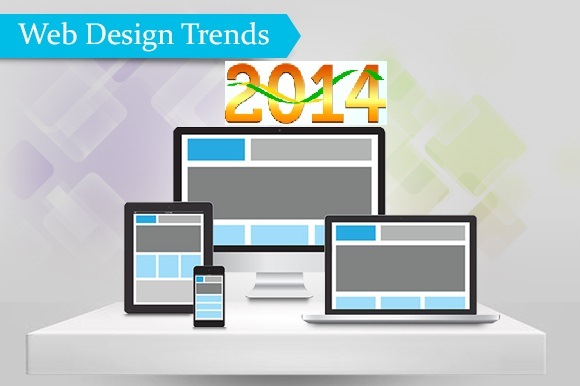 Article Name
Description
Author
Publisher Name
Publisher Logo
Subscribe to latest updates by Email
Receive occasional updates on our evolving perspectives on digital strategy, brand, marketing, and user experience: