What Salesforce Lightning is and how it simplifies your sales process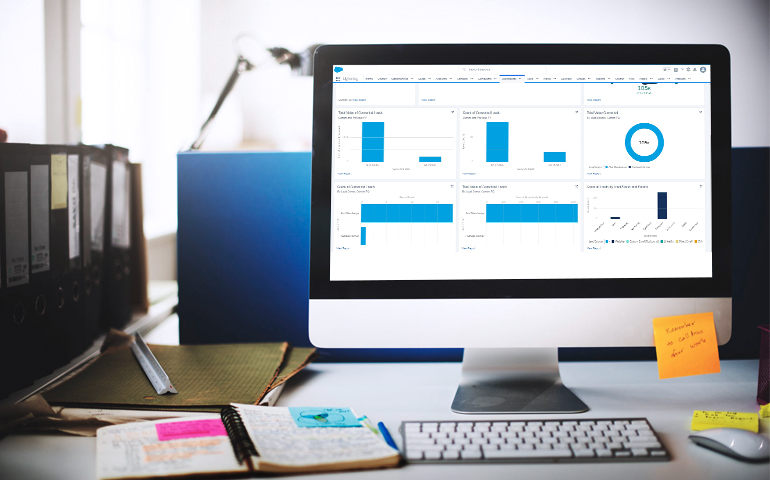 It is very important for a business to move from obsolete development tools to new advanced ones for improving their capabilities and productivity. The modern businesses are more dynamic and your sales team needs good data in Salesforce to find out just-in-time information about your customers and prospects, which will help them sell smarter and faster.
If your sales team is still using the Salesforce Classic, then you must upgrade to the new Lightning Experience for innovative features and a comprehensive CRM tool that assists in taking your business to a new level.
Salesforce Lightning Experience: The Future of CRM
The new Salesforce Lightning experience offers greater flexibility and is very helpful while creating various modern enterprise apps. It also ensures an ideal balance between desktop and mobile platforms for offering a personalized experience to each user group. The tool can be extensively used for addressing the drawbacks in the user interface (UI) and helps in changing various items for customized instances.
The Lightning Experience combines three important elements:
The new Lightning Design System
Lightning App Builder and
Lightning Components
Salesforce Lightning is also one of the most dynamic multi-tenant, next-generation metadata platforms that provides a consistent, modern user experience across all the devices. Besides, business users can effortlessly and quickly build custom apps with the Salesforce Lightning App Builder. So now they can have all the data and intelligence they want when they are on the go.
Some of the sales-centric Salesforce Lightning features
The insightful homepage displays you what is necessary for you to pay attention to, and more, facilitates you to make faster and smarter decisions and close more deals.
With an action optimized space, you can drive the appropriate behaviors at each stage of your sales. You can determine and customize the stages that appear for your reps and your sales operations manager. Thus, your sales reps can focus on the fields that are important to qualify leads and close opportunities faster.
Opportunity Kanban gives a brief of all the present opportunities helping the sales reps to keep track of their deals and move ahead. With a unified view of all opportunities at one place, sales managers can effectively monitor the pipeline and sales reps can work on closing the opportunities.
You can go through the minor yet important activities that unavoidably pops up during the day without having to switch the context. Whether you get a call from a client while reviewing a report, it's easy for Composer Windows to log the call—without having to search for the related deal or shift to a different record. Composer windows can open on the current page and enable users to log calls and create tasks, notes, and events related to any record.
You can find records faster with upgraded search, which includes latest records as well as top results.
Activity Timeline and Task List
You can keep track of open tasks, meetings planned, and accomplishments in the activity timeline for every opportunity, contact, lead, and account. Or you can make use of the task list to find out the details of particular tasks with the full list of open tasks, due tasks, and closed tasks. Moreover, the managers can use the assigned view to see tasks assigned to people below them in the role hierarchy.
You can get information and gather insights without much efforts from the new layout. You can also get the latest news about customers with integrated Twitter and Account Insights, review upcoming and completed activities, and keep data clean with field-level duplicate matching.
You can achieve more from your data. The Lightning edition offers a new report run page that is easy to read as well as to filter. The interactive and the new dashboard editor supports components that span columns and rows with flexible layouts.
You can take notes effortlessly using rich text capabilities, versioning, auto-save, inline images, and the facility to link a note to multiple records.
Experience a richer file preview that doesn't need Adobe Flash Player. Get vector-based preview images in higher quality that does not degrade on high-resolution screens and loads quickly. The new file preview player controls allow previewing animated GIFs, scrolling through multi-page documents, assess to file actions, and full-screen presentations.
Setup Tree and Object Manager
You can navigate setup pages with a streamlined organization and a crystal-clear look and feel. Make use of the new Object Manager, which includes all standard and custom objects into one list that is easier to search.
So, if your sales team does B2B sales using contacts, accounts, opportunities, leads, custom objects, and the other features supporting sales in, you must think about Salesforce Lightning migration. Also, if you are thinking about your Salesforce implementation, this is an amazing opportunity to introduce new features since you are planning to change anyway. Therefore, migrating to Lightning in Salesforce will provide you a tool that can support in improving performance and capabilities of your business. Feel free to write us if you have any question about the migration process.
Subscribe to latest updates by Email
Receive occasional updates on our evolving perspectives on digital strategy, brand, marketing, and user experience: