IoTConnect: The optimal IoT platform for the connected world
Influenced with Industry 4.0, every organization is adopting IoT for elevating its business and improving the processes to achieve better results. However, implementing IoT in a business is not an easy job. It involves many challenges as an organization moves forward from idea to final product. To assist businesses to achieve their goals with the help of IoT, some of the greatest minds developed an IoT platform which encompasses an entire IoT ecosystem as per organization's requirements.
One such platform designed and developed by Softweb Solutions to minimize the complexity of implementing IoT is IoTConnect. It enables device communication and management, data storage, app creation and enablement, robust security protocols and implementation of data science methodologies.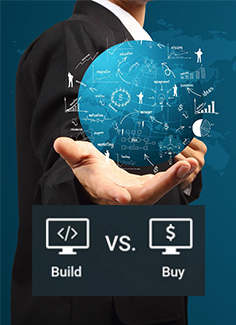 What's the right pick for IoT platform – build or buy?
Webinar agenda
What's needed to build an IoT platform?
What to look for when buying an IoT platform?
Build vs buy model – benefits and challenges
The next step – how to get started on either model
Well, there are many IoT platforms available in the market today under the banner of some tech giants, but what makes IoTConnect so different from other IoT platforms? What makes it stand out of the line from all the other IoT platforms?
Let's have a look at the features of our IoT Platform -IoTConnect that defines its distinction;
Features
Parallel device management
The number of devices connecting today has reached the seventh sky. As more devices are layered onto the enterprise technology infrastructure, it requires flexible, horizontal device management systems that can seamlessly onboard and offboard devices. IoTConnect organizes and unifies disparate machine-to-machine devices and their virtually limitless end-points.
Maximizes data management
IoTConnect helps organizations to manage their matrices of connected devices, sensors, gateways, actuators and many others. The platform also helps businesses to monitor the data generated from all the connected devices and helps in generating actionable insights from them. IoTConnect can process, analyze, expunge and deliver rich insights in real-time.
Enhanced security
As our physical world is getting connected to the Internet, the risk of compromising our important data has also escalated to a new level. To ward off any unauthorized access from any device, organizations need to embed IoT security at every level. IoTConnect adds the highest level of encryption in data transmission as well as ensure the authenticity of each device and gateway explicitly.
Scalability for the future
Well, looking at the potential growth of the IoT trend in the businesses, organizations look for an enterprise ready IoT platform that can scale to meet the pace and magnitude of this growth. IoTConnect can handle the increasing number of the variety of connected devices and also allow the business to generate new revenue streams.
Data visualization
IoTConnect facilitates organizations to communicate with different IoT-enabled devices to collect, analyze and demonstrate your business data in the form of interactive graphs and charts to help you improve decision-making capabilities. It collates disparate data and empowers you to make better decisions.
Infrastructure
IoTConnect allows businesses with the end-to-end visibility into the existing infrastructure by connecting assets that are powered with IoT. Its powerful yet easy-to-use interface enables enterprises to create applications faster, saving a lot of time and money.
Well, after all IoTConnect is the only IoT platform available in the market that comes with a robust device management system and built-in analytics that allows you to connect and manage devices with little to no coding.
Insights
The comprehensive guide on IoTConnect - IoT Platform as a Service
While an increasing number of companies are adopting IoT technologies, IoT platforms are becoming a more popular choice across various industries for building and deploying IoT solutions.
This bring us to the benefits of IoTConnect which proves the fact that why IoTConnect is unique from other IoT platform available in the market. So here we go;
Develop and deploy 10 times faster
IoTConnect helps organization to boost their efficiency, manage assets better and adapts to innovation quickly. This enables organization to develop and deploy innovative apps and solutions that deliver real-time operational data and actionable insight.
Create IoT app rapidly
Softweb Solutions has designed IoTConnect to ease down the business processes for organizations. As a result IoTConnect helps you to create and manage an IoT app easily and rapidly.
Innovate with search based intelligence
IoTConnect has the capability to connect any devices with the most powerful industry-based protocols or any HVAC and non-HVAC protocols which can communicate to the IoTConnect cloud. It also allows you to connect your existing Enterprise System for processing it through IoTConnect, so that you can generate intelligence out of it.
Choose suitable connectivity
IoTConnect provides everything you need to build IoT solutions, while meeting stringent security requirements, such as perimeter security, data visibility, data security, and access control. We have included support for various data governance and regulatory, federation, and privacy needs.
Building a complete IoT ecosystem that enables development of industry solutions can be a huge undertaking, for even the most resourceful organizations. With IoTConnect, enterprises can kick-start their IoT journey as the platform enables them to rapidly build, securely host and deploy, and effectively operate industrial apps. With our platform, you don't have to create the Internet of Things from scratch as it offers a jumping-off point by interfacing many different tools required for an effective deployment of IoT solutions- from remote device management to prediction.
Conclusion
IoTConnect is an IoT platform that can capture and analyze huge amounts of data by enabling enterprises to securely connect a wide range of data sources, devices, sensors, equipment, and control systems. Once all resources are connected, data is aggregated, filtered, stored, analyzed, converted into easy-to-understand reports using data visualization tools, and then made available to the right people at the right time to improve decision-making.
Summary
Article Name
IoT Platform Solution for Connected World | IoT Platform Vendor
Description
Integrated IoT Platform Solution - Our IoTConnect Platform helps enterprises to implement IoT solution within organization that enables device communication and management, data storage, app creation and enablement.
Author
Publisher Name
Publisher Logo
Subscribe to latest updates by Email
Receive occasional updates on our evolving perspectives on digital strategy, brand, marketing, and user experience: